At this point, it's easy to conclude that the market price and valuation of the once-a-darling cryptocurrency Terra (LUNA) have reached a point of no return. As seen from Terra Analytics, a significant number of the LUNA is still being launched into circulation, which is hurting and dragging the price into the abyss.
Reckless supply printing killed LUNA
As part of the efforts to instill stability for the blockchain's algorithmic stablecoin TerraUSD (UST), LUNA was made "the sacrificial lamb," as many would say. Terraform Labs, the developer Terra blockchain network, opted to raise LUNA's supply in order to balance out the rate UST-LUNA can be redeemed.
This particular action backfired as LUNA became extremely volatile and plummeted drastically. Yet, Terraform Labs failed to take a break from increasing the circulating supply of LUNA, making the crypto worthless – because there were too many in circulation with no demand.
For more context, LUNA's circulating supply was inflated by 1,911,665% within a period of four days, according to Terra Analytics. On Monday, LUNA's circulating supply was around 340 million. At present, the same supply sits at over 6.5 trillion but only accounts for a market capitalization of about $186 million.
This is simply a fundamental economic principle panning out with LUNA. With low demand, increasing the supply of an asset could result in a price fall, as seen in the case of LUNA. At the time of writing, the coin was trading at $0.00001143.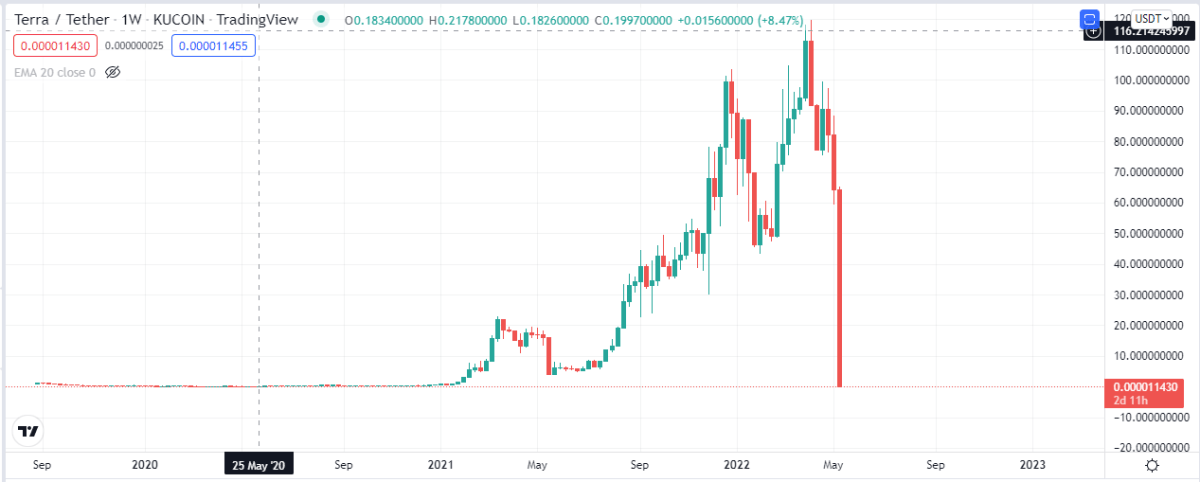 Major exchanges like Binance, Bybit, etc., have all delisted futures and certain spot trading pairs related to LUNA and the Terra blockchain's stablecoin.
TerraUSD update
Terra's algorithmic stablecoin UST is trading at $0.126, which represents an 87% decrease from $1. The debacle of UST, which used to be the third-largest stablecoin, leaves yet another ugly experience for crypto participants when it calls for algorithm-based stablecoins. A similar incident happened with Iron Finance stablecoin.

The whole ordeal with Terraform and UST doesn't speak well of the future prospect of algorithmic stablecoin, and it will draw more regulation attention to stablecoins and cryptocurrency in general. Already, a new report confirms that the incident has fueled US regulators in their efforts to curate a package of legislation for the cryptocurrency market, and it will also "address algorithmic stablecoins."
While speaking on the UST incident, Rohan Grey, a professor at Willamette University's law school, said, "this proves that algorithmic stablecoins are probably the riskiest of all."