TL;DR Breakdown
Mitch Rankin, Forward Protocol Co-Founder, spoke on Web 3.0 at the Grammar School of Leeds; Cambridge Blockchain Society is an education partner of Forward Protocol.
29.2 Million scored at the SHO and IBO on the 13th and 14th for DAOMaker and MAHAStarter, 2,500% oversubscribed!
Forwardians alerted on widespread scams fomented by fake Telegram accounts and websites.
More #Forward partners sign up as enterprises get wind of Web 3.0 benefits and FOMO spreads, in a good way.
Forward Protocol, a decentralized startup with one vision in mind – making blockchain adoption seamless for everyone worldwide, is kicking ass in a flurry of activities to make its presence felt in the crypto world.
The Cambridge Blockchain Society is proud to be one of Forward's Education Partners.

Taranveer Sabharwal, President
Mitch Rankin, Forward Protocol Co-Founder, was a guest lecturer at the Grammar School of Leeds in the U.K. He spoke about #Web3. Forward Protocol is being implemented everywhere to make Blockchain Adoption super simple globally.
Today, Mitch Rankin and Karnika Yashwant (aka Mr.KEY) will give a live interview to enlighten all about Forward Protocol's value.
The interview is not your typical AMA (Ask Me Anything). The Forward Protocol Co-Founders will go deep; will you follow?
📅 17th December
⏰ MIDNIGHT UTC
📍 https://t.me/forwardprotocolofficial
Forward Protocol had shocked the whole crypto world when it hosted its SHO and IBO on the 13th and 15th of December. Let's get an overview.
Forward Protocol Launch
Alright, folks, Forward Protocol has launched on DAOMaker and MahaDao so far, and they've got more than 200,000 whitelist applications so far. Isn't that exciting? While they wait for more listings and partnerships, we see people getting more interested in their vision every day.
Well, it all began on 13th December 2021, when Forward Protocol announced its DAO on DAOMaker and MahaStarter's Launchpad. Yes, that's right, #Forward was created by a team of Blockchain developers and crypto magicians trying to improve the existing blockchain industry.
The idea is simple: to better connect the Forward Ecosystem with Investors who believe and support the vision. In the beginning, there were just a few people who had decided to change the world, but now, there are whole communities represented by their industry leaders!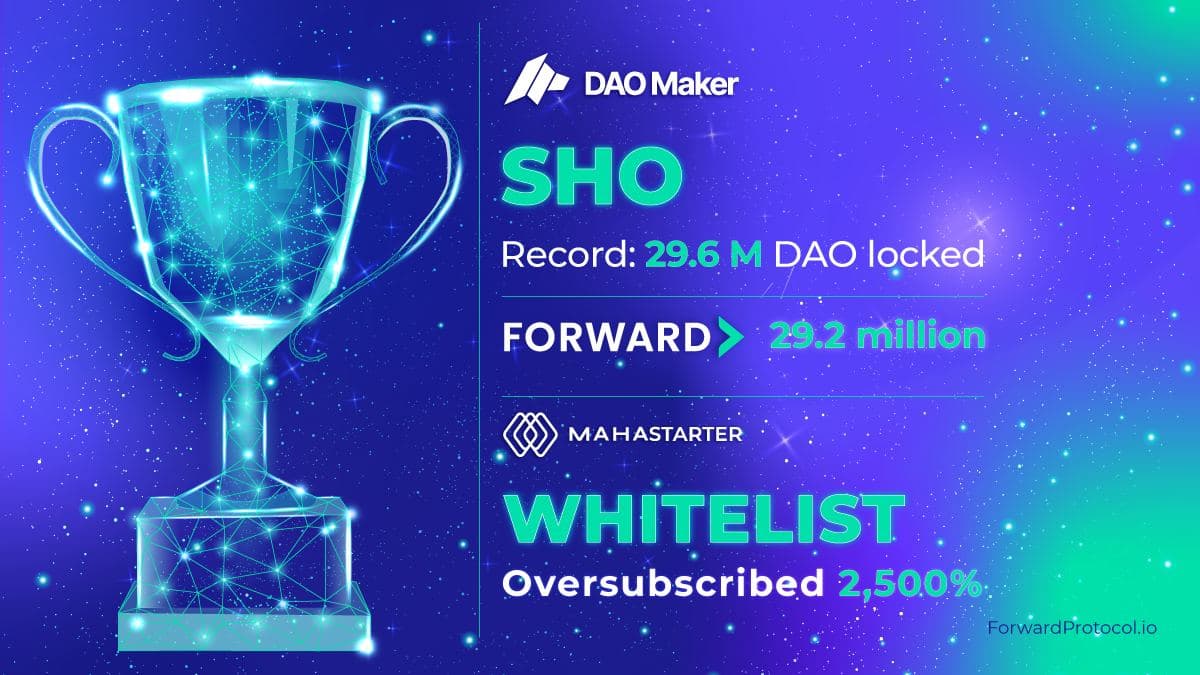 Scam Alert
On the other hand, more and more people are trying to use Forward Protocol's name in vain. We're talking about scammers who act like they're from the Forward team only to prey on innocent civilians. Please don't fall for it. The only channels you should be following are the ones listed below:
Looking forward to what the future holds for Forward Protocol, we hope this project comes to fruition and creates a community of open-source developers. However, some concerns come with big names moving into this arena, such as fraud and dishonesty. But don't worry — there are ways to fight back.
Forward Protocol Partnerships
Okay, now that we got that out of the way, let's talk about the current success of Forward Protocol. We have currently seen Forward get support from the Oxford Blockchain Society. This is no joke! The Institution's head particularly wants to back up #Forward to bring decentralization to the learning industry.
Then we have Cambridge Blockchain Society supporting Forward Protocol to further expand blockchain adoption in the education system. Listen, we're telling you, this is more than just a crypto startup. The vision will revolutionize what we currently know as universities and implement decentralization to give the students the freedom that blockchain provides.
That's why Bitcoin.com decided to join the ride and become one of the partners of Forward Protocol. Do you know what that means? The king of cryptocurrency believes in their vision as much as everyone else. You know, in ancient times, people used to say: "If the king gives you his consent to continue on a mission, then it must truly be a divine thing thy be fighting for."
And it is for Forward Protocol. These guys have just been listed on NFT Technologies, and they are topping the list of Top 7 ICO! So, from education to NFTs, we see this blockchain-based startup climbing steps. Could it be because of all the support they've been getting? Well, you know what they say: "If a product is great, it will sell by itself."
That's what we think that Forward Protocol has here. No hype. It is just a purely great product or, better yet, purpose that makes people want to believe in it and support it.
We are currently NOT listed on any DEX or CEX. Any official listings will be announced through our official channels linked on our website.
About Forward Protocol – Forward Protocol uses an easy-to-use WordPress-like model to facilitate a no-code environment that users can deploy their blockchain applications without technical knowledge. Forward Protocol has NFT, DeFi, Gamification, AI, ML, and Social Tokens inbuilt that connect the value-driven economy. Applications and smart contracts from Forward Protocol can be deployed on any EVM compatible chains in one click. Forward Protocol is cross-chain compatible, industry-agnostic, and adoption-focused, with an ultimate goal to fast-track mass adoption of Blockchain Technology.
Smart contract address: https://bscscan.com/token/0x886640149E31E1430FA74Cc39725431eb82ddFB2
Thank you for the support!
Disclaimer. This is a paid press release. Readers should do their own due diligence before taking any actions related to the promoted company or any of its affiliates or services. Cryptopolitan.com is not responsible, directly or indirectly, for any damage or loss caused or alleged to be caused by or in connection with the use of or reliance on any content, goods or services mentioned in the press release.