Compound Price Analysis: COMP finds support at $333, what's next?
TL;DR Breakdown
Compound price analysis is bearish for today, down by 2.74%.
The nearest support is at $333, and another at $328 price level.
The nearest price resistance is at $346, which currently holds.
Compound price analysis is bullish for today as the coin rose opened the day with a price of 337.1 USD. The top coins today include DENT and SOL. DENT rose by 16 percent while SOL was up by more than 6 percent.
The COMP/USDT price is trading with a volume of 194 million USD, i.e., a drop of 3.21 percent can be seen. The market capitalization of the cryptocurrency fell down by 3.95 USDT. This makes our price action bearish for today.
Compound price movement in the past few days
The compound price for today is bearish, but the highest price witnessed today was $346.1 while the lowest was $326.5. In recent days, the Compound price has performed quite amazingly. We saw a surge of 11 percent on 22nd September, followed by another $7.6 percent on the following day.
The price of the coin rose by more than 9 percent in the past three days alone. This makes the price of COMP/USDT quite profitable in the short term. The prices had been bearish since 7th September but, we see a lot of potential for higher prices according to our Compound price analysis.
Compound price analysis: Technical indicators still bullish
The compound price is well above the 100-day Moving Average but still below the 50-day Moving Average. This makes the 50-day Moving Average another price resistance.
The price momentum is still in the upper end of the Bollinger Bands which represents a bullish trend.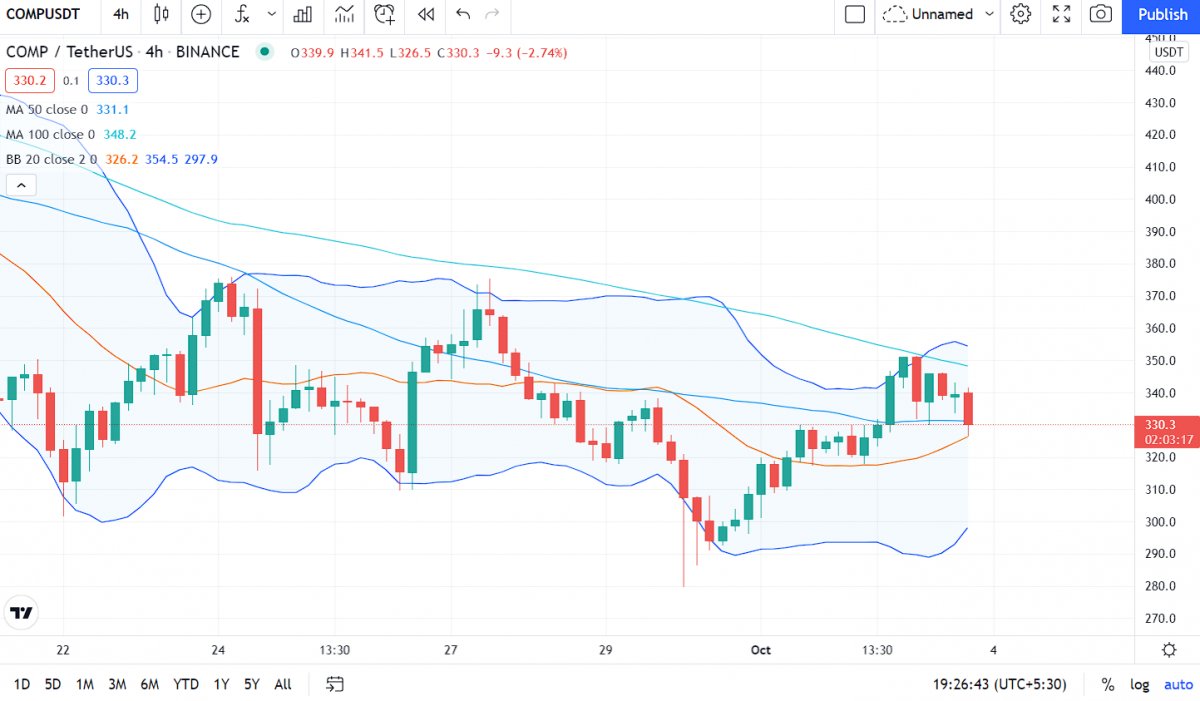 The RSI indicator is representing a value of 50, while the line gradient is negative. This makes our Compound price analysis bearish in the short term. This might be a good time to buy COMP/USDT.
MACD indicator on the other hand shows that the blue line crossed above the signal line. This indicates a bullish price action for the coin as the histogram turns green. The buying pressure is still higher.
Compound price analysis: Conclusion
The compound is an important part of the decentralized token community which currently trades on all major exchanges. To learn about our long-term Compound analysis, you can look at our Predictions. But, in the short term, we can clearly establish the fact that the "Uptober" has clearly just begun, and new all-time highs are not far.
[the_ad_placement id="writers"]