On the 3rd of November, 2019, the values on the Bitcoin BTC price analysis show a drop down to $9,200 after being defeated by the resistance at $9,500. Since then the Bitcoin BTC price has been unable to sustain a lead past the $9200 mark.
In the last twenty-four hours, the value of Bitcoin has fallen by 2 percent while ranging at the lower end of the $9,000 range.
Even though the range in which BTC traded on Friday gave a bullish look and went up further on Saturday by going up to $9,380 after that, it plunged downwards.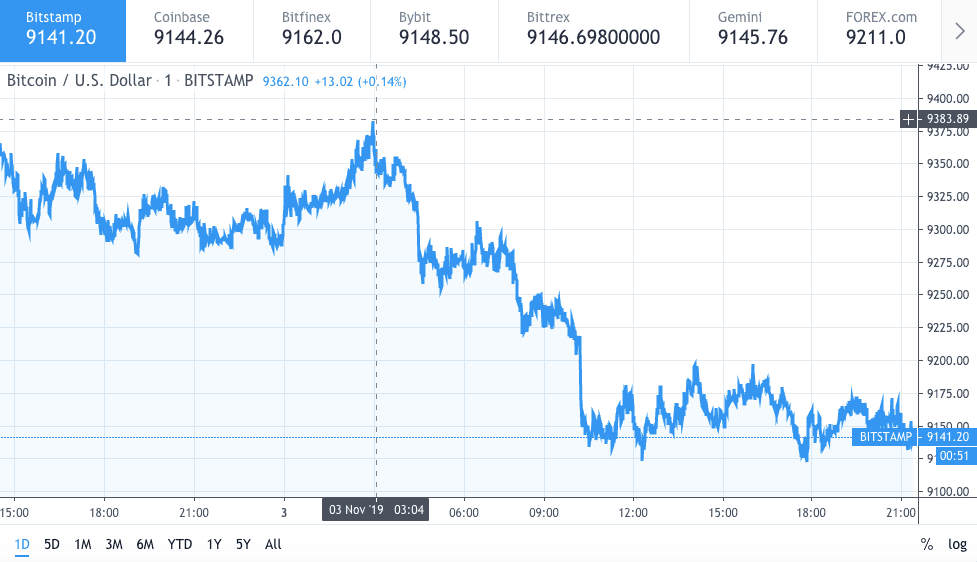 Bitcoin BTC price chart by Trading View
Bitcoin BTC price analysis: What to expect?
Bitcoin BTC price analysis doesn't get any easier when analysts have had various expectations from Bitcoin price movement. Some of them wanted to see lower prices of it for the sake of price consolidation while others hoped that the bullish on-set would actually materialise into a bullish trend. They predicted that over the weekend, BTC price would reach $9500, which did not play out as they assumed.
Bitcoiners still yearn for the five-digit price of BTC even though the resistance is high.
Either way, long-term predictions suggest that prior to the next halving ceremony, the Bitcoin BTC price would fall down to $8,000 before entering into a brand new bullish era. This is an observation based on the analysis of the impact on the Bitcoin BTC price on the last two halvings.
Altcoins had various trends over the weekend. According to the market cap, the top twenty cryptocurrencies varied by 2 percent in the upper or lower categories.
Ether (ETH) fell by a little over 1.1 percent and is of $181, followed by XRP and Binance coin (BNB).
Other tokens that fell include Tron (TRX) and EOS which dipped by two and a half percent (2.5%) each.
The total crypto-market, however, remained stable at $246 billion where the share of BTC was roughly 67.4%.
Featured Image by Elements Envato.com