The meteoric rise of its token YFI has raised questions on whether it is the new Bitcoin contender. Questions are being raised because, presently, YFI is the second most expensive DeFi token. It was costlier than the Bitcoin price and was trending for an extended period.
Experts have branded the Yearn Finance yETH vault names like 'black hole for ETH' because once holders deposit money there, they get massive profits in rewards. A few hours after it was launched last September 2020, the vault recorded about $100 million deposits. Profits accrued per year are around 95%, and thus, holders are looking to double their assets in one year.
We will critically look at the Yearn Finance, the worth of its token YFI, and the asset's future price predictions.
What's Yearn.Finance? 
Before the above question is answered, we need to know all about Yearn.Finance, an upcoming decentralized project. It can also be referred to as yEarn for aggregation of yield farming. It started operations on July 17, 2020, and has grown to become one of the most high-priced DeFi services available. It is widely acknowledged that Yearn Finance uses yield farming to earn the best revenues via digital assets.
Yearn.Finance YFI renders services using code alone; as a result, financial intermediaries aren't needed. However, to completely exclude financial intermediaries, an automated process of benefits had to be built around the Yearn.Finance (YFI).
Core products
The Yearn.Finance team developed some products to assist with the code implementation. They are independent of Yearn Finance, and they include:
Vaults: They use the opportunities that present themselves in the market to get their produce. Vaults do that spontaneously. An advantage that people who use Vault have is that it is not a must to have an in-depth and vast knowledge of how DeFi works, making it a better investment strategy.
Earn: The first product produced by Yearn was a lending aggregator. Different funds shift between dYdX, AAVE, and Compound are caused when the rate of interest changes; users can be allowed to deposit inside the so-called lending aggregator smart contracts using the Earn page.
Who developed Yearn.Finance?
Andre Cronje developed yearn finance in 2020. He studied computer science, became a lecturer, and then delved into networking. Furthermore, he moved to fintech, then to the blockchain, became a researcher, and settled as an engineer.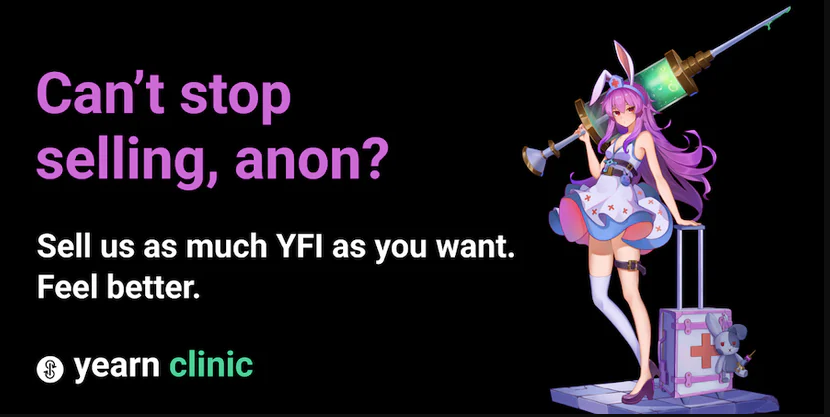 Then in 2019, Andre came across a problem, he couldn't maximize his Yield; this gave birth to the development of Yield.Finance. Notably, Andre Cronje is one of the experts pushing towards more adoption for the decentralized finance (DeFi) market with in-demand project launches.
How does Yearn.Finance work?
Yearn.Finance is based on Ethereum and runs on the smart contracts algorithm. It is designed to deploy contracts to the Ethereum blockchain and other cryptocurrencies such as Balancer and Curve; this way, advertised services are provided for users.
Yearn.Finance allows most of its token holders to lend or trade in the cryptocurrency market. In getting the best rates, however, they need to use Earn. Earn helps to search through different lending protocols for top rates. The users will now deposit their various virtual currencies to get those rates.
Also, Zap enables Yearn.Finance people finish several transactions with just a click, which saves the user's time and provides opportunity costs and other transaction fees.
Annual Percentage Yield (APY) looks through whatever lending protocol is used by Earn and tells whoever is using the product how much they should be making; this is done on an annual basis for a particular startup price.
The most complicated product of Yearn.Finance is the Vaults. However, Vaults allow users to use investment strategies made possible by the code the platform uses that executes automatically; vaults become like mutual funds, except in this case, they are active.
As you must know, about 10 strategies were obtainable on vaults as of August. Although developments are still being tested, the Vault user needs to understand the strategy before anything else.
Let's take a further look at the market sentiment of Yearn.Finance token: YFI
price prediction
Yearn.Finance Network Overview
YFI Overview
Coin
Symbol
Price
Marketcap
Change
Last 24h
Supply
Volume (24h)

YFI
$

6,024.91

$

189.80 M

8.10%

31.57 K
$

52.15 M
Market sentiment of Yearn Finance
Although the cryptocurrency market is volatile, factors that include rigorous security methods and advanced step-by-step processes help to play essential roles in dictating how the investment works; the YFI price prediction is also influenced. The primary goal of the Yearn Finance team is to make sure there is transparency and privacy all at once. These are what top brokers and experts consider and call investment advice.
YFI Price History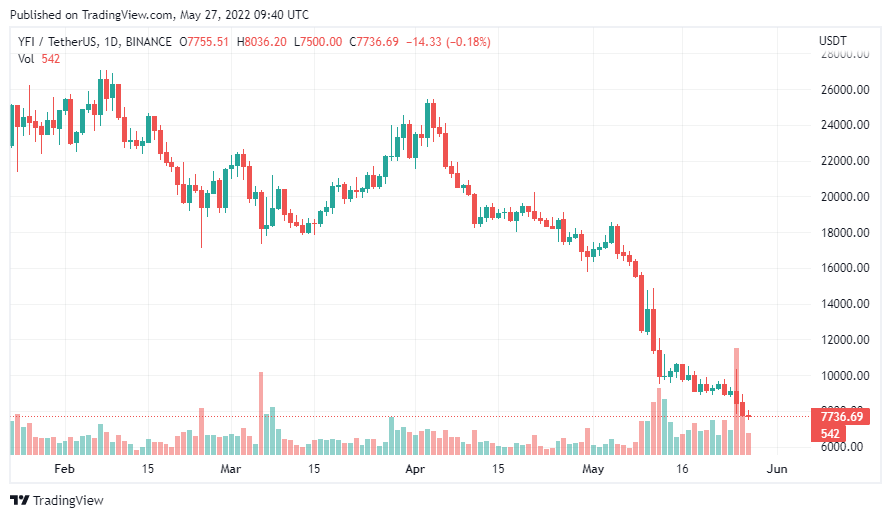 yearn.finance to USD Chart (YFI/USD)
Taking a look at the crypto price chart, it is observed that the YFI started trading around 2020. Investors didn't anticipate the rapid rise between November 2020 and May 2021. During this period, yearn finance had an astounding 1125% increase, and it got to a maximum price of $90,786. Then when the bull run came, the price of the YFI coin fell in May 2021 and again on 15 December 2021.
Since then, the YFI price has been undulating, and its price is about $35,000 after a sudden dip in the asset price in early September. The YFI token tends always to rise, although the coin price isn't stable right now. Experts seem to think that a short-term or long-term investment in the token is sure to yield some money, either now or in the future.
YFI Technical Analysis
Note that the prediction system behind the YFI's price prediction is based on both technical analysis and fundamental analysis; as such, you should do your research and not take the price forecast as a piece of financial advice.
YFI's price experienced a dip in September and has since spent some time there. Experts, at the time, expected a dip that would not last, but they predicted that the price would get to about $25,000. They then expected increased trading after the price declined to $25,000, and it happened. Now, the YFI's price is going to the $43,000 resistance level, and our experts fully expect the YFI's price to rise above its threshold.
For this to happen, however, the bullish trend needs to be maintained. If it is held, the data we have gotten from Coin Market Cap shows that you can buy Yearn and anticipate a price increase. Its future price might even rise and break back into the $90,000 region again before the year ends. Our experts fully expect it.
The life to yearn.finance price today is $33,731.36 USD with a 24-hour trading volume of $241,876,287 USD. We update our YFI to USD price in real-time. yearn.finance is up 2.71% in the last 24 hours. The current CoinMarketCap ranking is #84, with a live market cap of $1,235,840,161 USD. It has a circulating supply of 36,638 YFI coins and a max. supply of 36,666 YFI coins.
YFI Price Prediction by Authority Sites
Wallet Investor
According to WalletInvestor, YFI's can be a bad, high-risk 1-year investment option. Yearn.Finance price is $33587.70 on 13 January 2022, but your current investment may be devalued in the future.
According to present data, yearn.finance (YFI) and potentially its market environment has been in a bullish cycle in the last 12 months (if it exists). WalletInvestor's Ai cryptocurrency analyst implies that there will be a negative trend in the future and the YFI is not a good investment for making money.
YFI's price predictions from Wallet Investor stated an expected +621.18% increase if you invest in the long term (5 years.); this is based on the current price being $35,340.36.
DigitalCoinPrice
Digital Coin Price prediction for 2021 forecasts that Yearn Finance price has excellent potential and may rise higher than currently. The YFI's price prediction is that the coin might cross the $46,440.87 mark when 2021 ends, which in any way is a profitable investment.
LongForecast
Long Forecast predicts that the YFI might be slightly affected by the bearish market but will enjoy the bullish trend in 2024 and might be trading between $55,179 as a high price, with the minimum price being $47,959.
Gov.Capital
GOV Capital says that there are indications that YFI's in the past year has been in an upward trend. The price forecast is that the tendency to rise in the upcoming days is continual, with the price set at $86,049.796 in 2022.
Coin Price prediction that the yearn finance price when 2021 ends are $53,384, with the year-to-date (YTD) price change around +272%. It is expected that Yearn Finance's price will rise to $69,522 in the first half of 2022, and the YFI's reach in the second half is expected to close at $90,379.
Reddit
The Reddit community forecast that YFI will face a lot of heat in January 2022. They also say that the bull market might be back, and as such, the trading price might rise higher by 2024 to $45,321.90. They then advised traders and YFI holders to research trading and investing.
CryptoRating
According to CryptoRating, the YFI's price prediction is that YFI price will most likely grow three times over in 6 years, and there should be a stable price of about $46,714, with the YFI showing a minor resistance level.
Cryptopolitan
With an increase in its trading volume and market cap, Yearn.Finance's price has shown a good increase of 2.61% in the last 24 hours. From the last 7 days, the YFI's was in an excellent upward trend and increased by 2.71%. YFI has shown powerful potential lately, and this could be an excellent opportunity to dig right in and invest.
The upward growth the YFI's price has shown has been commendable. It has been not very pleasant, which gives investors a sense of optimism. It is expected that there would be new alliances that could further boost the YFI's popularity, thereby attracting trades and investments. All these would combine to make it a valued crypto coin.
The YFI's Price Prediction is overly favorable than other crypto coins, where one is usually told to exercise caution. The Forecast is to expect a plethora of short-term magic and long-term increases based on the latest news we have been getting. Saying that YFI should shatter every possible barrier and scale its ATH time and again would not be an overstatement.
If you are patient and hopeful, come 2025, YFI should have grown drastically and been a significant player, more than it already is, in the crypto market. Follow me as we go through the YFI's price prediction for the next few years.
YFI price prediction 2022
In 2022, the crypto asset would be a significant competitor in the crypto market. Provided there are no hiccups and investors become more attracted to YFI, the coin will close the year with an expected maximum price of $52,800.
YFI price prediction 2023
The finance forecast for the year 2023 is that YFI would have set up a faster relationship between the network and the user; this can make YFI attain a price of $65,200. If the crypto love continues into 2023, we might see a significant increase in the price at the end of 2023.
YFI price prediction 2024
If we consider the predicted technological advancements and progress the crypto world will experience over the coming years, the price of YFI might get to $72,876 come 2024. Even though the market is largely unpredictable, we fully anticipate the increase in price to that amount within the specified period.
YFI price prediction 2025
The price prediction for 2025 is to get to $64,432 when the year ends. We anticipate price stability come 2025, and with the initiatives planned, the price may well be higher. The optimism will result from the consistency in price over the years.
How to buy/sell YFI
Here are simple steps to follow:
Sign up for a Kraken account.
You just need an email address, username and a strong password.
Verify your account.
All you need is your name, birth date, country of residence and a phone number.
Send Yearn Finance to your Kraken Address
If you want to sell YFI for another cryptocurrency (like ETH or BTC), first you'll need to create a deposit address in your Kraken account. Depositing YFI on Kraken is as easy as transferring it to any cryptocurrency address. If instead you want to sell YFI for a fiat currency (like USD or AUD), you'll need to send us identification and proof-of-residence documents. Learn more about our different verification levels here.
Sell YFI
Once your account has received funding, you can begin selling YFI and other cryptocurrencies on Kraken.Simply open the New Order page, fill out the order form and click SELL. Check our YFI price charts to time the market for the best possible selling times.
You can see YFI at any known crypto exchange. However, you can exchange the token for a physical currency at a reasonable price to buy it. You can also trade with other cryptocurrencies.
Conclusion
Do not expect to make profits immediately as an investor. The price in the crypto world fluctuates a lot, and it requires you to time your decisions and buy at a reasonable price. However, if you are patient, you should see rewards in the coming years. If traders have faith in the crypto and anticipate its prices scaling new heights in the crypto world, their loyalty to the price is rewarded.
By reading your favorite coins' price analysis and daily roundups, you may keep yourself updated and better able to make a decision.
Disclaimer. The information provided is not trading advice. Cryptopolitan.com holds no liability for any investments made based on the information provided on this page. We strongly recommend independent research and/or consultation with a qualified professional before making any investment decisions.