Before launching off this Paxful review, a bit of trivia. Also known as 'Bitcoin Uber', Paxful is a digital marketplace connecting Bitcoin buyers and sellers. It provides hundreds of payment methods and trading methods to its users which aren't available with competitors.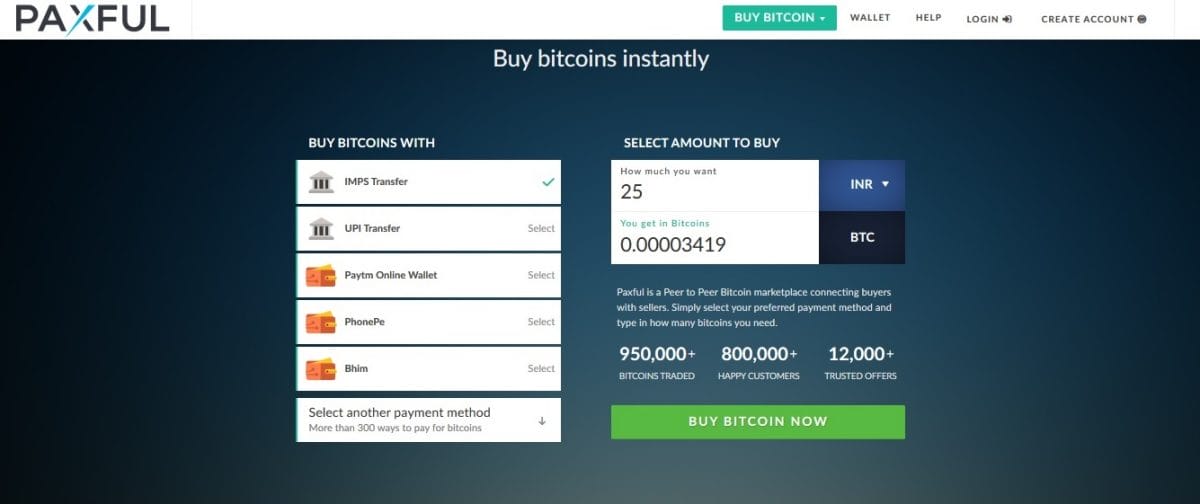 In this guide, we will review Paxful in full detail covering everything such as services, features, USP and even its shortcomings.
A general overview of Paxful
Homepage:

https://paxful.com/

Headquarters: Delaware, Wilmington (U.S.)

Year founded: 2015
Paxful, a P-2-P marketplace for Bitcoin, was started in 2015 by Ray Youssef and Artur Schaback. It operates across major cities globally. Ever since its launch, Paxful has allowed sellers to sell Bitcoins without any hassles. Vice versa, the buyers also benefit from multiple payment options, smooth transactions and seller trust ratings. It fills the gap between miners and exchanges.
Unlike exchanges that grapple with geographic restrictions, Paxful allows buyers the freedom to choose the seller and connect independently. It truly represents the spirit of the decentralized concept of cryptocurrencies.
In many terms, the exchange is similar to LocalBitcoins.com. Its users experience the same peer-to-peer buying options from private sellers after agreeing to mutually acceptable terms. The transaction is completed through one of the many available options.
PAXFUL REVIEW 2020 – More Information
How to Create An Account At Paxful
Users can register an account on Paxful or simply browse the website to view potential Bitcoin offers. Paxful gives users multiple choices in creating accounts.
First, they can register on the website immediately after landing via the register link and filling the form with relevant details. You will need an active email ID, have to create a password and username and then subsequently confirm the registration link received in your given email.
In the second method, you begin by searching for a suitable BTC seller and proceed to register with Paxful afterwards. Account holders can browse the website thoroughly for suitable Bitcoin offers. After selecting the seller as per deal details, you will be prompted to register with platform and then complete the specific transaction.
A 'Welcome Email' is sent to the new account user containing a verification link to confirm your ID via authentic email. Another mail contains '2-Factor Authentication', allowing users to verify their identity via an SMS verification. Next step involves selecting the relevant security questions to help protect your future logins. However, you can select the funds source at the time of closing the Bitcoin deal.
Simply put, it's a pretty clear-cut process.
How to Buy Bitcoins on Paxful
Paxful allows you to purchase BTC just like any other public online marketplace. Here's a step-by-step guide to purchasing Bitcoins on Paxful.
Choose the amount of Bitcoins you want to purchase

Select the currency of exchange from available options

Choose a suitable payment method (over 300 options available)

Choose a Bitcoin seller from the list and hit 'Trade' button

Follow the steps for payment and hit 'Mark as Paid' button

Once the seller confirms the deal, buyer receives Bitcoins in wallet
As mentioned above, there are close to 300 methods to pay on Paxful! They are as under:
Cash deposits

Gift cards

Online transfers

Credit/Debit cards
Once you select your category, Paxful will display sellers matching your particular payment method along with their respective Bitcoin price offers. If 'Cash Deposit' method is chosen, the sellers who accept cash payment will appear on the screen and user can take their pick.
Most importantly, if you select 'Gift Cards' as an option, Paxful doesn't require any ID. It's a great option for those looking to stay anonymous. However, other methods do prompt you to enter a valid ID.
Escrow
Secure escrow service is provided by Paxful to its buyers and sellers. Once a trade is confirmed by both ends, the platform transfers the Bitcoin from vendor to Paxful's escrow account. At this stage, the particular trade cannot be canceled, even if the seller wants to. In the meantime, the buyer is given a set period to complete the transaction using the chosen method. If the buyer does not make the payment during stipulated time frame, the deal is cancelled automatically by the platform.
In case of successful trade confirmation, and the compliance of platform terms, the transaction is regarded complete. Bitcoin reaches the buyer's wallet thereby completing the deal.
Disputes are resolved by Paxful moderators after undertaking a detailed investigation into the trade including transaction details, chat transcripts and more. Technical errors are also taken into consideration. However, most deals move smoothly towards completion since Paxful keeps a tight lid on scams.
How to Withdraw Bitcoins from Paxful
Your purchased Bitcoins can be withdrawn to any bank account from the Paxful wallet. BTC can be transferred to other wallets or even be used to buy things from a retailer that accepts Bitcoins as payments for merchandize.
Paxful does not charge any fee whatsoever for withdrawals for both U.S. dollars and BTC. Nevertheless, there's a miner's fee for every successful deal that further reaches blockchain miners and currently hovers around. 0.0008 BTC.
How to Store Bitcoins on Paxful
Paxful assigns a wallet to every user upon successful user registration. However, this wallet is not recommended for long term storage. We strictly advice Paxful users to invest in a reliable hardware crypto wallet. There are far more secure wallets available in the market offering more secure features.  Trezor.io, BreadWallet.com SpectroCoin.com and LedgerWallet.com are a few notable examples.
That being said, Paxful's encryption and 2-factor authentication provides optimum safety. The wallet can be used by owners for Bitcoin storage as well as transactions. Wallet QR code helps receive Bitcoins in their wallet.
Paxful Fees
Buyers aren't charged anything to purchase. However, the fee is imposed on the sellers though. Here's where Paxful can put some people off! The platform itself does not charge any fee neither does their website.
Naturally, sellers include a certain percentage from the transaction amount as fee to cover their charges. Furthermore, all sellers have their own charging fees as per their whims. Fee is under the title 'to pay – on the Dollar'. Choose the seller according to their respective charges.
Paxful Jurisdiction – In which countries is Paxful legal?
Being a peer-to-peer exchange, Paxful enjoys jurisdictional freedom just about everywhere on the globe. It operates hassle-free in major countries including the UK, U.S., India, Japan, Mexico, Europe, South America and many more. The key here is locating a seller who has no issues with your location.
U.S. customers have absolutely no problems since most sellers come from U.S.A. There are some sellers who don't do business with Russian or Chinese customers and which limits their customer base.
Paxful Security Overview
Paxful has invested in top-tier security technologies. From the BTC wallet to the transaction apparatus, safety is paramount. It offers 2-factor authentication, SMS verification, encrypted servers, security questions and more.
Such protocols are common to most exchanges and they don't guarantee 100% security. Hacking scandals are common in crypto realm and no exchange can avoid it. The human error can always be discounted. However, Paxful has not seen any major controversy in its history.
Feedback system that reflects a seller's credibility factor is a highly potent tool in its arsenal. Buyers must use this to their advantage and find a trusted seller. Steer clear from sellers with a history of negative reviews.
Paxful Customer Support
Paxful comes with a robust support system that addresses most user concerns. Users can get in touch with support staff through multiple, easy-to-use options. There are the customary chat functionality, email support and customer support number that help people connect directly and voice their concerns. We can hear many schools being built with clients donating Paxful.
You can expect quick response from help@paxful.com email support. Next, the chat feature is always available at right hand lower corner of the screen all through the browsing session. It can take longer to connect due to long waiting time.
Calling Paxful at 1-865-272-9385 is another good option to connect. As expected, this method works best during regular office working hours. Users will get prompt reply during these hours. The Facebook page of the company is another great way to connect with Paxful.
The email method is most productive though. Narrate your problem in detail (use screenshots). There's no need to wait for chatting, connect back and forth and wait for the reply. It's better and more responsive.
Buying Limits
Paxful has categorized buyers as per their respective buying limits as follows:
Level 1 – Buyer with $1,500 limit (requires phone and email verification).

Level 2 – $10,000 limit. (Phone, email + ID verification)

Level 3 – $10,000 (Phone, email, ID verification + address verification)

Level 4 – No limits (all above verification + due diligence)
Updates/Developments – 20Nov 2019
Paxful has launched its new multi-tier Affiliate Program promising more rewards to new entrants. It will reward 50% + 10% commission to users whose affiliates trade on Paxful.
Cryptocurrency exchange Paxful has delivered strong growth numbers in 2019. It now has three million wallet addresses that represent its ever-increasing user base. Users from developing countries form a major part of the user base.
As part of its charity campaign, Paxful has built a second school in Rwanda entirely using Bitcoin profits. The campaign called "BuiltwithBitcoin aims to bring more educational opportunities to children in developing countries.
Conclusion
Paxful's USP is its plethora of payment methods. Users can use practically any method under the sun. It has excellent design, easy-to-use and secure user experience with intuitive navigation options.
Paxful is a Peer to Peer Bitcoin marketplace connecting buyers with sellers. Simply select your preferred payment method and type in how many bitcoins you. Be sure you choose reputable traders.
The exchange rates are decent to say the least. It can skyrocket as per the chosen payment method. Seller's fee, too, can compound problems if charged excessively at the discretion of the seller. Feedback system to maintain the seller's reputation is a notable feature at Paxful allowing users to check the history before committing to the trade.
Despite its minor shortcomings, Paxful offers a great way to buy Bitcoins online. Beware of fraud traders though as in Nigeria.
Are you a Paxful user? If yes, then we would love to hear more about your experience in the comments.