Nano Price Prediction 2023-2032
What's distinctive about the Nano network and its native currency XNO?
Nano is a cryptocurrency that claims to be "a low-latency payment platform that requires minimal resources." Nano's initial objective, like that of other cryptocurrencies, is to serve as a viable replacement for fiat currency. Nano has a delegated Proof-of-Stake (DPoS) blockchain with directed acyclic graphs (DAG) intended to deliver rapid, fee-free payments without offering a strong smart contract platform or reliable store of value. Let's see if our Nano Price Prediction will prove true to form.
Nano has broken into a well-established market sector by developing a protocol with record transaction processing speeds, low latencies, and limitless scalability. Nano is a cryptocurrency that aims to decentralize the ownership of on-chain assets without the need for mining rewards or a coin offering by using a captcha-solving distribution event.
Colin Lemahieu, George Coxon, and Forest Horsman represented the Nano Foundation on the 28th and 29th of June at the Reset-Connect event in London, UK. Reset-Connect is the largest sustainability event in the UK and connects individuals, businesses, and organizations with sustainability in mind. Nano is the only currency attending the event, showing the recognition of a project "done the right way."
How much is XNO worth?
Today's Nano price is $0.642113 with a 24-hour trading volume of $561,725. Nano is down 0.28% in the last 24 hours. The current CoinMarketCap ranking is #181, with a live market cap of $85,560,527. It has a circulating supply of 133,248,297 XNO coins and a max. supply of 133,248,297 XNO coins.
Nano has rebranded to a new ticker XNO and symbol Ӿ. Find more details in the announcement.
What is Nano?
Nano, first released in 2014 by software developer Colin LeMahieu under the name RaiBlocks, is a relic from the crypto era. The group followed the original Bitcoin plan and hoped that NANO would become virtual money that people could use every day. NANO overcomes scalability concerns, transaction confirmation delays, and other computational issues. Nano is a lightly modified version of cryptocurrency that focuses first and foremost on the exchange of value, with quick transaction times, zero costs, and energy efficiency.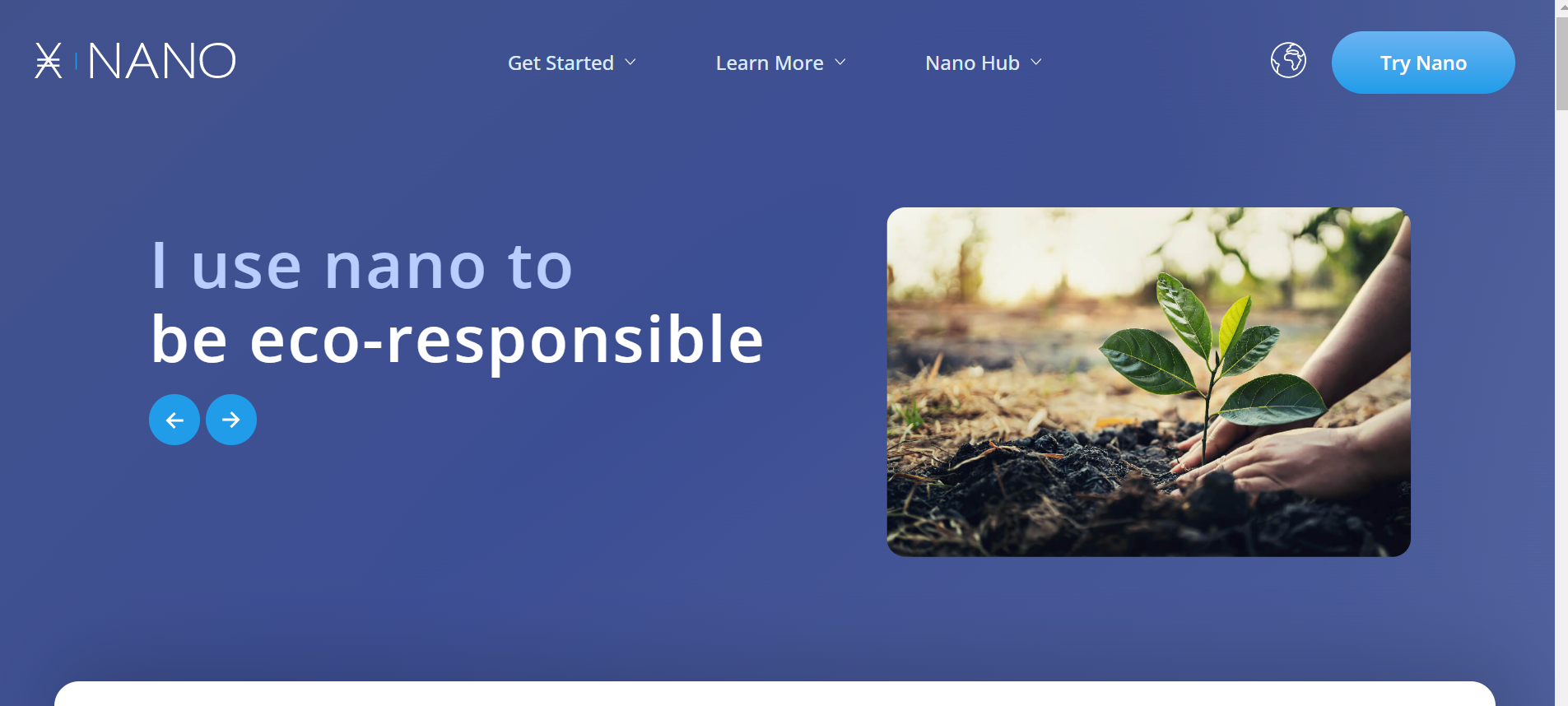 There was no ICO when NANO was initially released. Users could get coins by solving captchas (the Captcha Faucet was active for two years).In the beginning, NANO's value fluctuated around its all-time high of $4.02, but it began to rise in December 2017 and reached $4.02 in December 2017. From that moment onwards, NANO's price rose steadily until it hit a $33.34 peak in mid-August. NANO is currently traded for around $0.9253.
The NANO blockchain is based on the Directed Acyclic Graph (DAG), with each account being assigned its own blockchain. Each blockchain is owned by its creator and can only be updated by them. Nano uses Open Representative Voting (type of PoS) and a small amount of PoW to rate-limit transactions. Nano was created to provide an asset distribution without mining incentives or coin offerings, according to the project's website.
Nano also has an innovative consensus mechanism called Open Representative Voting (ORV). An account can select a proxy to vote on the user's behalf, even if the delegating account is offline. The participants of this scheme are the nodes that remain online for a long period of time and vote on the validity of transactions they observe on the ledger. This is another distinguishing characteristic of Nano coins vs. the competition. With no direct financial incentive for the nodes, this improves the network's decentralization in the long term.
The company announced its new ticker symbol (Ӿ) and standard symbol (XNO). Nano is clearly taking things seriously in 2022, with the launch of a fresh website and a new corporate identity.
How does Nano work?
The Nano protocol is designed to be a lightweight, low-latency payment platform that requires minimal resources. The Nano network consists of a series of interconnected blockchains, each of which represents an account on the ledger. The blockchains are updated asynchronously and do not rely on centralized nodes or miners. Instead, each account has its own blockchain, which can be updated by the account holder. This design is intended to offer scalability and near-instantaneous transaction processing times.
Nano uses a delegated proof-of-stake (DPoS) consensus mechanism in which account holders can delegate their voting power to representatives. The Nano network is secured by a group of elected representatives who validate transactions and add them to the ledger. The representatives are chosen by the account holders, who can change their representatives at any time.
Nano also uses a proof-of-work (PoW) system to rate-limit transactions and prevent spam. The Nano network is designed to be highly scalable, with no limit on the number of transactions that can be processed.
Nano is an open-source project with a community of developers and volunteers who contribute to the development of the protocol. The development team is aiming to make transactions faster, in order to ensure that the technology is scalable while still emphasizing security. Because of this, the prospect of the government attempting to prohibit Nano digital currency is significantly less. It's conceivable that governments might learn from this technology and use it to create a digital currency in their own countries as a substitute for cash, similar to how the digital yen was implemented in China.
In the long term, because NANO is built on blockchain technology, it has a lot of promise. NANO is the only digital currency that employs a Block Lattice rather than a traditional data structure. This allows for faster network upgrades and quicker transaction confirmation times. NANO may be used to send instant payments from your smartphone or PC.
Team Behind Nano
According to the Nano website, Nano provides open access to anyone in the world wanting to transfer value instantly, without fees, and in an eco-friendly way. The Nano team is led by Colin LeMahieu, who is the founder and CEO of Nano. He has over 15 years of experience in software development and has a background in mathematics and physics. Other notable members of the team include George Coxon, Nano's Director of Communications. She is responsible for the Nano brand and community outreach.
Dimitrios Siganos, Nano's Lead Software Developer is responsible for the development of the Nano protocol. He has a background in cryptography and distributed systems. The team is rounded out by a number of advisors, including Deepa Mardolkar, who has led European business units across retail finance and stored value payments, in multinational organizations such as American Express, GE Money, Capital One, and most recently, Amazon. A group advises the Nano team of experienced individuals from the blockchain and cryptocurrency industry.
What Is The Nano Foundation?
The Nano Foundation is a non-profit organization that was created to promote and support the development of the Nano protocol. Nano is a decentralized cryptocurrency that can be used by anyone, according to the project's official website. Nano claims that there are no costs associated with transactions and that sending and receiving XNO coins is completely free. The project also states that it is "ECO Friendly," implying that there will be no mining, manufacturing, or minting of Nano.
Mission
The Nano Foundation's mission is to "advance blockchain technology for social impact by developing and promoting sustainable, decentralized solutions that harness the power of Nano's unique, feeless, instant transactions."
Vision
The Nano Foundation envisions a future in which blockchain technology is widely adopted and used to solve global challenges. The foundation believes that blockchains have the potential to create a more inclusive and equitable world. values. The Nano Foundation believes in three core values: decentralization, sustainability, and inclusivity. These values guide the foundation's work and are reflected in its mission statement.
Decentralization
The Nano Foundation is committed to promoting decentralized solutions that are powered by blockchain technology. The foundation believes that decentralization is key to creating a more inclusive and equitable world.
Sustainability
The Nano Foundation is committed to promoting sustainable solutions that are powered by blockchain technology. The foundation believes that sustainability is key to creating a more inclusive and equitable world.
Inclusivity
The Nano Foundation is committed to promoting inclusive solutions that are powered by blockchain technology. The foundation believes that inclusivity is key to creating a more inclusive and equitable world.
Nano Price History
The Nano cryptocurrency was launched on October 1st, 2015 as open-source crypto focused on eliminating the flaws inherent to Bitcoin and its descendants while also providing a platform for rapid payments between individuals. With near-instant transactions and no costs, Nano has overcome Bitcoin's scalability problem.
At the time of launch, each Nano coin was worth about $0.026179 on 16th July 2017. The price pumped by 3,381.073 percent over the course of the past 5 years, 0 months, and 11 days as the hype around Bitcoin and other cryptocurrencies reached a fever pitch. However, the prices of all cryptocurrencies plunged in the months, and following the Q4 2021 high of $6.23 seen on 3 October, the price of Nano has been relatively stable, hovering around the $1 mark for the rest of the year. By the middle of 2021, after falling below $5 on December 2nd, the coin continued to drop in value, ending the year at $3.40.
In the year 2022, the first two months were better and the prices were seen to hold above $2. Nano, however, could not keep this rally going and the prices came crashing down in the later months of the year. The coin fell below the $2 barrier on 20 February, to then close the month out at $1.94. The price of XNO rose dramatically in the first half of March, bottoming at less than $2 in early April.
The price of NANO fell below the all-time high of $37.62 that was witnessed on 2 January 2018, and 63% below the 90-day high of $3.25 seen on 4 April. The May 18 winter saw Nano price fall from $2 to new all-time lows of below $1 whereby it has held up to date where it is trading at $$0.9253 as of July 28.
A circulating supply of 133,248,297 XNO coins presents a market capitalization of around $123,382,558 – ranking the coin at number 166 on the crypto charts according to data from Coinmarketcap.
More Uses of the Nano Ecosystem
Guardarian, a crypto-exchange platform, announced that US residents can now buy NANO in the US.
Perseeve, an app that allows you to receive calls and get paid in real-time, collaborated with Nano to allow users to get paid in real-time.
The Indian exchange, CryptoForce, now offers XNO/INR trading pair.
Nano Technical Analysis
On the four (4) hour price chart, Nano is currently trading below the baseline of $0.759 by 15.67%, showing that the coin is undervalued. The MACD line, as seen on the chart, has crossed above the signal line, signaling a possible price reversal and uptrend. Also, the Relative Strength Index (RSI) is at 47.62, meaning that XNO is trading around its resistance zone, and the price action could go either way.
According to the technical analysis summary for Nano XNO, the moving average indicators signal a strong sell, and the oscillators are neutral.
Nano Price Predictions by Cryptopolitan
Like other crypto coins, Nano had a bear market for most of 2022. The XNO has decreased by around 3.03% over the past week and 15% in 30 days. The decentralized digital currency has good fundamentals, but will it be sufficient to push XNO above $1 in 2023?
Let's get into our Nano price predictions for 2023 to 2031.
| | | | |
| --- | --- | --- | --- |
| Year | Minimum Price ($) | Average Price ($) | Maximum Price ($) |
| 2023 | 0.57 | 1.31 | 1.41 |
| 2024 | 1.38 | 1.62 | 1.67 |
| 2025 | 1.90 | 2.18 | 2.32 |
| 2026 | 2.48 | 2.88 | 2.91 |
| 2027 | 2.76 | 2.97 | 3.19 |
| 2028 | 3.06 | 3.39 | 3.53 |
| 2029 | 4.36 | 4.57 | 4.73 |
| 2030 | 6.29 | 6.68 | 6.77 |
| 2031 | 8.87 | 9.14 | 9.29 |
| 2032 | 11.99 | 12.24 | 12.41 |
Nano Price Prediction 2023
According to our Nano price prediction for 2023, If demand for the coin skyrockets year-round, XNO will eventually touch a maximum price of $1.41. We anticipate a minimum price of $0.57 and an average trading price of $1.31. A spike in XNO demand, a general crypto market upturn past $1, and new advances in the Nano network in 2023 might positively impact price movement.
Nano Price Prediction 2024
According to our Nano price prediction for 2024, the positive trend will continue, and XNO will hit a maximum valuation of $1.67, an average price of $1.62, and a minimum value of $1.38.
Nano Price Prediction 2025
The maximum value of the XNO cryptocurrency is predicted to be $2.32, per our Nano price prediction for 2025. The expected minimum trading price for the coin is $1.90. The anticipated market average is also $2.18.
Nano Price Prediction 2026
Our Nano price prediction for 2026 anticipates a maximum price of $2.91 and a minimum price of $2.48. XNO is expected to trade at roughly $2.88 on average over the year. If a number of critical advancements and collaborations go as planned, XNO usage will expand, and the coin's value will reach the expected levels.
Nano Price Prediction 2027
According to our experts' Nano price prediction for 2027, XNO's price will peak at $3.19. By the end of 2027, an average trade price of $2.97 is anticipated, with a price as low as $2.76, a strong probability.
Nano Price Prediction 2028
Our Nano price prediction for 2028 projects is that XNO will attain a maximum price of $3.53. The coin's price may reach an average of $3.39 and a minimum of $3.06.
Nano Price Prediction 2029
According to our Nano price prediction for 2029, XNO will trade for an average of $4.57 and a maximum of $4.73. The lowest anticipated price for 2029 is $4.36.
Nano Price Prediction 2030
The XNO price may reach a high of $6.77, according to our Nano price prediction for 2030. Furthermore, XNO may continue to trade at a minimum price of $6.29 and an average price of $6.68.
Nano Price Prediction 2031
According to our Nano price prediction for 2031, XNO is predicted to trade at a minimum of $9.14 and a maximum of $9.29. The minimum price predicted for the year is $8.87.
Nano Price Prediction 2032
For 2032, Nano is expected to reach a minimum price value of $11.99. The XNO price could reach a maximum price of $12.41 with an average price of around $12.24.
Considering that it is expected that XNO's acceptance would increase, institutional investors may decide to buy into XNO, causing its price to surge to new heights. Regardless of how optimistic the estimates are, you should always conduct your own research before making an investing decision.
Nano Price Prediction by Wallet Investor
The insightful technical analysis and cryptocurrency price prediction algorithm at Wallet Investor rates XNO as a poor long-term investment. By 2024, they anticipate Nano (XNO) could lose up to 90% of its value, reaching $0.0596.
Nano Price Prediction by Technewsleader
The XNO price forecast by Technewleader predicts that XNO will reach a maximum price of $1.31 in 2023. The anticipated price range for 2024 is $1.62 to $1.94. For 2025, the team projects a minimum trading price of $2.37 and a high price of $2.79. A maximum trading price of $5.93 is anticipated in 2027 if the upward trend holds. They expect the price of XNO to range between $22.30 and $26.52 in 2031.
Nano Price Prediction by PricePrediction.net
The Nano price forecast from Priceprediction.net is similarly bullish. They predict that XNO may rise as high as $1.13 in 2023 and $2.48 by 2025. Additionally, they predict that by 2031 Nano may trade for an average of $20.89 and a maximum of $24.31, making it a worthwhile long-term investment.
Nano Price Prediction by Industry Experts
According to Mr. Legend Crypto on YouTube, XNO may dip even lower in 2023 to the $0.3 region if we are to go by the previous bear/bull pattern of 2019/2021. However, the question remains, "how low will XNO go before a bull market?" The $1 region remains integral for Nano, and breaking through the resistance at that level could be massive for XNO holders.
Conclusion
As we've learned from the Nano team, developing a business team is key. Despite how great the tech is, if you don't take care of your business development and marketing others with shittier tech will grab market share, and the market shifts glacially when it comes to market share. Once you've lost TRUST and interest, you'll find the climb steeper.
The #1 thing the dev team needs to do right now to resist losing market share is to start hiring a strong biz dev and marketing team. The longer they postpone, the more difficult it will be for Nano to achieve its goals, thus making $300 unlikely. Engineers often get tunnel vision on tech. Hopefully, Colin and others are working behind the scenes to make some new hires and pursue the underserved aspects of their endeavor. A couple of strong hires will signal a strong new direction and the price will jump.
Nano is expected to increase. The coin has no inflation, no transactional fees, is super-energy efficient, and is fully distributed. Nano is a cryptocurrency with great potential to change how we interact. The coin is expected to rise in value in the future. Even though we are bullish on this cryptocurrency, we expect you to do your research before investing in it.
We love the tech. Hope it takes over the world.
.