Here is where the crypto market stands: Gary Gensler, head of the US Securities and Exchange Commission (SEC), is pushing for a single set of rules for cryptocurrencies that would bring together all regulators and strengthen industry regulation.
Ripple over the weekend filed a motion seeking dismissal of the suit before trial in federal court in Manhattan. The company argued that XRP can't be considered a security because there was no "investment contract" granting investors rights or requiring the issuer to act in their interests.
Cardano co-founder Charles Hoskinson told the US Congress that the SEC and CFTC would not be able to handle oversight of the cryptocurrency industry. In his view, it could self-regulate along the lines of the banking industry. As we remain hopeful, let's take a look back at how Bitcoin Gold (BTG) came into existence.
The introduction of Bitcoin (BTC) in January 2009 came with the proposition that mining the coin would be available to all and sundry, and this appeared to be the status quo for some time. However, as the value of Bitcoin steadily climbed up the charts, its mining appeal began to skyrocket, and competition soon increased. Two products of this competition include Bitcoin Gold and Bitcoin Cash.
Bitcoin mining came with more challenges, and it became clear that only custom-built equipment (ASICs) can efficiently mine the coin. Big players monopolized the BTG network and disadvantaged participants who could not afford powerful and faster ASICs; this caused an imbalance of power.
Due to the turn of events, miners and developers on the Bitcoin network determined that a shift of power was necessary. That decision eventually resulted in Bitcoin Gold (BTG), as we know it today. In this Bitcoin Gold price prediction, we'll examine the price history of the digital asset, technical analysis, and BTG/USD predictions for the years ahead.
Today's Bitcoin Gold price is $21.72 USD with a 24-hour trading volume of $9,340,725. Bitcoin Gold is up 0.94% in the last 24 hours. The current CoinMarketCap ranking is #85, with a live market cap of $380,445,743. It has a circulating supply of 17,513,924 BTG coins and a max. supply of 21,000,000 BTG coins.
Also Read:
• Best Bitcoin Wallets In 2022
• Bitcoin Price Prediction
• Bitcoin Cash Price Prediction
• Bitcoin Futures: All You Need To Know
What is Bitcoin Gold (BTG)?
Bitcoin Gold (BTG) was launched in 2017 as a user-friendly Bitcoin alternative by co-founders areHang Yin, Martin Kuvandzhiev, and Franco Niebles. The blockchain-based platform is an open-source digital currency with Bitcoin (BTC) fundamentals, aimed at mitigating the scalability concerns of BTC and decentralizing the mining sector.
In effect, BTG is a hard fork (spin-off) of existing blocks of the BTC blockchain. The Bitcoin Gold blockchain is driven by a proof of work (POW) algorithm known as Equihash or Zhash.
Bitcoin Gold has fulfilled some of its aims by offering complete anonymity and significantly improving processing times compared to what we have with Bitcoin. Bitcoin Gold (BTG) can be mined on regular GPUs rather than the expensive and sophisticated ASICs with the hard fork.
The coin's development team kicked off with six members in 2017 and now boasts a mix of 20+ international members with varied skills and backgrounds. Also, the administration and development of the BTG blockchain are conferred on the board and members of the community.
Bitcoin Gold (BTG) functions independent of centralized monetary policies or restrictions by banks, federal reserves, or other financial bodies as a digital asset.
BTG Overview
As of this writing, the price of BTG has consistently allowed it to retain a spot among the regular top 100 coins by market cap on both CoinMarket cap and Coingecko rankings. Today, the Bitcoin Gold token is ranked at position #122 on the Coinmarket cap and has a total market cap of $638,249,466.12, which is a significant reduction from last year's market cap.
The reduction can be attributed to the current bearish sentiment that has engulfed the crypto market, causing a significant drop in the trading prices of most tokens. However, the market has begun to recover, and BTG has recorded a 2.75% growth in price within the last 24 hours.
With a market dominance of 0.03%, the cryptocurrency currently trades at $36.42%, with an average daily trading volume of $41,003,908.44
What are some BTG use cases?
BTG can have several applications, including the following
Settlement for trades – buy, sell, swaps, etc.
An instrument of investment in crypto marketplaces
An independent payment enabler like other digital assets
Computing technology
Open-source bridges
Smart contracts
Payment methods
The various use cases of this digital asset across multiple platforms have led to a steady increase in Bitcoin Gold's (BTG) value.
How to buy and sell Bitcoin Gold (BTG)
Like Bitcoin, Bitcoin SV, and other coins, Bitcoin Gold (BTG) can be purchased or sold on cryptocurrency platforms that support the ecosystem. You can also swap/sell BTC for BTG on a Bitcoin exchange.
Here's how to buy Bitcoin Gold:
Look for a secure cryptocurrency exchange.
Set up an account.
Provide identification and payment details where necessary.
Fulfill KYC requirements.
Determine the amount of coin you want to buy, confirm the exchange rates, and buy Bitcoin Gold.
If you prefer hardware wallets over digital wallets, that option is available too.
Here's how to sell Bitcoin Gold:
Ensure that you already have your Bitcoin Gold coin in your wallet.
Visit any secure crypto platform with support for BTG, and type in your sell amount.
If the rates work for you, sell your Bitcoin Gold.
If you're selling for another digital asset, ensure that the receiving address is secure.
Bitcoin Gold Price History
From historical data, Bitcoin Gold (BTG) coin price was initially valued at over $500, and it hit an all-time high (ATH) of $539.72 on 23 October 2017. However, the price fell rapidly below $200 in a short period but hit another high of $509 on 11 November 2017.
Bitcoin Gold spent the remainder of 2017 trying to retrace the $500 mark. The price retracement continued in the first few days of 2018, but the market eventually lost its momentum at around $158 at the end of January 2018.
In March 2018, BTG's value fell below the $100 mark, and the bearish movement spanned the whole of the year 2019. On 3 January 2020, Bitcoin Gold plummeted to a new minimum price of $5.02 and attained an all-time low of $4.25 in March 2020.
The significant price dips experienced between 2018 to 2020 could be attributed to repeated malware attacks on the coin's ecosystem.
At the start of the year 2021, the price of Bitcoin Gold (BTG) hovered around the $8 mark. In the middle of February, the dynamics favored Bitcoin Gold, and its price showed signs of massive recovery by rising to $168.19 in May.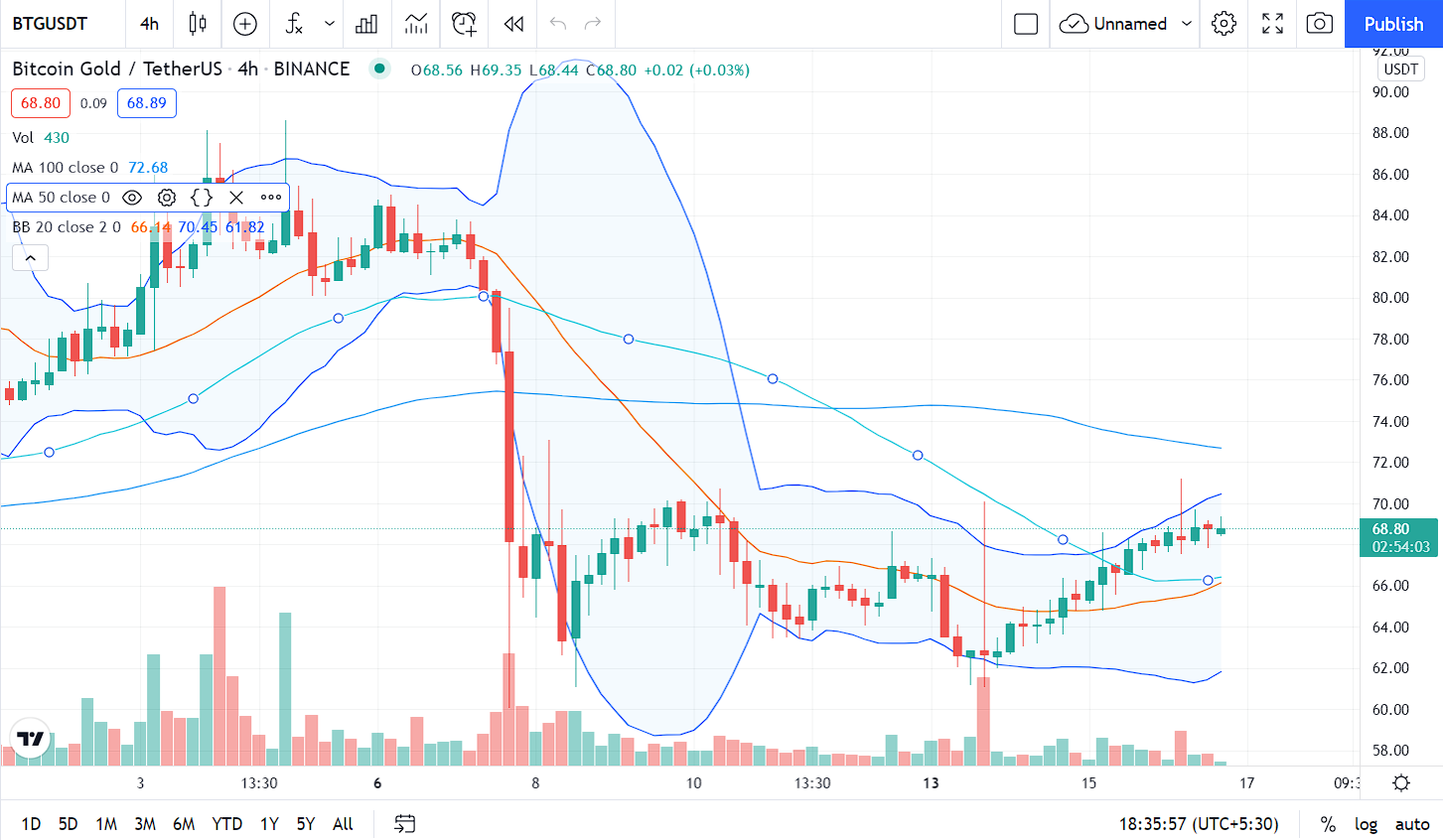 In the 4-hour chart, it is clear that the price of Bitcoin Gold is trading above the 50-day and below the 100-day Moving Averages. Along with this, the price movement is upwards, trying to break through the upper end of the Bollinger Band. Following the rise of Bitcoin, Bitcoin gold price is also rising.
As of this writing, in Jan 2022, the price of BTG has significantly increased since then. The cryptocurrency has maintained an impressive bullish momentum that has seen the prices recover from their worst hits between 2018 and 2020. So far, the coin has gained immensely and is currently trading around the $35 mark.
Bitcoin Gold Technical Analysis
Bitcoin Gold shows weak development in a falling trend channel in the short term. Falling trends indicate that the currency experiences negative development and falling buy interest among investors. The currency has support at $15 and resistance at $22. Volume has previously been high at price tops and low at price bottoms. Volume balance is also positive, weakening the falling trend and could be an early signal of a trend break. Bitcoin Gold is overall assessed as technically slightly negative for the short term.
Bitcoin Gold is in a falling trend channel in the long term. This shows that investors have consistently sold at lower prices to get out of the currency and indicates negative development for the currency. The coin has support at $14.60 and resistance at $33.00. Volume tops and volume bottoms correspond well with tops and bottoms in the price. Volume balance is also positive, weakening the falling trend and could be an early signal of a trend break. BTG is overall assessed as technically slightly positive for the long term.
BTG Price Prediction 2022 – 2031
Wallet Investor
According to Wallet Investor, Bitcoin Gold is an unfavorable asset for long-term investment, as they expect the token's value to decline by 89.536% in 2023. Similarly, they predict BTG to rise slightly in the short term, reaching a price of $22.704 in the next two weeks.
Technewsleader
TradingBeasts predict Bitcoin Gold to close 2022 with a bearish run, leading to an average price of $23.82, with minimum and maximum prices of $23.07 and $27.20, respectively. They also anticipate the BTG market to maintain this upward trend for most of next year, resulting in a price range of $33.75 to $39.07 in 2023. The following year, the team projects a maximum BTG price of $57.99, an average price of $49.79, and a minimum trading value of $48.39 by July 2024.
By June 2025, TradingBeasts anticipates Bitcoin Gold to be trading at an average market value of $71.64. The coin is also expected to attain a maximum price of $82.60 through 2025. Technewsleader's BTG price prediction anticipates an average market value over 20x its current price.
Longforecast
According to Longforecast, Bitcoin Gold might experience severe market losses as they predict the coin to have a price range of $12.37 to $15.35 by December 2022, with a closing market price of $14.35. Going into 2023, Longforecast anticipates the coin to experience further devaluation throughout the year, resulting in a minimum and maximum price of $7.19 and $8.27 by December 2023.
By June 2024, Longforecast predicts BTG could make some gains, trading at a maximum price of $10.55, with its market closing at $9.86. In 2025, Longforecast projects the bears to exhibit major control over the BTG market, resulting in a minimum and maximum price of $3.15 and $4.03 by December.
The following year, Longforecast anticipates BTG's value to keep declining, leading to a minimum price of $3.00 by October 2026, with the maximum and closing market price being $3.81 and $3.23, respectively.
Cryptopolitan
| | | | |
| --- | --- | --- | --- |
| Year | Minimum Price ($) | Average Price ($) | Maximum Price ($) |
| 2022 | 26.29 | 28.36 | 30.28 |
| 2023 | 45.69 | 48.32 | 51.56 |
| 2024 | 62.73 | 68.63 | 73.50 |
| 2025 | 82.29 | 86.61 | 92.91 |
| 2026 | 71.44 | 76.59 | 81.69 |
| 2027 | 101.37 | 106.70 | 110.82 |
| 2028 | 144.05 | 148.55 | 151.38 |
| 2029 | 208.54 | 214.28 | 217.41 |
| 2030 | 294.37 | 299.07 | 305.07 |
| 2031 | 401.54 | 406.30 | 409.80 |
Bitcoin Gold Price Prediction 2022
Although Bitcoin Gold is on a downslope, falling by 16.49% in the past week, our price predictions for 2022 indicate the coin might begin an upward trend. We anticipate a minimum price of $26.29, a maximum price of $30.28, and an average price of $28.36. This market recovery would come as no surprise as BTG remains a reasonably popular ASIC-resistant cryptocurrency, thus continuing to attract many investors.
Bitcoin Gold Price Prediction 2023
According to our price predictions for 2023, Bitcoin Gold will record significant gains throughout the year, hitting an average price of $48.32 and a maximum price of $51.56. The expected minimum market value is $45.69. These price levels could result from increased adoption of Bitcoin Gold's network and its Lightning network L2 solution in deploying more smart contracts.
Bitcoin Gold Price Prediction 2024
BTG will have a minimum price of $62.73 in 2024 per our price predictions. Investors could also anticipate maximum and average prices of $73.50 and $68.63, respectively.
Bitcoin Gold Price Prediction 2025
By 2025, we anticipate that Bitcoin Gold will attain a peak price of $92.91 and a minimum market value of $82.29. Our price predictions also indicate the coin will trade around an average price of $86.61, representing a 308.35% profit on the current market price.
Bitcoin Gold Price Prediction 2026
Our Bitcoin Gold price forecast for 2026 anticipates an overall bear market leading to the token trading as low as $71.44. The BTG market is also expected to have an average price of $76.59 and a maximum price of $81.69. The devaluation could result from several factors, including regulations and theft of a vast amount of BTG from any exchanges. Such events can create a negative sentiment around any cryptocurrency, leading to market panic among investors.
Bitcoin Gold Price Prediction 2027
Going into 2027, we predict Bitcoin Gold to experience a market turnaround trading as high as $110.82, with the minimum and average prices set at $101.37 and $106.70, respectively.
Bitcoin Gold Price Prediction 2028
In 2028, our price predictions indicate that Bitcoin Gold will record significant gains, resulting in a price range of $144.05 to $151.38, with its average market value of $148.55. Suppose more merchants and customers adopt the BTGPay solution in the coming years; it will massively contribute to BTG reaching this price level.
Bitcoin Gold Price Prediction 2029
According to our price predictions for 2029, Bitcoin Gold will trade at an average price of $214.28, with the potential to hit a maximum price of $217.41. We also expect the Bitcoin hard fork to have a minimum price of $208.54. Assuming Bitcoin Gold remains committed to its goal of interoperability, the network could experience an influx of developers and investors, resulting in these price levels.
Bitcoin Gold Price Prediction 2030
By 2030, we predict that Bitcoin Gold will have a maximum market value of $305.07, with the lowest possible price of $294.37. Investors could also expect an average price of $299.07.
Bitcoin Gold Price Prediction 2031
According to our price predictions, Bitcoin Gold will be trading with a minimum price of $401.54 and an average market value of $406.30. Our projections further indicate the token will attain a maximum price level of $409.80, representing a stunning 1832.10% increase on today's market price.
Conclusion
Bitcoin Gold (BTG) is not the most popular coin for massive price jumps. However, its fundamentals and innovative features are pretty solid – meaning that it can still be a profitable investment over time.
It is quite famous for its intriguing network capabilities, which continue to interest many crypto enthusiasts and developers worldwide. In the last month, BTG's highest price point was $32.54. Although it has since fallen short of that, we anticipate a steady rise in the token's price levels for the remainder of 2022 and the years beyond.
However, these predictions are not financial advice, and all investors should conduct further research before making any investment decision.