The crypto industry is more than the token buy-and-sell. Although the correction might continue for a few extra months, it makes more sense to actually buy. Consider the following reasons for evaluating your crypto portfolio.
Most coins will largely be trading at huge discounts
The sell-off will be painful, but it will not last long.
Crypto could be a superb long-term investment if you buy the right coins.
Good crypto projects can't last long without your support.
Crypto needs community and the flurry of social media to keep the hype up and push for massive adoption. For one, the KuCoin token is set for a boost with its KuCoin Wallet $5000 USDT Giveaway:
Usually, when markets sell-off, you see selling gradually from top to bottom. We saw controlled selling across all assets, all at once. The exchanges wanted to liquidate the longs position and take profits. We know that Omicron triggered FOMO. Or was it YOLO? Futures contracts switched from short to long right before the crash. Almost seems convenient. We quickly noted that this incident has never happened before. So, what's happening?
Today's KuCoin Token price is $17.67 USD with a 24-hour trading volume of $7,875,581. KuCoin Token is up 3.11% in the last 24 hours. The current CoinMarketCap ranking is #40, with a live market cap of $1,738,231,778. It has a circulating supply of 98,379,861 KCS coins and a max. supply of 170,118,638 KCS coins.
Also Read:
• KuCoin Review: Turn-Offs And Trade-Offs
What is KuCoin?
KuCoin is a digital (crypto) currency exchange renowned for its sleek and user-friendly interface, top-notch security, and trustworthiness. The platform offers numerous trading options to over 8 million customers worldwide. Its service offerings include spot trading, Peer-to-Peer (P2P), futures, staking, lending, and margin trading. KuCoin is Singapore-based and was officially launched in 2017 to create a safe, simple, and globally accessible exchange platform.
KuCoin is widely revered for its early adoption of new tokens and cryptos, especially those that just completed their initial coin offering (ICO), making it possible for users to track their choice assets from the start. Coinranking's platform is currently ranked as the 7th largest cryptocurrency exchange. Also, KuCoin offers about 450 coin pairs and has a listing of over 300 digital coins, including BTC, ETH, Binance coin, and DOGE. Its market share is 2.52%, and it boasts a strong user base.
The platform can be accessed via the KuCoin mobile app on iOS and Android. In addition, users can also leverage KuCoin's website as an alternative to the mobile options.
KuCoin is a fast-growing exchange with numerous cryptocurrencies for traders to choose from. The native token of the platform, KuCoin Shares or KCS, has experienced significant growth since its inception. In the past 30 days, KCS's value has increased by about 60.2%, and within the past 90 days, the token has grown by 212.7%. The predictions above are bullish about the price actions of KCS for the future.
KuCoin utilizes an encryption protocol that protects private data. Also, the exchange has an internal risk department that ensures the safety of your funds. To further enhance its security architecture, KuCoin offers users the opportunity to use Google Authentication as an extra layer of security for log-in purposes and the confirmation of trades. This is often referred to as two-factor authentication (2FA). In other words, if anyone hacks through your password, they will still have to provide the authentication code on your mobile phone, making your account impenetrable.
To further beef up the exchange's security features, KuCoin entered into a partnership with a leading Singapore-based crypto-asset custody firm known as Onchain Custodian. This firm provides custody for KuCoin's crypto holdings, and their activities are backed by Lockton, the world's largest private insurance brokerage company.
Despite all these security features, KuCoin was hacked in 2020, and the hacker carted away over 280 million USD, although their CEO reported that an 84% recovery was made. This incident raised eyebrows about the safety of KuCoin and its susceptibility to external breaches.
KuCoin Overview
[mcrypto id="141376″]
KuCoin Token (KCS)
KuCoin Shares or KCS is the native digital coin of KuCoin, and it drives the platform's customer loyalty scheme. The token is built on the Ethereum network (ERC-20 token) and was released in 2017 alongside the launching of KuCoin, with an initial token offering of 200,000,000 KCS. However, to stabilize the token's price and regulate its supply, the KuCoin team put a monthly token burning system to reduce the asset's total supply to a target of 100,000,000 KCS, making it a deflationary token.
What is the total supply of KCS?
The total supply of KCS was set at 200 million, and there is a planned buyback and burn until just 100 million KCS remain. Sooner or later, as the KuCoin decentralized trading solution goes live, KCS will be the native asset of KuCoin's decentralized financial services as well as the governance token of the KuCoin community in the future.
The team completed the 23rd burn of KCS tokens in October 2021, and the burning mechanism creates room for future value appreciation and significant growth as the demand for KCS increases. In other words, KCS is advantageous to long-term investors from an ROI viewpoint.
The value of KCS depends on KuCoin, and the exchange's cross-border capacity and expanding global reach since its inception have resulted in massive gains for KCS. Like other crypto exchange platforms with native assets, KCS can serve as a settlement for trading fees on the exchange, with traders receiving up to a 20% discount on fees.
Features of KuCoin
KuCoin aims to continue building a strong reputation by leveraging a mix of tried and tested models to set its service offerings apart from competitors. Apart from its incredibly low transaction fees, here are some of the features of KuCoin.
The KuCoin web trading platform is designed to serve both seasoned and novice traders, and you do not have to download or install any specialty software to access the trading interface. KuCoin's trading platform is easy-to-use and can be accessed via a conventional web browser. However, the trading interface has many complexities and advanced features that allow traders to personalize their trading experience.
Source: KuCoin Web Interface
The standard trading interface in the image above provides traders with the information needed to execute trades precisely. Also, several trading options are available on the platform, including spot trading, margin, futures, OTC trading, etc.
KuCoin also offers a mobile version of its trading platform that grants users access to markets, futures, trading bot, and other major features on the web version with just one click. The app makes it easy to initiate transactions instantaneously. In as little as 30 seconds, a crypto trade can be completed on the KuCoin app.
If you are an on-the-go trader, the KuCoin mobile app will come in handy for you, as you can trade anywhere and anytime 24/7. It is available for Android and iOS smart devices.
Hardware-accelerated order-processing
KuCoin's trading system utilizes a high-performance engine and a hardware-accelerated memory matching tech that facilitates a highly-efficient order management system with an order-making value of about 2,000,000 per second. Also, the maximum order-processing value of KuCoin exceeds 1,000,000 per second. These stats are way above the conventional industry standards, and they reflect the capability of the exchange to handle lags or delays during a market boom period.
The exchange boasts powerful and high attractive APIs known as WebSocket feeds and REST APIs. The WebSocket feeds API provides a real-time stream of public market data such as order book, ticker, sales, etc. Any changes in the market (prices or trading volumes) will be updated via the market data feeds. On the other hand, the platform's high-performance REST APIs provide private and public data.
While several assets on the crypto market are inflationary, i.e., minting new tokens, KuCoin (KCS) leverages a deflationary model, i.e., it burns tokens instead, to reduce the market supply of KCS and increase its value over time. This feature, in particular, makes KCS a potentially profitable token for long-term holders. Although the ultimate impact of the token burning activity cannot be measured exactly, the capital appreciation of KCS points at an advantage of token burning, with the crypto doing about 433X within the past 52 weeks.
The platform's underlying technology currently supports hundreds of cryptocurrencies and numerous trading pairs. Initially, the exchange provided support for Bitcoin (BTC), Ethereum (ETH), and USDT trading against NEO, KCS, LTC, and other highly negotiable tokens built on Ethereum (ERC-20). The supported markets and trading pairs on the platforms have grown exponentially, and further expansions are expected in the future. KuCoin is widely known as an early adopter and plans to roll out a feature that will enable newbies and professional crypto managers to easily register new tokens/coin trading pairs and begin trading them automatically.
Excellent Customer Service
The exchange boasts efficient and ever-present customer support services via multiple channels such as the live chat on their website, hotline, or email.
Multi-level Security and Financial Safety
KuCoin has implemented several system and operation level security architectures to protect the monies and data of its customers. Also, the platform utilizes a standard encryption protocol that preserves the confidentiality of users. KuCoin has also introduced a multiple-factor authentication mechanism to sensitive operations to ascertain maximum security. Cryptocurrency wallets on the platform adopt multi-layered storage security solutions stored on a private network hosted on Amazon Web Services Cloud.
Referrals and Bonus Offerings
KuCoin distributes QR codes and invites links to registered users on the platform to enable them to enjoy promotion bonuses by bringing in new users. The promotion bonus scheme deployed by KuCoin is not uncommon; it was designed and intended to increase the number of registered and active users on the exchange. For example, if Gregg registers using Tom's invitation code and goes further to execute a trade, a percentage of the trading fees incurred by Gregg will go to Tom as a direct bonus. If Tom invites Frank, who then invites Tess, and of course, they all conduct trades on KuCoin, a percentage of their trading fees is also awarded to Gregg as an indirect bonus.
The platform offers several other amazing features, which can be found here.
KuCoin is deploying its blockchain known as KuChain, which is expected to allow the exchange to function at fast speeds and offer low transactions. KCS will be utilized as the governance token on the chain. Generally, tokens gain value from large volume transactions and increased use cases, and KuChain developments should boost KCS's market value.
Is the KuCoin safe?
Before depositing funds on any crypto exchange, one of the first things that come to mind is the platform's safety. Due to the centralized nature of exchanges and their susceptibility to hacks and cyber theft, crypto traders are always concerned about the safety of their monies. According to January 2020, over 11 billion USD in cryptocurrencies have been stolen under various circumstances, including hacks on exchanges. This number has continued to grow, as another hack on the Poly Network happened on August 10, resulting in a loss of over 600 million USD.
KuCoin Exchange- Pros & Cons
PROs
The exchange charges transparent and very low trading, deposit, and withdrawal fees.
It boasts a user-friendly interface.
It offers a wide range of digital currencies, including new projects.
Top-level security feature.
KuCoin offers anonymous trading, although with a volume threshold.
24/7 customer care.
Earning options through promotions and additional benefits.
CONs
The platform may encounter some difficulties during high-traffic trading periods.
KuCoin lists a lot of small coins, and due to the liquidity concerns associated with them, the exchange tends to have low trading volumes.
Credit card or debit card deposits require identity verification.
Is KuCoin exchange good for me?
There are a few variables to consider before deciding if KuCoin is good for you.
First, you cannot use this exchange if you reside in the US, as it is unlicensed in the region. However, if you live outside the borders of the United States, KuCoin should be accessible.
Second, if you love to trade new or less popular crypto assets, you'll find many on the KuCoin Exchange.
Third, if you are an experienced trader and you want advanced trading features, this exchange is an excellent choice.
Lastly, KuCoin offers interest to any KCS holder, and if this is what you want, get involved.
KuCoin Price History
As per the prior price data obtained from Coinmarketcap, KCS began trading with an opening price of $0.6922 on October 24, 2017. Over the next few hours, precisely on October 25, the token reached a maximum value of $1.14. The asset price followed a downward trend afterward as it bottomed at $0.3956 on December 4, 2017.
Source: Coin Market Cap
By the end of the year, KCS had experienced a significant price increase, as it closed the year at $3.58. The bullish run continued into the first few days of 2018, and KCS attained a maximum value of $21.14 in January. KCS pulled back in the coming months, and by March 2018, its trading price had fallen to a trading range of $1.84 to $4.29.
KCS continued on a bearish run, and by September 2018, the token had fallen to an average trading price of about $1.2. The price of this asset bottomed below $1 on November 14, and it closed the year at a market price of $0.6176.
The opening price of KCS in 2019 was $0.6408, and the value dropped even further to attain its all-time low of $0.3232 by the end of January 2019. KCS soon recovered, and the downward trend reversed to above the $1 mark. By December 31, 2019, the highest price of KCS was $0.9387, and its lowest price was $0.9048. The trading range for 2020 was $0.6678 – $1.46.
The start of 2021 came with a lot of hype in the crypto space, and several assets rode with the bulls, including major coins like Bitcoin and Ethereum. KCS was not left behind as the coin began the year at $0.6933, and by April 10, 2021, the token reached a maximum value of $20.00.
Again, KCS lost market momentum and reached a minimum of $5.06 on June 22. By August 1, KCS had recovered again and began trading above $10. It ended the month at a day low of $12.82 and a day high of $13.82.
On September 30, 2021, KuCoin launched its new "Earn Product," and this announcement drove the value of KCS upwards until it reached its current all-time high at $28.80 on December 1.
KuCoin Technical Analysis
Source: Trading View
On a 4-hour chart, KCS has closed over 10% gains in the past days and could be set for further bullish movements. The recent KCS gains were supported by BTC's recovery, and we expect the price to thrive above the support level. Subsequent price targets are set at $19.88 and $21.20. If there are temporary retracements, KCS should not fall below the suggested support structure.
KuCoin Token Price Predictions 2022-2030
Wallet Investor
According to Wallet Investor, a bullish market is expected for KuCoin token, and based on their 1-year forecast, KCS is predicted to rise to $28.213, making it a good investment. Their price prognosis for a 5-year investment is valued at $73.219 USD.
PricePrediction
PricePrediction is optimistic that investing in KuCoin will be a profitable investment in the long term. The maximum expected value of KCS in 2023 is $22.88 and its average price is projected to be around $19.47. By 2025, they expect a maximum, minimum, and average KCS price of $47.74, $38.90, and $40.32. KCS is projected to reach the $100 mark in 2028, and then over $300 by 2030.
TradingBeasts
Based on the analysis provided by TradingBeasts, KCS is expected to reach a maximum price of $20.929, an average trading value of $16.743, and a minimum price of $14.232 by December 2022. A bearish market is expected for the year 2023, with an average estimated price of KuCoin Token predicted to be $14.336 by the end of 2023. TradingBeasts expect price recoveries in 2024, and KCS could reach $24.703 by March, and then $2.727 by the end of the year. The KCS price prediction for 2025 projects a trading range of $16.691 to $32.163.
Cryptopolitan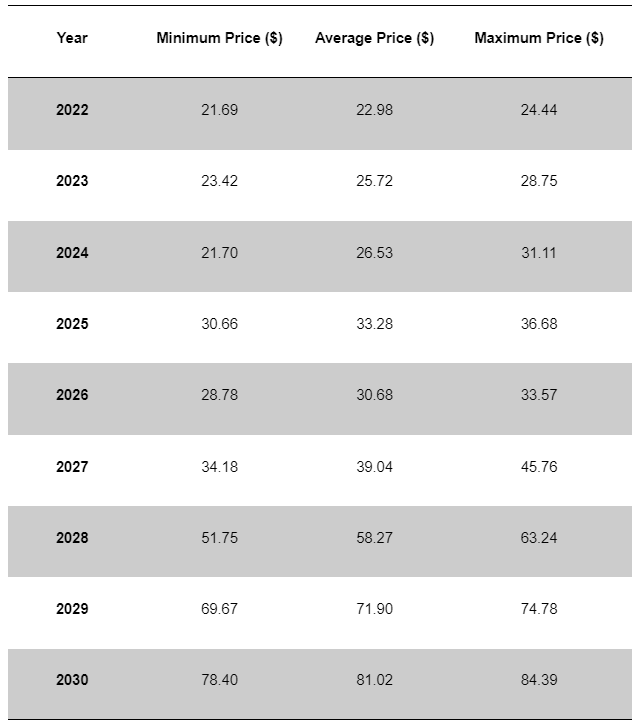 KuCoin Token Price Prediction 2022
According to our KuCoin Token price prediction for 2022, a maximum price of $24.44 is expected, with a minimum price of $21.69 and an average price of $22.98.
KuCoin Token Price Prediction 2023
KuCoin Token is expected to continue to soar in 2023. As per our KuCoin Token Price Prediction for 2023, the coin's minimum price is $23.42, and it is projected to reach a maximum value of $28.75.
KuCoin Token Price Prediction 2024
In 2024, KuCoin Token's minimum price will be $21.70, and the coin's average price will hit $26.53. Our KuCoin Token Price Prediction for 2024 anticipates a maximum price of about $31.11.
KuCoin Token Price Prediction 2025
According to our KuCoin token price forecast for 2025, the coin will continue to gain momentum through the year to reach a maximum market price of $36.68. The minimum price of KuCoin Shares (KCS) is expected to be $30.66, with an average value of $33.28.
KuCoin Token Price Prediction 2026 and Beyond
According to our price prognosis and analysis, by the beginning of 2026, a bearish movement in the price projection of KuCoin is expected, resulting in a minimum price value of $28.78. The predicted average price of KuCoin for 2026 is $30.68, with a maximum price of $33.57 by the end of the year. Our KuCoin price predictions expect a continuous upward price projection in 2027, with the coin's maximum value reaching a value of $45.76 and an average trading price of $39.04. By the end of 2030, a maximum price of $84.39 is anticipated.
Conclusion
KuCoin token cryptocurrency is expected to have a huge success by the end of 2022 and beyond. With all the developments happening on the KCS network plus in the crypto market as a whole, KCS may reach newer heights sooner than we think.
Despite the positives surrounding KCS price predictions, it is important to remember that there are risks involved in any investment. Conduct thorough research before investing in any cryptocurrency and never invest more than you can afford to lose.
Disclaimer. The information provided is not trading advice. Cryptopolitan.com holds no liability for any investments made based on the information provided on this page. We strongly recommend independent research and/or consultation with a qualified professional before making any investment decisions.