The cryptocurrency market is rapidly approaching the mainstream, and every project is devising innovative strategies to survive and dominate the marketplace. The cryptocurrency market is developing steadily and gaining momentum, with the overall market capitalization of cryptocurrencies approaching $0.897 trillion per CoinMarketCap.With the official launch of Curve DAO in August 2020, it is still gaining some traction among cryptocurrency investors because of its network and concept.
One such project that has recently gained a lot of popularity is Curve DAO. It is a decentralized autonomous organization that manages a decentralized exchange aggregator. The project aims to provide a frictionless and optimized yield-generating protocol for users. Curve DAO is a governance token for CURVE Finance, a decentralized exchange for stablecoins.
Just a few days ago, DeFi giant Curve Finance joined Aave in taking aim at Maker's decentralized stablecoin with a new, over-collateralized product. With that news, Curve DAO Token (CRV), the native token of Curve protocol, rallied more than 21% over on that day.
Would the bullish price action persist and create euphoria among investors? Let's take a closer look at the price analysis and long-term commentary in this Curve DAO price prediction.
Today's Curve DAO Token price is $1.47 with a 24-hour trading volume of $256,806,506. Curve DAO Token is up 2.64% in the last 24 hours. The current CoinMarketCap ranking is #64, with a live market cap of $761,239,524. It has a circulating supply of 519,040,842 CRV coins and a max. supply of 3,303,030,299 CRV coins.
What is Curve DAO Token (CRV)?
The Curve is a decentralized exchange for stablecoins that employs an automated market maker (AMM) to regulate liquidity. The protocol uses a system of non-custodial smart contracts to stabilize the pool's price. In this way, the risk is diversified for the traders, who can earn rewards for providing liquidity to the network. The exchange is designed to minimize slippage and cost. Assets may be traded automatically and without the need for approval.
The concept was developed by Russian scientist Michael Egorov IN 2020 and is referred to as a DeFi phenomenon. The Curve DAO token is an Ethereum-based cryptocurrency that uses an automated market maker to enable traders to trade between two similar ERC-20 tokens, including stablecoins like DAI and USDC, as well as Bitcoin tokens based on Ethereum, such as renBTC and wBTC.
The CRV is the governance token of Curve finance, and it's used to compensate liquidity providers. Following the tokens' distribution, the supply of CRV tokens will increase to 3 billion. The DAO, also known as the Decentralized Autonomous Organization, is a tool that allows for modifications to the decentralized protocols. The Curve DAO token allows holders of the native currency to vote.
The Curve Dao token (CRV) is the governance token of the Curve protocol. It gives holders voting rights on the future of the protocol. CRV holders can also stake their tokens to earn rewards from the network. The Curve/Curve DAO Token/CRV should not be confused with the LP-cCurve (CCURVE) and LP-sCurve (SCURVE), other currencies that use the Curve network.
The Curve DAO token may be purchased or earned by yield farming when someone deposits assets into the liquidity pool and is rewarded with tokens. The DAO yielding the Curve offers its financial rewards, including ownership of the DeFi protocol.
How Does Curve DAO Work?
The Curve.fi financial platform, exchange, and automated market maker run on the Curve DAO token. AMMs enable a new kind of trading in which assets may be freely and automatically exchanged. Instead of depending on order books, trades are made using automatic liquidity pools.
Liquidity providers are compensated for starting pools and depositing coins. Within each liquidity pool, particular token pairs may be used. Rather than holding multiple investments, diversifying your holdings into several pools reduces the potential for temporary losses while also increasing the potential for rewards.
The exchange market comprises liquidity pools, while the protocol links consumers to various exchanges to discover the lowest fee rates. Curve.fi solves this problem by allowing traders to maintain tight stops and maximize profits. Every time a Curve user trades, liquidity providers are given a portion of the fee paid by the network.
Founders of Curve DAO
The Curve DAO was established and launched in 2020, making it one of the newest decentralized finance initiatives. Michael Egorov, a Russian scientist who previously worked for Linkedin, created and launched the Curve DAO Token.
Michael Egorov had previously worked with blockchain and cryptocurrency firms as the creator of NuCypher, where he served as CTO. The project's website, however, is focused on developing privacy-centric protocols and infrastructure.
According to the website's mission statement, the Curve DAO team is on a quest to "build an inclusive financial system that works for everyone." The team behind Curve believes that DeFi can help users take control of their financial lives and build a more fair and equitable economic system. The team is focused on creating technology that is easy to use and accessible to everyone.
The Curve DAO team envisions a future where users have complete control over their financial lives. The team wants to build an inclusive financial system that works for everyone. The team is focused on creating technology that is easy to use and accessible to everyone.
What Makes Curve DAO Unique?
The Curve DAO token is a young cryptocurrency that has already shown tremendous promise owing to its usefulness. The Curve DAO, which is focused on providing users with low slippage and minimal fees for exchanging comparable stablecoins and ERC-20 tokens, saw a significant boost in activity in the second half of 2020.
Curve DAO's technology and technical capacity set it apart from the competition, making Curve.fi an appealing platform in the field of DeFi.The Curve creates liquidity pools based on smart contracts that function as an automated market maker in place of depending on order books. Users are connected with the most significant exchanges for their needs, and tokens and stablecoins are traded between traders and exchange systems. Because of its blockchain and ability to swap tokens and stablecoins at the most competitive rates, Curve has become linked with decentralized finance.
How To Buy Curve DAO
The procedure is simple and quick, requiring a smartphone or computer with an internet connection and photo identification.
The easiest way to buy Curve DAO is from a cryptocurrency exchange. Check out our cryptocurrency exchanges list to find the best crypto exchange for you.
You must verify your email address and identify yourself to sign up for an exchange. Have a photo ID and your phone handy.
The payment method you choose might have an impact on the fee structure. The commission for trading is charged when a trade is made, but not before this happens.
You may now exchange your ETH for Curve DAO. This is as simple as entering the amount you wish to buy and clicking buy on more user-friendly exchanges. You may now withdraw your Curve DAO to your wallet if you prefer.
Curve DAO Price History
Historical data shows that the price of Curve DAO has been volatile since its launch in 2020. In August 2020, when CRV was launched, the prices were very high, trading at $12.91, which later gained massively to highs of $60.50.
The first few months of 2021 saw CRV's price increase and did very well following the 2021 bull run. The prices continued fluctuating similarly until the end of 2021, when they started to show some stability. In January 2022, the cryptocurrency hit an intraday high of $6.74 on 4 January; the market fell, closing the month at $3.30. February appeared to be at least consistent; CRV was trading over $3 by mid-February, but concerns about Russian aggression in Ukraine caused a drop. As of 28, it was trading at around 2.2.
The recent crypto crash saw CRV's price slump to the current lows of $1.0, whereby the crypto market is recovering.
Curve Dao Technical analysis
Looking at the current market sentiment, a positive sign can be observed as the market is slowly recovering. Curve DAO token price has gained massively over the last 7 days as the price has stabilized and is well above the moving average. The current market conditions favor buyers as the market is slowly moving upward.
The digital asset is expected to continue its upward trend as the market conditions remain favorable for buyers. The RSI is currently in the overbought region, which is a good sign for buyers as the market is expected to continue its upward trend.
Buyers can expect to see some resistance at $1.40 and $1.60 levels; however, these levels are not expected to be very strong, and the digital asset is expected to break through these levels easily.
Out of the 26 indicators, 12 give a buy signal, 9 give a sell signal, and 5 are neutral.
The MACD is currently in the bullish zone as the short line is above the slow line, and the histogram is also positive, which is a good sign for buyers. All the moving average lines point to the upside, which is another good sign for buyers.
Curve Dao Price Predictions by Authority Sites
Wallet Investor
Wallet Investor's DAO price prediction is bullish on the future price of the token. According to the site, by February 2023, CRV costs could more than double, reaching $4.37.They state that by 2027 the token price could potentially attain a maximum price of $12.96.
Digitalcoinprice
According to Digitalcoinprice, Curve Dao has a bright future as the site predicts tha$3.16 this year before jumping up to $3.74 in 2023. They state that the digital asset has an excellent chance to replace some of the big players in the market according to its utility as it is projected to do very well in the future. Their long-term projections state that by 2026 CRV price will be $4.56, and by 2030 the prices might touch the $12 level.
Price Prediction net
At Price Prediction net, there is also a bullish outlook on CRV prices in the future. They state that by the end of 2023, Curve Dao might hit 2.78 before rising and reaching $5.68 by 2025. They believe CRVprice will see an upsurge in the future as they predict it might even touch the $34.18 level by 2030.
Cryptopolitan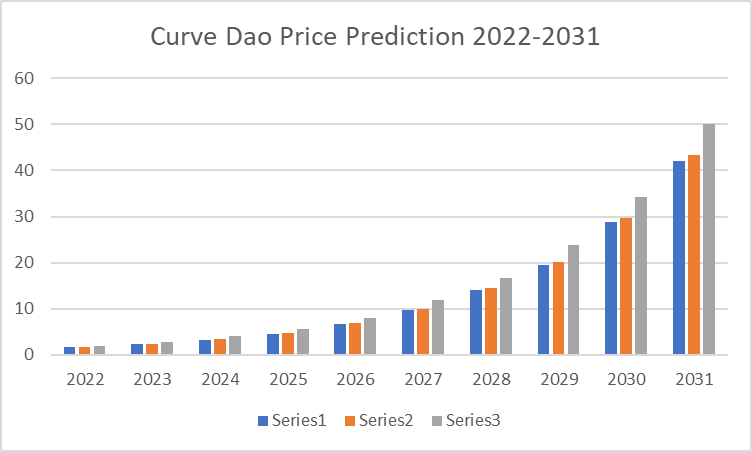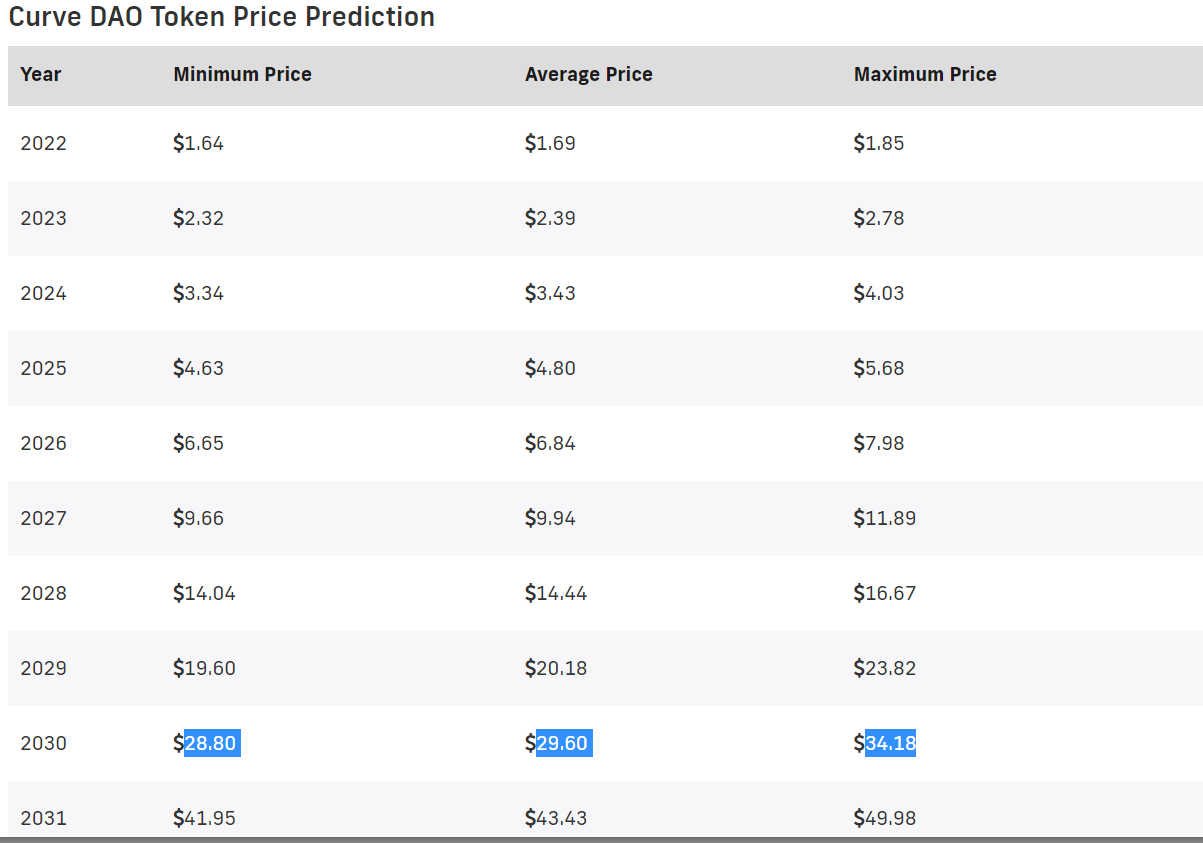 Curve Dao Price Prediction 2022
According to our deep analysis, DAO is predicted to attain a maximum value of $1.85, an average of $1.69, and a minimum price value of $1.64 by the end of 2022.
Curve Dao Price Prediction 2023
In 2023, a minimum price of $2.32 and an average price of $2.39 is expected. Also, DAO might attain a maximum price value of $2.78.
Curve Dao Price Prediction 2024
The year 2024 might see some stability as the average price is expected to be $3.43 and the maximum price of $4.03. The minimum value might reach $3.34.
Curve Dao Price Prediction 2025
The average forecast price for 2025 is $4.80.The prices might reach a minimum price value of $4.63, while the maximum price forecast is $5.68.
Curve Dao Price Prediction 2026
2026 might be a good year for Curve DAO, and a maximum value of $7.98 is possible. The average forecast is $6.84, and the minimum value might be $6.65.
Curve Dao Price Prediction 2027
The maximum price level might be $11.89 by 2027. The least possible price might be $9.66, and the average expected price is $94.
Curve Dao Price Prediction 2028
2028 can be a good year for investors as the prices might go up to $16.67. Also, the average forecast is $14.44, and the minimum value is expected to be around $14.04.
Curve Dao Price Prediction 2029
In 2029, the massive crypto adoptions might lead to a price upsurge, and the maximum value is $23.82. The average forecast is $20.18, and the minimum is $19.60.
Curve Dao Price Prediction 2030
In 2030, a minimum price of $28.80 and an average price of $29.60 is expected. Also, Curve Dao might attain a maximum price value of $34.18.
Curve DAO price Prediction 2031
CRV price prediction for the year 2031 projects is that the average value will be $43.43, and the maximum value might reach $49.98. Also, the minimum possible price is forecast to be $41.95.
Cryptocurrencies adoption by 2031 will reach new levels, leading to price appreciation for many digital assets, including DAO.
Curve DAO Price Prediction Industry Influencers
While some crypto lending platforms in the space are focused more on speculation, Curve is one of the most popular ones because it prioritizes stability and composability over volatility and speculation; its composable components make it.

Michael Egorov
Mr. Egorov studied at the Moscow Institute of Physics and Technology but now resides in Switzerland. He added that as the DeFi market continues to grow, we will see more users turning to Curve for its stability and low fees. This should, in turn, lead to an appreciation in the CRV token price.
Conclusion
As seen from the above long-term predictions, there is a consensus among various sites that CRV prices will rise in the future. What makes Curve distinct is that it's a stablecoin dex, which is something many decentralized exchanges (dexes) are doing. It's based on the Aragon DAO, which runs on the Ethereum blockchain and contains other dApps.
Even if Curve has shown to be successful thus far, it's conceivable that another stablecoin DEX will rise and become more popular and efficient than Curve, resulting in CRV becoming an also-ran sort of cryptocurrency. From a technical standpoint, however, it appears that Curve has a lot going for it and is in an excellent position to succeed in the burgeoning DeFi space.
Disclaimer. The information provided is not trading advice. Cryptopolitan.com holds no liability for any investments made based on the information provided on this page. We strongly recommend independent research and/or consultation with a qualified professional before making any investment decisions.