Bitcoin price prediction specialists are pouring their opinions on Bitcoin BTC price movement in one after another as usual, and it seems the bulls are going to take the lead this time after all.
Bitcoin price movement has been so volatile in the recent past that traders were actually allergic to predictions and seeking refuge at one point. Market sentiment was low, and reading a Bitcoin price prediction with a realistic assessment to trade is an art in itself.
Bitcoin price has recently been into a triple head and shoulders pattern that lasted about 20 days, and then the price shot up to the $10101 mark on the 26th of October.
Bitcoin price prediction: What to expect?
Bitcoin price chart by Trading View
Although Bitcoin price corrected immediately after the pull on the 26th and has since been trading in the $9000 price range. Bitcoin immediately went into another small head and shoulder formation, and at the time of writing, it has just come out of a small reverse head and shoulder formation.
This is an indication of a reversal pattern in play, and the breakthrough is likely to occur in a time range starting from the next four hours to up to 72 hours frame.
Bitcoin price prediction and volume movement
On the other hand, the Bitcoin volume movement also indicates a rise in the overall trading volume average to about $18 billion per day. Whereas the average previously stood at about $14 billion per day over the course of seven days.
Coin Market Cap data reveals that the volume has been standing at $26 billion for the past two days and if we look at the price chart and the daily volume, we would see a direct relationship between the two.
Moreover, to further strengthen the situation, hodlers and institutional investors are also here to support a boom in the prices. Whale Alert reported two large BTC transactions of 642 BTC and 1001 BTC in the past hour alone.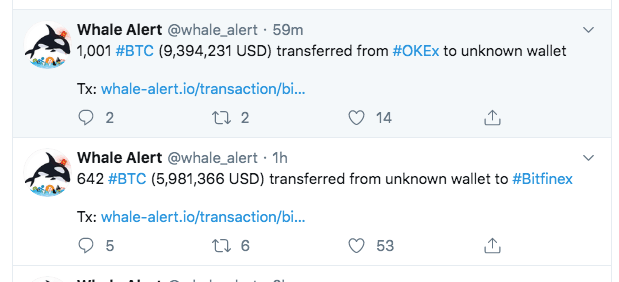 Market sentiment is also at a steady neutral at the moment, and the situation seems ripe for Bitcoin push for a reversal today.
The Fear & Greed Index is at 53, and the score has been moving between 41 – 55 this past month, whereas between 50 to 54 in the past week.
Bitcoin price predictions are calling for it, the movement and sentiment are ready for the next push, and it is likely that Bitcoin price would stay above $1000 mark during the month of November.