Robinhood COO finally breaks silence on Shiba Inu listing
TL;DR Breakdown:
Robinhood COO praised the Shiba Inu community during her interview with Yahoo Finance. 
She mentioned that Robinhood takes a safety-first approach before listing any crypto.
Community support was one of the biggest reasons behind the Dogecoin listing. 

The Robinhood COO Christine Brown finally addressed Shiba Inu during her interview today with Yahoo Finance. She praised the superstar meme coin for its tremendous community support, but also added that Robinhood can't talk about its listing strategy on a public platform. 
Christine also mentions that Robinhood loves to interact and listen to the community. Over the past month, the SHIB community has been consistently engaging Robinhood to list Shiba Inu. There is a petition on Change.com for Robinhood to list SHIB, which has more than 500,000 signatures.
However, Christine also said that Robinhood's crypto listing policy is very different from others. 'We're a safety-first company' she says. Robinhood wants to consider the long-term values of a coin and assess the regulatory perspectives around it before listing it on their exchange. So, their approach with Shiba Inu won't be any different. 

Will Robinhood ever list Shiba Inu?
With all the fake news and rumours surrounding this meme coin, the SHIB community is getting extremely frustrated. It seems are popular exchanges like Robinhood are intentionally taking a dig into the Shiba Inu trend to create a lot of hype, without making any conclusive decisions.
Robinhood has been teasing the Shiba Inu community on social media since last month. First, the company released a survey in October, where they listed Shiba Inu as an option, which created this Robinhood and SHIB saga in the first place. Also, the company mentioned the SHIB community again last week in an Instagram Story.
Robinhood is not the only exchange that's taking a dig into this Shiba Inu trend. Last month, the popular crypto exchange Kraken promised to list SHIB in 24 hours but failed to keep that promise. Unsurprisingly, this sparked a lot of rage among the SHIB community on social media.

SHIB Community is making the meme coin stronger
Christine Brown's interview might not have revealed many details, but it did show the company's optimism regarding the popular meme coin. She mentioned that meme coins are a part significant part of the crypto industry.
Christine mentioned that one of the big reasons behind Robinhood's Doge listing was its strong community support. "Community is incredibly important to cryptocurrencies and the projects and protocols, so I think it's a valid reason to get involved." Christine shares during the interview. So, this is positive news for Shiba Inu, because it has such a big community.
Robinhood is also launching its new crypto wallet, which already has 1.6 million users on the waitlist. Christine said that Robinhood is already in the process of onboarding users who can access the wallet from today.
So, once the new crypto wallet is launched, Robinhood might move on to provide some more information regarding its potential listing of Shiba Inu. For now, the SHIB community has to play the waiting game.
Fortunately, there has been a lot of good news regarding Shiba Inu for the past week. Yesterday, movie theatre giants AMC announced that they're working on accepting Shiba Inu payments. Earlier this week, leading crypto exchange Coinbase also announced that New York residents can start trading Shiba Inu on their platform.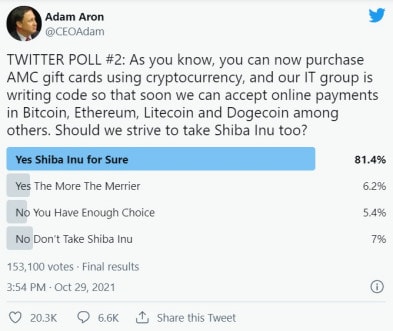 SHIB prices are also showing much stability for the last 7 days. Its consistent support in the 0.000055 range indicates a potential bullish momentum might be on the horizon. It's currently trading at $0.00005559.