Despite the continuous developments in blockchain technology, it is still plagued by privacy, scalability, and interoperability challenges. Several mechanisms have been built to address these apparent challenges, and Side Chains are one such method. Their functionality holds significant potential for enhancing the capabilities of the blockchain as we know it. However, interoperability remains a threat to the mainstream adoption of blockchain.
Three months ago, ICX's price flashed up to $1.91, gaining 22 percent overnight. Nascent markets have certain qualities which make them volatile. In laymen's terms, the fluctuations in new markets can be mainly attributed to the demand being more than the supply. Whether we like it or not, volatility will always define cryptocurrencies – that's where the trading profit lies.
Today's ICON price is $0.281873 with a 24-hour trading volume of $7,533,932. ICON is down 4.11% in the last 24 hours. The current CoinMarketCap ranking is #103, with a live market cap of $259,177,064 USD. It has a circulating supply of 919,483,096 ICX coins and the max. supply is not available.
Also Read: ICON price analysis: ICX price flashes up to $1.91 gaining 22 percent overnight
Updates on the ICON Bridge
ICON Bridge leverages BTP's core building blocks and offers a bridging product that can be utilized by ICON dApps and other ICON Ecosystem projects, as well as projects in connected ecosystems. ICON Bridge will therefore serve the community's bridging needs as we continue to build the final iteration of BTP in the background.
Like BTP, ICON Bridge is chain-agnostic and able to interconnect any blockchain that supports smart contracts. It will function in a comparable manner to many other popular cross-chain bridges throughout the industry. Those who have utilized bridges on other popular chains should feel just as comfortable using ICON Bridge.
The Gas Consumption Issue
The BTP Message Verifier Contract (BMV) is the most revolutionary aspect of BTP's technology. It is the mechanism that allows smart contracts–rather than trusted validators–to verify cross-chain transactions. ICON is looking to have all internal testing of ICON Bridge done by the end of March. They will be following up with regular roadmap updates outlining any changes.
A couple of blockchain-based networks such as Harmony, Polkadot, and Cosmos, to mention a few, are already deploying interoperability solutions, and ICON is another project that is building bridges between blockchains.
This piece offers you a well-researched insight into the ICON Network, applications, features, price analysis, and forecasts.
What is the ICON Network?
ICON is a NexGen blockchain-based framework designed to facilitate the interconnectivity of blockchain networks and the aggregation of data on one layer. Launched in 2017 by the ICON Foundation, the ICON network is "an aggregator chain" that aims to bridge both public & private blockchain networks and initiate interoperability via smart contracts. It is powered by "loopchain," a high-throughput blockchain engine developed by ICONLOOP.
The main actors of the ICON Network are Public Representatives (P-Reps) and ICONists. P-Reps are node validators on the network, while ICONists are delegators, stakers, and users.
Source: ICON Republic
The native currency of the ICON blockchain and its applications is ICX. It offers a variety of use cases, including governance, payment collateral, and Dapp's interactions. ICX is listed on some of the largest cryptocurrency exchanges; Binance, Kraken, Crypto.com, Upbit, OKEX, Huobi Global, etc.
ICON Overview
[mcrypto id="141373″]
Features of the ICON blockchain
It leverages a DPoC (Delegated Proof-of-Concept) democratized and decentralized governance protocol that enables ICONists to participate in community governance and receive rewards by delegating their stake to proven network contributors.
The DPoC ensures that the ICON ecosystem can accurately distribute economic incentives to participants with valuable contributions rather than entities with misaligned interests.
Interoperability Technology
The interoperability feature of the ICON blockchain is designed to facilitate the seamless sharing of resources between blockchains of varying consensus protocols.
The ICON blockchain boasts an extremely fast 1300+ transactions per two (2) seconds, thanks to its breakthrough Loop Fault Tolerance 2.0 (LFT2) consensus algorithm. This algorithm claims to significantly reduce the network's latency and improve its overall performance by reducing power requirements and the message exchanges required to validate one transaction block from "3 steps to 2 steps" with key fundamental features uncompromised. In comparison to the existing 3-step PBFT consensus, LFT2 offers improvement in terms of scalability and bandwidth.
Source: PR Newswire
Acceleration: Partners and startups on the ICON blockchain are granted access to an extensive accelerated network powered by ICX stations in Tokyo, Seoul, and San Francisco.
ICON (ICX) latest developments
On the last day of 2021, ICON announced that the ICON network will be upgraded. ICON 2.1 they called it. The developers said that there were revision proposals included in the upgrade and the upgrade contained new developments like IISS 3.1.
A new DeFi app, Optimus DeFi, was launched on the ICON mainnet on 7 January 2021. This is a development that will maximize investment returns with minimum risk.
On 8 December 2021, the ICON ecosystem presented its own stable coin; $bnUSD. The stable coin is said to be minted on Balanced DAO and will need ICX to mint. The stable coin is also sure to establish the scarcity of ICX which will make the ICX token more valuable.
ICON has roots in South Korea and is rapidly expanding and reaching new feats. The project's key developer, ICONLOOP, has received recognition from the Korean government for its role in blockchain advancements in the East Asian region.
With continuous growth at its core, ICON announced the launching of an all-new ICON 2.0 on 15 November 2021. The new architecture is designed for Decentralized Finance Apps and further enhances cross-chain interoperability.
Here are the significant changes that ICON 2.0 bring:
Programming Language Expansion
The ICON 2.0 upgrade introduces a new blockchain-based engine known as Goloop, which grants developers the ability to build apps using the engine's programming language – Golang, instead of the python language from the previous version. The Golang language is more scalable and faster than Python, although the latter has been significantly improved and is still available on ICON 2.0. In addition, the network will now offer Java programming language in a bid to make ICON easier for developers to build apps on. The integration of this programming language also facilitates a secure and much faster ICON infrastructure.
Improved Interoperability
Several industry-changing innovations have been made by ICON since its inception, including its latest consensus and interoperability protocols known as BTP. The BTP or Blockchain Transmission Protocol ensures that heterogeneous blockchain networks with completely different algorithms and consensus mechanisms are interoperable.
Furthermore, the BTP ensures that developers can roll out new projects, become members of the ICON community, and freely connect with the already-existing high-profile blockchain ecosystems to create a unique blockchain multiverse.
Side Chain: Apart from its interchain connectivity feature, ICON announced the launching of an Ethereum-compatible (EVM) side chain known as ICE. The ICE will ensure that developers can port over Dapps from the Ethereum blockchain to the ICON network.
These enhancements on the ICON 2.0 network are expected to increase developer activity and galvanize new DeFi projects to the ICON blockchain.
ICX Price History
ICX's initial coin offering (ICO) was held in September 2017, and the sale raised about USD 43 million, with half of its token supply sold. Post ICO, the earlier data obtained for this analysis from Coinmarketcap shows an opening price of $0.4089 for the coin. The price trended upwards over the following weeks, and the launch of its blockchain at the start of 2018 drove the asset's price up to its current ATH at $12.64 on 9 January 2018. By May 2018, ICX had bottomed to $2.66 – a price drop of over 79%.
In June 2018, ICX tokens were sent to ICO participants, and as expected, the price of the crypto dipped even further due to massive sale volumes. ICX's price ended the year at $0.2365, a 91.11% drop in price from May. In 2019, the trading range of ICX was between a minimum price of $0.2365 and a maximum price of $0.5257.
ICX started 2020 at $0.1133 and dipped to its ATL of $0.1069 on 3 January. In about a month, ICX reached a value of $0.6031 by 4 February, signaling a bullish price movement within this period. Afterward, ICX lost momentum, and its price dropped to $0.1655 by 17 March. The coin picked momentum again in April, and by 24 August, it reached a day high of $0.7012. ICX ended 2020 at $0.4647.
By February 2021, ICX had begun trading above $1 again for the first time since August 2018. The 90-day low of ICX is $1.20, and its highest price within this period is $2.71.
The 30-day high of this crypto is $2.7, and its 30-day low is $1.65.
Within seven days, ICX reached a maximum value of $2.57 and a minimum value of $1.65. The chart shows that the ICX price movement is bearish within this period.
ICON Technical Analysis
ICON current price trend is following a descending trendline, with prices stepping lower highs and lower lows. The short-term outlook is bearish, as prices breached below a key support level at $0.25.The prices have been trading between a range of $0.2294 and $0.4189 in the last month and a significant price shift has been witnessed lately. The prices are up by 5.30 percent and ICON is trading at $0.2977.
The technical indicators point to the bullish side of the market as the RSI indicator is moving in the upward direction after taking support at 40. The Stochastic RSI is also in the overbought territory, which indicates that the prices might witness a pullback soon. The 50-day moving averages are trading well below the 200-day moving averages, which is a sign of bearishness in the market.
The current market scenario is quite bullish as the prices have been continuously making higher highs and higher lows. The prices have breached above the key resistance level of $0.30 and the next target for the bulls would be to take the prices towards $0.35.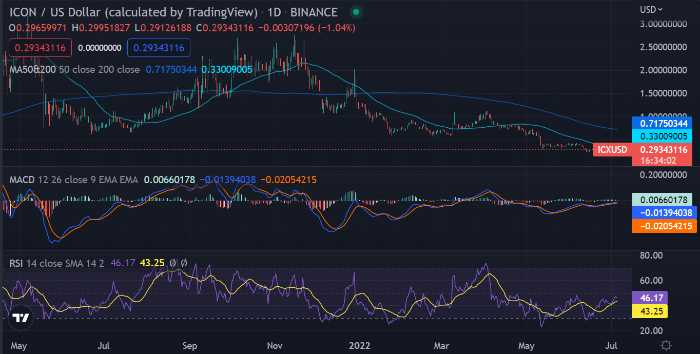 The prices are trading below the short-term and the long-term moving averages, which indicates that the path of least resistance is to the downside. The MACD indicator is in the bearish territory, which is further confirmation of a bearish trend.
The Relative Strength Index (RSI) is currently at 36.6 which indicates that the market is currently in the oversold region. However, the RSI is not yet oversold as it has been trading in this region for a while now and a further decline cannot be ruled out. The moving average convergence divergence indicator (MACD) is in bearish territory and is currently below the signal line. This indicates that further declines are likely in the market.
ICON Price Prediction by Authority Sites
Wallet Investor
According to WalletInvestor, they are less optimistic about ICX price prediction, suggesting the price will decrease in value to $0.03 by the end of the year 2022. Their long-term outlook on ICON is quite bearish, projecting the prices to record a new all-time low by 2023.
Technewsleader
According to Technewsleader, ICON is a good long-term investment as the prices are expected to reach $1.43 by 2025. They are quite bullish about the prospects of the project and believe that it has a bright future ahead.ICX price could hit a maximum price of $0.66 by the end of 2022. Their long-term ICX price predictions suggest the token could hit $14.54 by 2030.
Price Prediction net
Price Prediction net gives a more optimistic ICX price prediction for 2021, suggesting the price could hit $0.46 by December 2022. The site goes on to say that ICON could hit as high as $1.60 by 2025. Long-term ICON price predictions are quite bullish, with the site expecting the token to hit $9.70 by 2030.
Cryptopolitan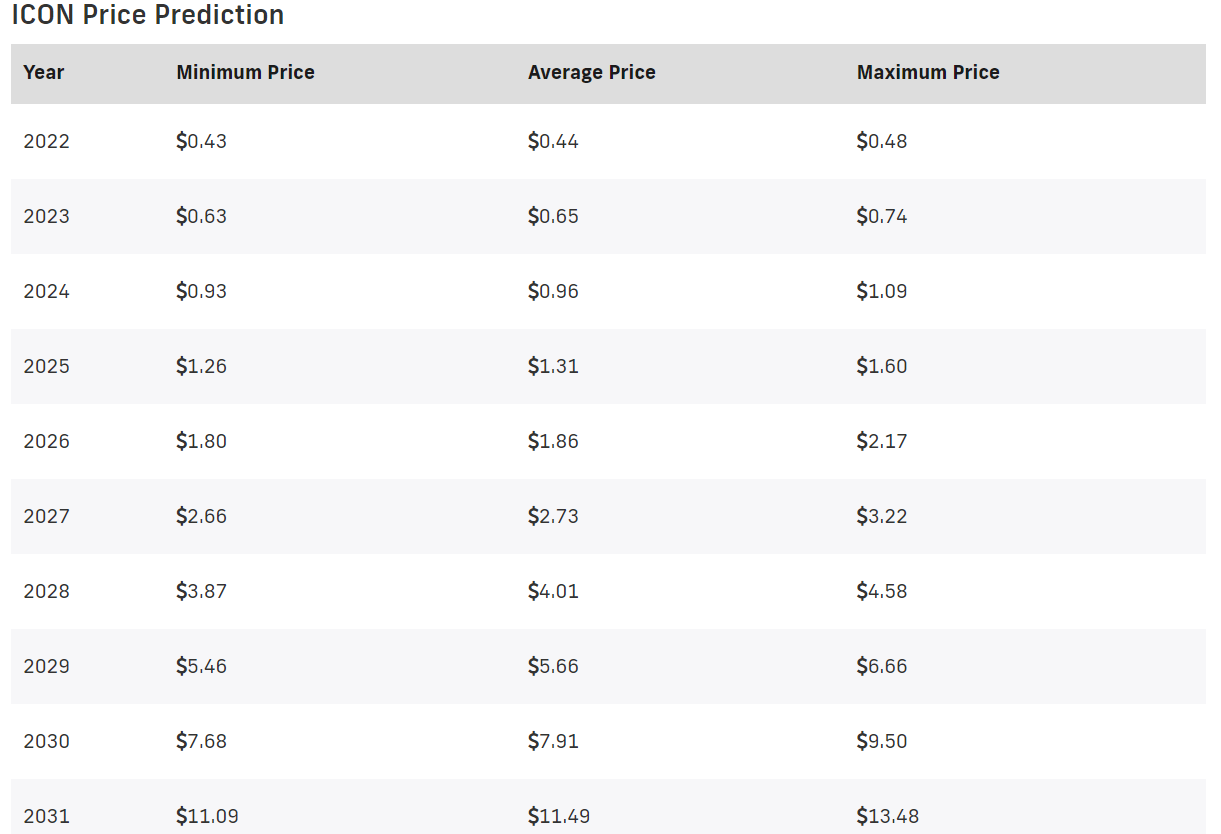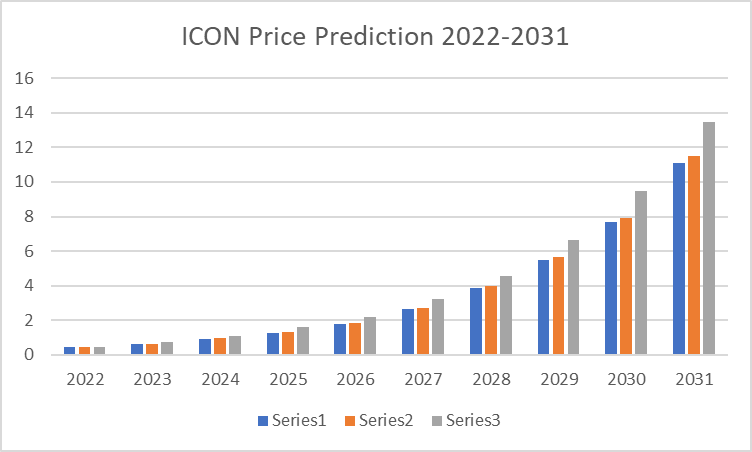 ICON Price Prediction for 2022
In 2022, with more adoption and partnerships between other important blockchain networks, the price of ICON would sky rocket, and the minimum trading price may reach $0.43 in 2022. ICON prices are expected to reach an average price of $0.44 with a maximum price of $0.48 for 2022.
ICON Price Prediction 2023
ICON is expected to grow steadily in the next few years, with a slight decrease in 2022 and then a gradual increase in price until 2023. The average price for 2023 would be $0.65, the maximum price would be $0.74 and the price could reach a minimum value of $0.63.
ICON Price Prediction 2024
By 2025, ICON could be one of the most used blockchain protocols in the industry with an average price forecast of $0.96. The project has a lot of potential and with more adoption, the prices are expected to continue to rise to a maximum price value of $1.09.ICON is expected to reach a minimum price level of $0.93 by the end of 2024.
ICON Price Prediction 2025
There is also a good chance that ICON's price will double in price in 2025. We predict that the coin will have a maximum price of $0.1.60 with a minimum price of $1.26. It is essential to also know that ICON will have an average price of $1.31.
ICON Price Prediction 2026
From our technical analysis, in 2026, the bullish trend is likely to continue and the prices are likely to attain an average price of $1.86, with a maximum price of $2.17 and a minimum price of $1.80.
ICON Price Prediction 2027
ICON is expected that in the next five years the price will reach $2.73, which is a significant increase from the current price. A maximum trading price of $3.22 and a minimum price of $2.66 is also possible by the end of 2027.
ICON Price Prediction 2028
ICON price forecast for the year 2028 is quite bullish as the prices are expected to hit $4.58. The average could be $4.01, while the minimum price would be around $3.87.
ICON Price Prediction 2029
In 2029, ICON might face some resistance at the $6 mark and might not be able to break it immediately. The prices are expected to consolidate around $5.5 level and could attain an average price of 5.66. A gradual increase is expected with the prices reaching a maximum price of $6.66 and a minimum price of $5.46 by the end of the year.
ICON Price Prediction 2030
In 2030, ICON is expected to reach new all-time highs as the price is forecasted to hit $9.50. The average price would be $7.91 with a minimum price of $7.68.
ICON Price Prediction 2031
ICON price prediction for 2031 suggests the prices might hit a maximum price level of $13.48, which would be a new all-time high for the token. The average price would be $11.49 with a minimum price of $11.09.
ICON Price Prediction By Industry Influencers
ICON is now a force to reckon with. However, the tech behind this project powers Korea's largest gold exchange. Many enterprises now work on ICON. Its wrapping bridge has been created and it is only a matter of time before we see more adoption in the ICON ecosystem.
In a recent appearance of Eye on ICON, Mo provided an update on the current state of ICON Bridge, and how it will accelerate BTP adoption, and gave a glimpse into the technical innovations of the BTP team.
Conclusion
ICON has a very bright future as it is one of the most promising projects in the industry. While ICON Network has established itself by working with a variety of organizations and public authorities, there are several blockchain networks that provide comparable prospects. While it appears to be one of the more popular ones today, there is still room for other systems to emerge and surpass it.
There are numerous DEXs available, but because they're generally not built with the crypto novices in mind, uptake is easily limited to individuals with prior knowledge of cryptocurrency and, perhaps, an interest in one of the networks emerging from the network.
The price of ICON is affected by different factors such as market movements, demand, supply, etc. ICX forecasts are rather contradictory as seen above. But we predict that the coin will do more in the future following the latest release of the ICON Bridge, which will aid complex transfers and help connect other blockchains seamlessly. In addition to this, future partnerships will also affect its price positively.
Even though we predict that ICON will do well in the future, we advise you to invest carefully. Do your research before you invest in this coin. If you have made up your mind to invest, do so with the money you can afford to lose.
Disclaimer. The information provided is not trading advice. Cryptopolitan.com holds no liability for any investments made based on the information provided on this page. We strongly recommend independent research and/or consultation with a qualified professional before making any investment decisions.