Cardano ADA price took a significant turn from its bullish price route, which occurred over the 13th of December. The price eventually morphed into a bearish one as the 14th of December came to its close, dipping by 3.4 percent. 
Cardano ADA Price Analysis – 14th December (ADA/USD)
Cardano ADA Price Chart by Trading View
As displayed by the graphs above and below, the Cardano price alternated in a zig-zag pattern that staggered in a consistent range. However, two severe price dips led to the inevitable decline in price. This change in pattern resulted in a sharp reduction in price as the coin neared its close. 
The coin opened at the $0.0373 value and remained alternating around this value till the first dip, which led the altcoin to the $0.0364 mark at 08:42 GMT. Although the price increased slightly beyond this point, the momentum was not enough to allow the rise to the initial opening area. Instead, the coin took another plunge downwards to dip to its lowest value of $0.0359.
Eventually, the coin came to a close at the $0.0360 level.  
Technical Indicators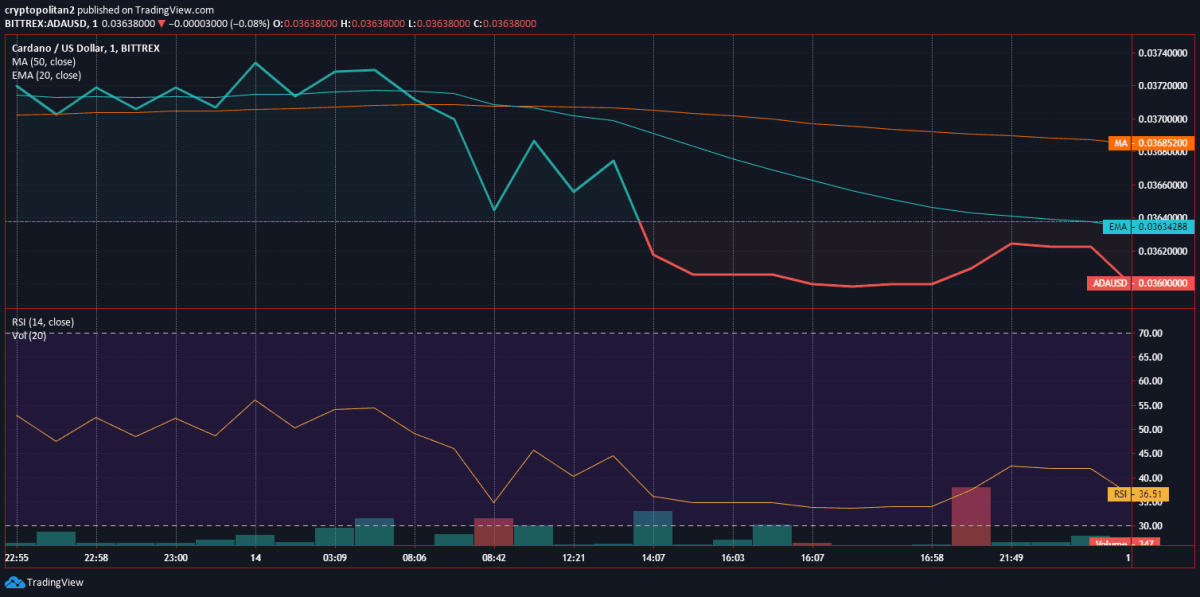 Cardano ADA Price Chart by Trading View
As apparent on the full-featured chart provided above, the initial reduction in instability was replaced by more volatility as the price took its dips. This is shown by the difference in the price in comparison to the moving averages. While the 50-Day Simple Moving Average (SMA) closed at $0.0368, the 20-Day Exponential Moving Average (EMA) closed at $0.0363. Compared to the bearish price, these were 2.19 percent and 0.8 percent higher. 
The Relative Strength Index (RSI) closed at the 36.51 mark with no instances of deviation from the 30-70 threshold marks.
Featured Image Background by Tomasz Smal