Bitcoin Cash price faces a sharp drop on the 15th and 16th of February. The coin fell to the $400.00 mark from its previous resting price near the $500.00 level. OneBasketPig is a trading view analyst who believes that the probability of BCH meeting the $515 mark still exists, given that the 200-Day Moving Average still holds.
1-Day Bitcoin Cash Price Analysis (15th – 16th February)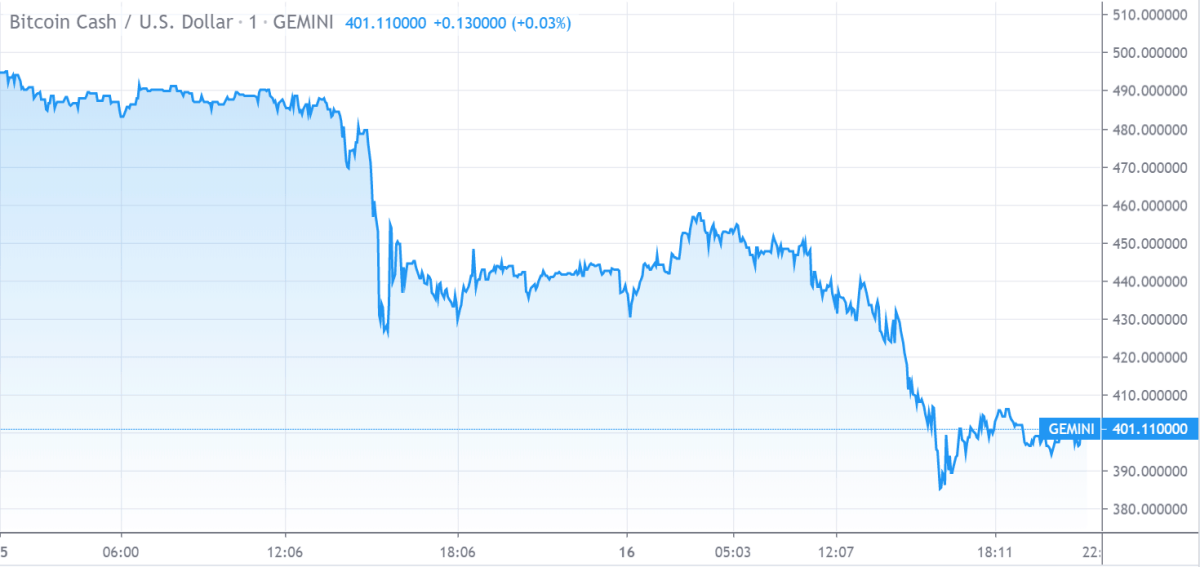 Bitcoin Cash Price Chart by TradingView
The BCH/USD trading pair's price line experienced a sharp fall towards the $400 level. The cryptocurrency rested above the $490 level at the start of the 1-Day price analysis. The 20-Day Exponential Moving Average (EMA) and the 50-Day Moving Average (MA) leaned downwards on the price chart after the BCHUSD fell to the $450 mark.
The EMA closes the chart at $402.837577, while the MA closes at $399.6800. The Relative Strength Index (RSI) is placed at 73.72.
Bitcoin Cash: Predictive Analysis
As shown in the chart below, the price line has already broken through the resistances that lie at $267.4, $305.5, $335.1, $363.6. Although the coin has fallen from the $500.00 mark to $401, BigBasketPig is of the opinion that the cryptocurrency is still set on the path towards the $515 level.
Bitcoin Cash Featured Price Chart by TradingView
The crypto analyst has stated that the cryptocurrency will approach $515 if the 200-Day Moving Average (MA) holds its current trend, and does not fall. The technical indicator (in green) is shown moving upwards on the trading view chart posted above.
Featured Image by Daniel Chen.
Disclaimer: The information provided is not trading advice but an informative analysis of the price movement. Cryptopolitan holds no liability towards any investments based on the information provided on this page.