Solana price analysis continues to show bullish momentum, albeit price dropped around 2 percent over the past 24 hours to drop down to $22.76. SOL rose more than 135 percent over the first 2 weeks of January, moving as high as $24.89. This pushed the resistance point up to $27, which still presents the upward breakout point for price. SOL bulls will be eyeing the $40 high after the resistance zone is cleared. However, price could also be set for a correction and today's downtrend could extend down to $19 on the daily chart.
The larger cryptocurrency market mostly could be seen settling around yesterday's prices, as Bitcoin stayed clear of the $21,000 mark, and Ethereum price was set at $1,500. Among leading Altcoins, Ripple rose to $0.38, whereas Cardano remained at $0.34, and Dogecoin at $0.08. Meanwhile, Polkadot recorded a 4 percent increment to move above the $6 mark over the past 24 hours.
Solana price analysis: RSI moves into severe overbought zone on daily chart
On the 24-hour candlestick chart for Solana price analysis, price can be seen trading at $23.27, having fallen from $24.34 over the past 24 hours. SOL is currently trading above the 50-day exponential moving average (EMA) at $19.84, and below the 200-day simple moving average (SMA). Current support levels sit at $20.53 and $21.57, whereas immediate resistance can be found at $24.64 and $25.68.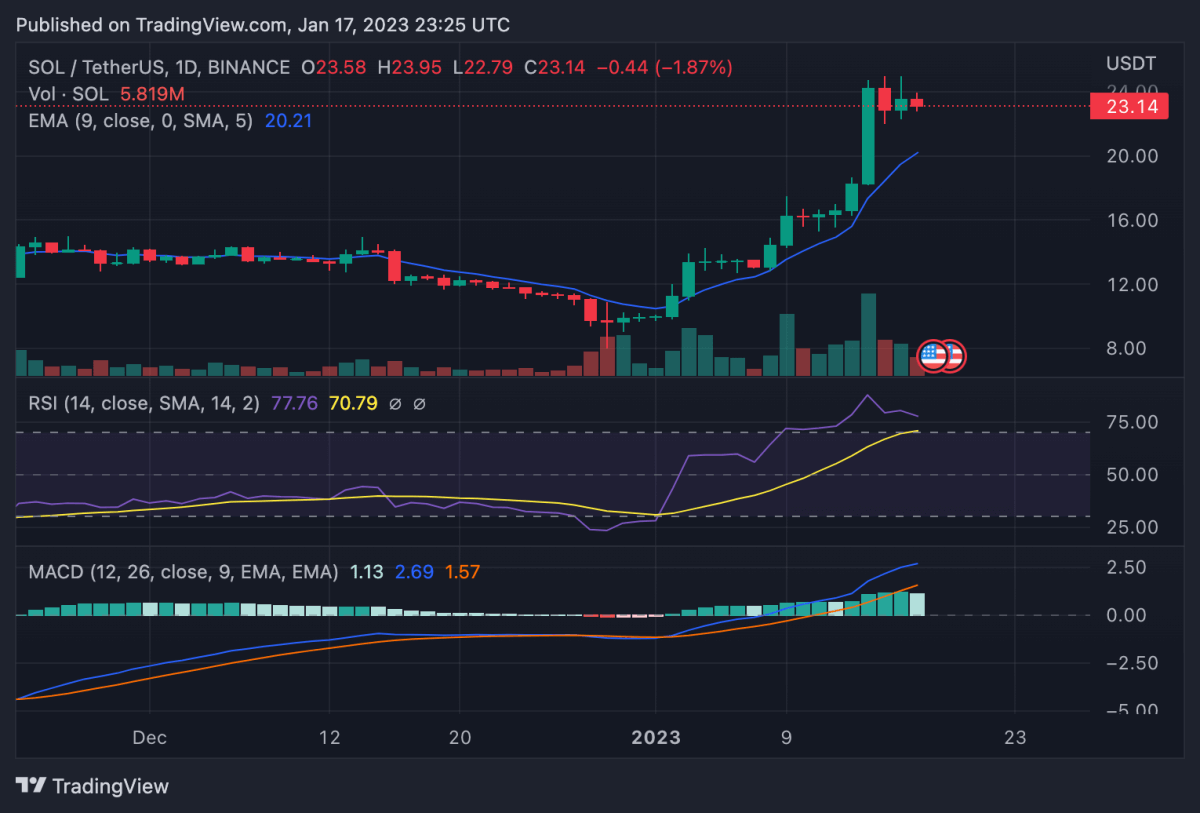 The 24-hour relative strength index (RSI) can be seen having moved deep into the overbought region at 77.76. This is likely to recede along with price, and settle into the neutral zone. The moving average convergence divergence (MACD) curve continues to show a bullish divergence, whereas trading volume over the past 24 hours dropped over 43 percent, indicating depleting market interest in the token. Traders could take the $17.45 mark as the invalidation point for the bullish sentiment for SOL. Any movement below this point could trigger a 40 percent loss to move down to $14.
Disclaimer. The information provided is not trading advice. Cryptopolitan.com holds no liability for any investments made based on the information provided on this page. We strongly recommend independent research and/or consultation with a qualified professional before making any investment decisions.