Litecoin price sees a bullish trend at the start of February 2020. The cryptocurrency's price line rose up to meet a strong resistance at $72.517. The coin retreated below the $70.00 mark after it met the strong resistance, after which it saw a retracement towards the $71.00 mark before February 01 ended.
1-Day Litecoin Price Analysis (February 01)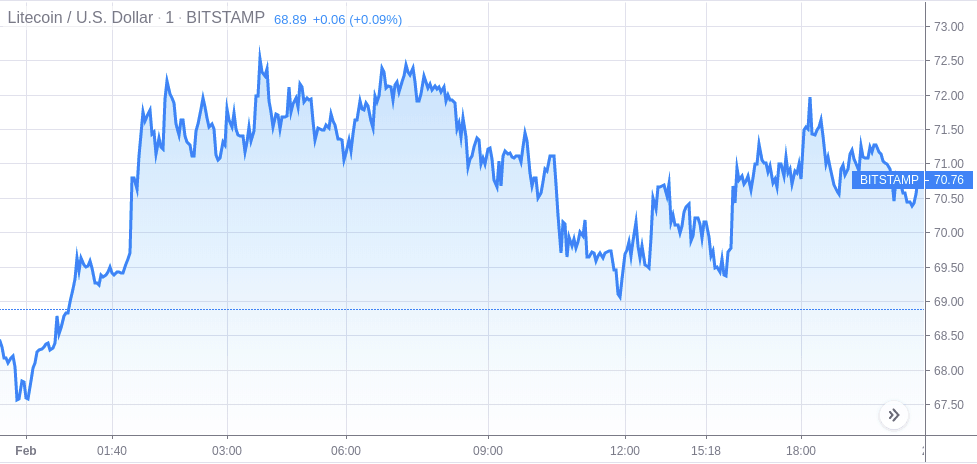 Litecoin Price Chart by TradingView
After the cryptocurrency closed at $67.50 on January 31, the LTC price line stepped onto a bullish trend just as it entered February 01. The bulls were able to take the cryptocurrency's price line towards the $69.50 mark at 01:40 GMT. After this, the trading pair saw an immediate incline across the $71.50 mark on the price chart. The cryptocurrency met the strong resistance of $7.517 US Dollars, at 03:59 GMT. The resistance rejected the price, after which the price fell below the $69.50 mark by noon.
Following a brief retracement, the trading pair was able to recover price towards the $70.00 mark, while it closed February 01 with a price of $70.76 US Dollars.
Technical Indicators for Litecoin
Litecoin Price Chart by TradingView
The Relative Strength Index (RSI) rose across level 70 at 01:55 GMT, to reach 87.44 on February 01. The technical indicator currently lies at 49.66. The 20-Day Exponential Moving Average (EMA) closed at $70.73, whereas the 50-Day Moving Average (MA) closed the day at $70.94.
Featured Image by Ian Espinosa.
Disclaimer: The information provided is not trading advice but an informative analysis of the price movement. Cryptopolitan holds no liability towards any investments based on the information provided on this page.