Litecoin price analysis is highly bearish today, as price crashed down below support at $45. Forming a descending triangle on the daily chart, LTC price crashed more than 13 percent over the day's trade to exhibit a complete bearish takeover. Price fell as low as $41.63, while trading volume rose over 50 percent. LTC price has been subject to decline since June 7, 2022, and has since then lowered more than 36 percent. Litecoin price now sits below previous support at $45 and is in line to move to a year-long low at $41. The next support level sits at $36 and LTC could crash further towards that point with the current bearish outlook in the crypto market.
The larger cryptocurrency market crashed significantly over the past 24 hours, as all major cryptos succumbed in double digit percentages. Bitcoin crashed down into the $23,000s with a 15 percent decline, while Ethereum suffered an 18 percent setback to move down to $1,250. Ripple lowered 11 percent to $0.31 while Cardano shipped 10 percent to $0.48. Dogecoin suffered a 17 percent crash to move as low as $0.05, while Tron dropped over 17 percent to $0.06. Additionally, Solana dropped to $28.65 with a 13 percent downtrend as Polkadot lowered to $7.14 with a 10 percent drop.
Litecoin price analysis: LTC market valuation reaches severely low values
On the 24-hour candlestick chart for Litecoin price analysis, price can be seen forming a descending triangle since June 7, and extending deeper into decline over the past 24 hours. LTC is trending downward towards next support point around $36, having already reached its lowest point in over 52 weeks. Price has also dropped below both 20 and 50-day exponential moving averages (EMAs), with the latter set significantly away from current price at $52.3.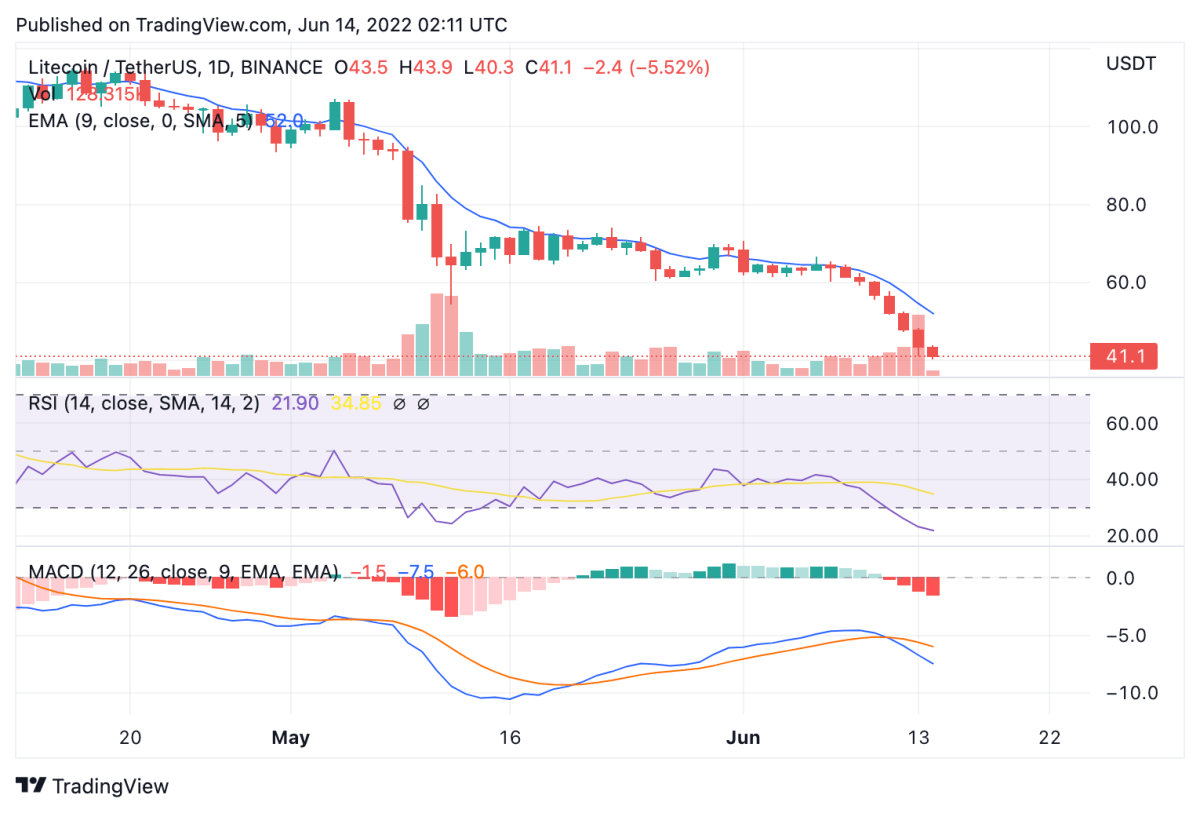 Meanwhile, the 24-hour relative strength index (RSI) is at a severely low point at 21.84 and set inside the oversold region. LTC market valuation is very low at current point, as trading volume increased more than 50 percent over 24 hours, mostly culminating seller action. In addition, the moving average convergence divergence curve attempted a bearish divergence over the past 24 hours and continues to form lower lows. Overall, all major technical indicators for LTC are highly bearish and it would take an immense effort to lift price before it reaches the next support mark at $36.
Disclaimer. The information provided is not trading advice. Cryptopolitan.com holds no liability for any investments made based on the information provided on this page. We strongly recommend independent research and/or consultation with a qualified professional before making any investment decisions.