Filecoin price analysis has been slightly bullish today as the price touched a 24-hour high of $3.218. Currently, it is closing at $3.157, which is still slightly higher than yesterday's closing price of $3.076.
As the crypto heat map shows, the market is mostly in the greens today. Ethereum is marking a 1.1 percent increase while Bitcoin has increased by 0.51 percent. While the market is not heavily bullish, it still has an overall positive sentiment.
The 1-day Filecoin price analysis shows strng support at $2.7. After reaching that point on the 16th of December, Filecoin quickly jumped back and has since been trading in a range of $2.67 and $3.31. However, in the last couple of days, an overall upward trend is forming.
Since the RSI looks very balanced with positive increase in the MACD as well, there is more room for Filecoin to grow. Filecoin price analysis is expected to stay bullish in the next 24-hours as well.
Filecoin 24-hour price movement
Overall, the 1-hour Filecoin price analysis gives us a positive outlook as we can see the formation of higher highs and higher lows. In the last 24-hours, Filecoin has set a low at $3.032 and a local high at $3.218 after which it dipped lower again. So in the shorter time-frame, a good amount of support and resistance is existing on these levels.
Overall, Filecoin's market cap has gone up by 0.87 percent with an increase of 29 percent in the trading volume. Hence, its overall 24-hour volume to market cap ratio is currently at 0.0739.
4-hour Filecoin price analysis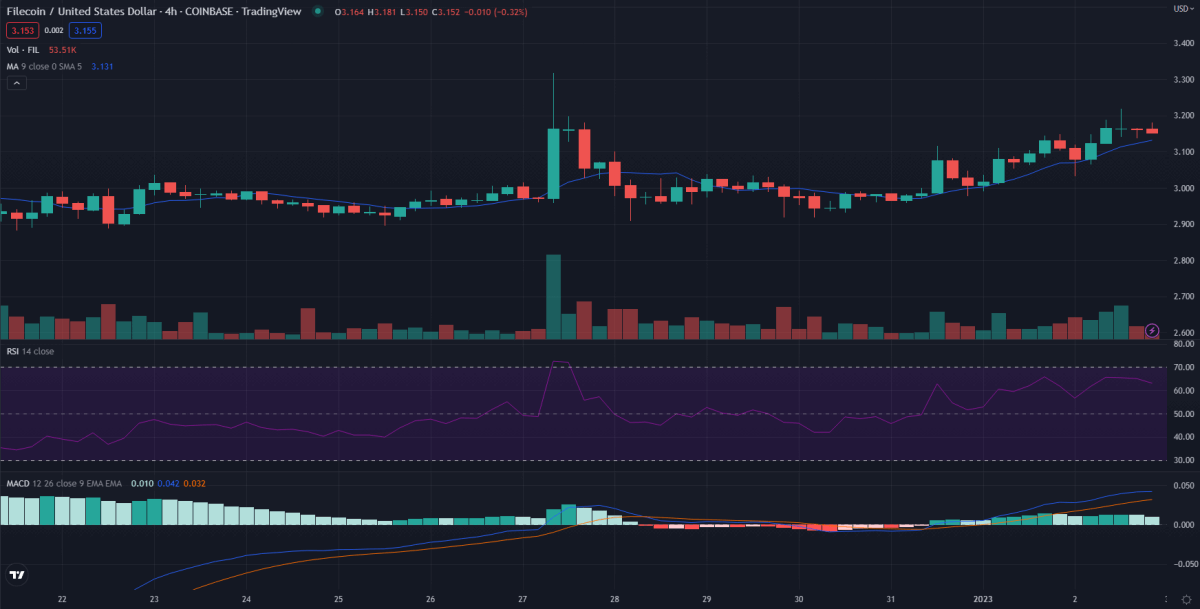 RSI on the 4-hour Filecoin price analysis is above 60. With that, we can see that the MACD histograms are starting to lose their strength. Filecoin may move lower in the next couple of hours and test the local support at $3.032.
Filecoin price analysis: Conclusion
Overall, the Filecoin price analysis has remained bullish today. On the 4-hour time frame, it is moving lower after facing resistance at $3.218. The next support level is $3.032 and based on the positive market sentiments today, Filecoin is expected to bounce back up once it hits the support level. But as always, traders should invest with due diligence and do their own research. Fore more information about the long-term price movement of Filecoin, read our detailed Filecoin price prediction.