Everything you need to know about the latest sensational stablecoin, TUSD
TLDR
TUSD was launched in March 2018 by TrustToken, a San Francisco-based company backed by a team of experts in blockchain, finance, and law

TUSD is backed by USD held in escrow, which provides transparency and accountability, and helps to build trust in the crypto market

TUSD is built on the Ethereum blockchain, making it an ERC-20 token, which is a standard for creating tokens on the Ethereum blockchain
TUSD, also known as TrueUSD, is a stablecoin that has been garnering traction as a reliable alternative to fiat currencies on the cryptocurrency market. TUSD is pegged to the US dollar, which makes it less volatile and more stable than traditional cryptocurrencies like Bitcoin and Ethereum. TrueUSD is the fifth largest stablecoin by market capitalization in the globe.
What is TUSD crypto?
TrueUSD, like Tether, developed as a USD-pegged ERC-20 token, a digital asset within the Ethereum network. It is the first cryptocurrency built on TrustToken, a platform for creating tokenized cryptocurrency. The company's strategy encompasses a wide range of real-world assets, from rental homes to patents.
TUSD has so far been deployed on four native blockchains as well as eight more public chains via cross-chain solutions. Popular exchanges, decentralized protocols, and over-the-counter (OTC) desks used by residents of 120+ countries maintain its liquidity.
TUSD maintains a fixed 1:1 peg, with underlying USD holdings dispersed across trust company accounts. This stablecoin has three distinctive characteristics:
1. The stablecoin is fully collateralized. The circulating supply shrinks or grows based on the total USD amount in dedicated bank accounts.
2. Legally protected. The use of multiple escrow accounts reduces counterparty risk and provides legal protection in case of theft.
3. Transparently verified. The amount of collateralized holdings is published daily and audited monthly.
How TrueUSD works
The TUSD stablecoin belongs to the category of asset-backed stablecoins, as all TUSD tokens are backed by the same quantity of collateral. For all TUSD tokens held in multiple escrow accounts, USD funds are used as collateral. The token employs multiple escrow accounts to reduce counterparty risk and provide legal protection against larceny for its holders. TrueUSD is designed for:
1. Traders and exchanges: TrueUSD is a great tool to hedge against market volatility (especially in market downturns) and enter markets without buying into BTC/ETH first.
2. Mainstream commerce: Investors and corporations can take advantage of the benefits offered by blockchain technologies without direct exposure to massive price fluctuations.
3. Developing economies: The developing markets can use stable currencies for trade and international trade.
4. Long-term financial contracts like loans, salaries, or predictions markets.
5. Financial institutions can use trustworthy assets to trade in the crypto markets.
The minting of TUSD tokens is straightforward and can be accomplished in two ways:
1. Mint on a crypto exchange – TUSD tokens can be generated on any of the exchanges where the token is available. Binance, Bittrex, KuCoin, and Huobi are some of the most popular exchanges that list TUSD tokens.
2. Directly mint through the TrueUSD website – Users have to first verify their account by supplying identification details. Following that, they must enter their BEP-2 or ERC-20 wallet address and wire funds from their bank account to the address specified in the app. Once the funds are wired, TrueUSD tokens will be sent to the users' relevant wallet addresses.
TrustToken uses publicly audited smart contracts to prevent token issuance. The funds are never handled by the TrustToken staff. When an escrow account gets USD, new TUSD are automatically minted. When a user redeems USD, the equivalent quantity of TUSD is burned immediately.
When a user passes KYC/AML, he or she can send USD directly to one of TrueUSD's trust partners (along with an Ethereum wallet address). Once the funds have been verified by the escrow company, the API interacts with TrueUSD's smart contract, which issues tokens in a 1:1 ratio and sends them to the provided wallet.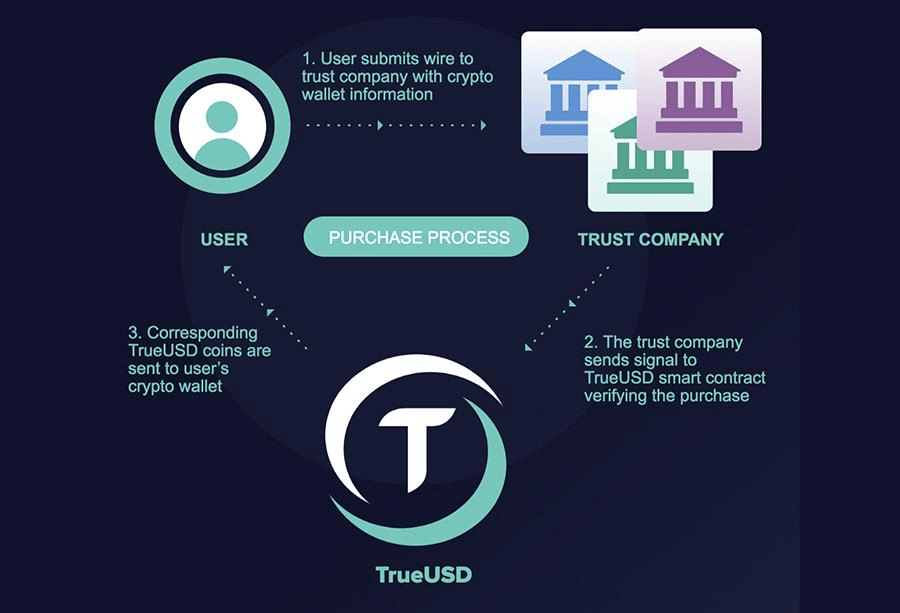 Once the tokens have been added to your wallet, they can be used for any purpose. TrueUSD tokens combine the stability and trust of fiat currency with the low fees, fast transmission times, and global reach of cryptocurrencies.
If you wish to convert TUSD back to US Dollars, the process is reversed. The user transmits TUSD tokens back to the smart contract address, which notifies the trust company and initiates a transfer of fiat back to the user's account.
All escrow account holdings are subject to periodical attestations, which are made public. Any individual or organization that passes an AML/KYC check on the TrustToken platform can exchange TUSD for USD. However, the minimum withdrawal amount is $10,000.
TUSD crypto team
TrustToken's team includes former Stanford, UC Berkeley, Palantir, Airbnb, Goldman Sachs, and Google employees. TrustToken released TrueUSD on March 5, 2018. However, the real growth occurred after the TrustToken team sold TrueUSD to a China-based company called Techteryx in December 2020. TUSD operates under TrustToken Incorporated of California. The entity also made it a point to clarify that it was not owned by Justin Sun.
Frequently Asked Questions (FAQs)
Which is the TUSD crypto wallet?
A TrueUSD wallet is an Ethereum wallet in which the TrueUSD token is stored. It is a wallet that enables users to send and receive TrueUSD by interacting with the Ethereum blockchain. To use the TrueUSD wallet, users must have the private key and satisfy the KYC and AML requirements of the application. After passing it, users can purchase the token, which will be sent to their TrueUSD wallet.
How high can TUSD go?
The live price of TrueUSD is $ 1.0004738 per (TUSD / USD) today with a current market cap of $ 2.13B USD. 24-hour trading volume is $ 1.02B USD. TrueUSD is +0.02% in the last 24 hours. It has a circulating supply of 2.13B USD. According to market analysts, the token will continue to surge a few cents over $1.
Disclaimer. The information provided is not trading advice. Cryptopolitan.com holds no liability for any investments made based on the information provided on this page. We strongly recommend independent research and/or consultation with a qualified professional before making any investment decision.