TL;DR Breakdown
EOS price falls almost 2 percent on intra-day trade
Trading volume declined over 12 percent, indicating loss of interest in the token from traders
RSI value shows highly undervalued status which could also trigger a comeback
EOS price analysis shows that the token is set for further sell offs as traders appear to lose interest in the market. On a decline since jumping up to $5.46 on September 19, EOS fell another 2 percent over the past 24 hours to sit at $4.11 at the time of writing.
The lowest recorded price in this period was $3.81. Furthermore, the lack of trading activity is confirmed with trading volume lowering more than 12 percent. After declining past the second support at $4.5, support is now set at $4.0 and traders will look to maintain above this point to form consolidation.
EOS/USD 24-hour chart: Buyers look to push price above $4.0 support
On the 24-hour chart for EOS price analysis, price can be seen fighting to keep above the newly set support at the $4.0 mark. After falling below the previous support level at $4.2, EOS will now look to consolidate at current price before initiating a push towards resistance at $4.5.
The RSI value has improved over the last few hours to sit at 41, which still represents an undervalued status for the token. Despite improvements late in the day, price still sits far below the moving average at $4.7 and will take some momentum to get back to that point. The Moving Average Convergence Divergence (MACD) is also well below the neutral zone, justifying and predicting further losses for EOS.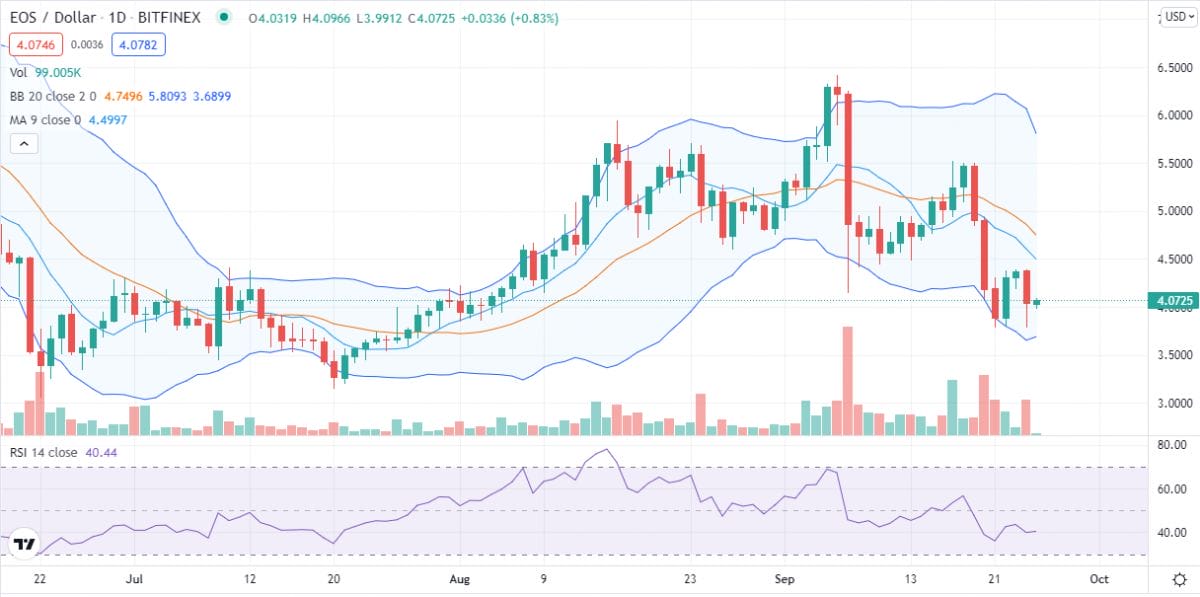 EOS/USD 4-hour chart: Crucial upcoming trading sessions to consolidate price above support
EOS will look to consolidate above the support point at $4.0 over the next few trading sessions. Momentum can be seen picking up in price over the latest session, however it is not reflected in the RSI value that sits at 39. The Bollinger Bands' curves show a distinct distance between them, while price sits below the middle curve. It suggests that the token is facing an undervaluation from the market and could be set for a further decline if consolidation does not materialise. Therefore, the next few trading sessions could prove to be crucial for EOS as it looks to recover past the 20-day EMA.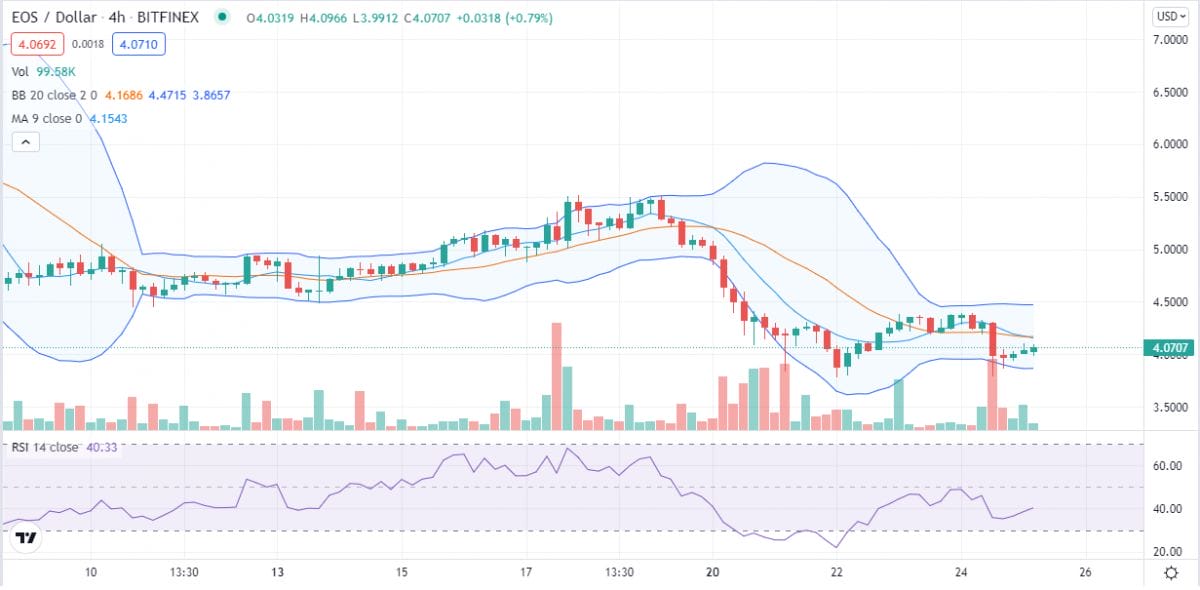 EOS price analysis conclusion
Technical indicators for EOS verify that the token is set for a further decline, unless price can continue a recovery that has initiated late in the day. Buyers look to have lost interest in EOS, as suggested by the lowly values exhibited in the RSI.
Currently, support is set at $4.0 and buyers will look to consolidate above this point. However, if the overall crypto market loses the plot, EOS could find itself in dire straits and could go as low as $3.82.
Disclaimer. The information provided is not trading advice. Cryptopolitan.com holds no liability for any investments made based on the information provided on this page. We strongly recommend independent research and/or consultation with a qualified professional before making any investment decisions.