Although Elon Musk is not involved with ELON, its token price can see big price spikes when Musk makes headlines. For example, when Musk made his deal to buy Twitter last month, the coin briefly soared on the news, only to pull back. This phenomenon is a social media frenzy in action.
When Dogecoin experienced massive growth, many people became interested in it and other meme-coins. In addition, another meme-coin inspired by Dogecoin, which also experienced an enormous rise, was Shiba Inu. Nonetheless, Shiba Inu has surpassed Dogecoin when it comes to market capitalization.
Most analysts believe the Twitter controversy has affected Elon Musk's popularity, like his "pup coins." Assuming it stays on a downward trajectory between now and the next Musk boost, ELON-USD could head lower. The next spike may, at best, only bring you back to even instead of ahead. But guess what? Dogelon Mars has been up 7.07% in the last 24 hours!
Today's Dogelon Mars price is $3.16e-7 with a 24-hour trading volume of $2,028,591. Dogelon Mars is up 1.26% in the last 24 hours. The current CoinMarketCap ranking is #150, with a live market cap of $173,231,033. It has a circulating supply of 548,613,331,441,931 ELON coins and a max. supply of 1,000,000,000,000,000 ELON coins.
Also Read:
• How And Where To Buy Dogelon Mars
What is Dogelon Mars (ELON)?
Dogelon Mars itself is referred to as the "interplanetary currency," and it continues to be one of the meme-coins with lots of potential when it comes to price. Dogelon Mars has maintained its stability despite the cryptocurrency market's volatility, and its price is expected to increase in 2022 and beyond. The meme coin has ridden a wave of popularity on social media and could very well reach USD .010 soon.
It is essential to know that Dogelon Mars is a comparatively new meme-coin, a fork of Dogecoin. Furthermore, there is a distinct character behind every meme-coin, so for Dogelon, it is a spacecraft-wearing dog.
Furthermore, Dogelon was named after Mars, which is pronounced as DOG-A-LON. Dogelon Mars is regarded as a community-driven cryptocurrency, claiming it will improve constantly. On the Dogelon Mars website, a cartoon dog in a spacesuit is moving up, representing that Dogelon Mars will experience a massive upward movement.
Elon is the official token of Dogelon Mars. However, Elon is an ERC-20 digital asset based on the Ethereum blockchain, launched in April 2021. The token was named after Elon Musk, a firm believer in cryptocurrencies.
Beyond its fun name, Dogelon Mars has a solidly robust community behind it. Today, it has more than 300,000 Twitter followers and more than 84,000 followers on Telegram.
Because it is a fair universal cryptocurrency, there was no presale of the Elon coins. However, ten trillion coins have been created after sending 50% to Vitalik Buterin. Buterin donated his contribution to charity and the COVID Relief Fund. The following 50% of ELON tokens have been locked in the Uniswap liquidity pool as Elon and ETH pairs.
Dogelon Mars Overview
Dogelon Mars Overview
Coin
Symbol
Price
Marketcap
Change
Last 24h
Supply
Volume (24h)

ELON
$

0.000000

$

140.97 M

6.76%

548.79 T
$

3.54 M
Who are the founders of Dogelon Mars?
Just like other meme-coins, the founders of Dogelon Mars are unknown. This is what occurs in meme-coins: having anonymous founders. However, investors are advised to do due diligence when making financial decisions on cryptocurrencies to avoid falling victim to malicious practices like exit scams. That said, Elon has been in the market for a while now, making the likelihood of the coin being a scam relatively low.
Applications of Dogelon Mars
Besides using the humorous comic story of Dogelon (the dog giving the coin its name) as the background of the token, this cryptocurrency does not have an official roadmap yet. Elon is a meme coin without much utility and applications beyond buying and holding it in a cryptocurrency wallet like Metamask. Because it has different meme attributes in its name (Elon Musk, Doge, and Moon/Mars), we could see a rapid rise in Dogelon Mars Elon if the overall crypto market appreciates and the appetite for meme coins increases.
How is the Dogelon Mars network secured?
Elon is an ERC-20 cryptocurrency based on Ethereum and Polygon. It is also essential to know that Ethereum is one of the most popular blockchains in the crypto market. However, its Proof-of-Work consensus mechanism makes Ethereum one of the safest blockchains out there. Again, a different set of decentralized nodes validates and secures transactions on the Ethereum blockchain network.
On the other hand, Polygon is a layer-two scaling solution for Ethereum that permits increased transaction throughput; this means that there are no gas wars on Polygon.
The starting supply for the project was 1 quadrillion ELON tokens. The developers sent half of those crypto tokens to Ethereum co-founder Vitalik Buterin, copying a publicity stunt that was first done by Shiba Inu (CRYPTO:SHIB). Buterin donated about 43% of the ELON tokens to the Methuselah Foundation, a charity focused on extending human longevity. The foundation pledged in May 2021 not to sell any of those tokens for at least one year and to advance ELON's long-term value.
What's Unique about ELON?
Developers deposited the other half in a liquidity pool on Uniswap (CRYPTO:UNI). They also deposited 40 ETH in the liquidity pool, worth about $100,000 at the time. They then burned (destroyed) the liquidity provider tokens they received so that they could neither retract the tokens nor collect any of Uniswap's liquidity rewards, which will just accrue over time.
By burning the liquidity provider tokens, the Dogelon Mars team demonstrated that they weren't going to commit a rug pull, a crypto scam where developers pump up the value of their cryptocurrency, withdraw as much as they can and abandon the project. The Dogelon Mars founders can't do that because when they deposited their funds into the project, they burned the tokens they received for doing so.
Where & How to Buy Dogelon Mars Elon
You can buy and trade Elon tokens on KuCoin, UniSwap (V2), OKEx, Poloniex, Gate.io, and Crypto.com Exchange.
We all know that buying meme-coins is not as easy as purchasing significant cryptocurrencies in the crypto market, such as Bitcoin and Ethereum. However, I will try to make it easy for you. Here is how to buy Dogelon Mars.
Step 1: Create an exchange account
To buy ELON, the first thing you need to do is create an account. I recommend using either Kucoin, Gate.io, or Poloniex because of their high liquidity. Create an account on these platforms using your name or email address. Also, get your ID ready to do a KYC verification on the platform to increase your trading and withdrawing limits. You can also buy ELON on decentralized exchanges such as Uniswap and Shibaswap.
Step 2: Fund your exchange account
The next thing you need to do is fund your account. We will use Poloniex as our reference exchange account. On Poloniex, you can use either a Visa or Mastercard credit or debit card or the Apple Pay option to fund your account.
If you want to fund your account, I suggest you buy USD Tether, also known as USDT, because it is the only market pair that Dogelon Mars has on Poloniex. When you buy USDT, go to "Markets" on Poloniex, search for ELON, and click on the ELON/USDT market pair. Now enter the amount of ELON that you want to purchase and click "Buy." This will create an order that will be executed whenever a buyer is willing to trade their ELON tokens at the price you want to buy.
Dogelon Mars Technical Analysis
Dogelon Mars price movements over the last few months has been nothing short of impressive. ELON has been on a declining trendline, making lower lows and lower highs, but recently found support at $0.0000003045
The market structure still looks bearish with a clear lower high and lower low in place, however, the recent bounce off the $0.0000003084 level could be considered a bullish reversal. If prices can continue to hold above this level, we could see a move back up towards the $0.00000035 level. Above this, resistance lies at the $0.00000040 level.
On the downside, support lies at the $0.0000003045 level. Below this, further support lies at the $0.00000029 level.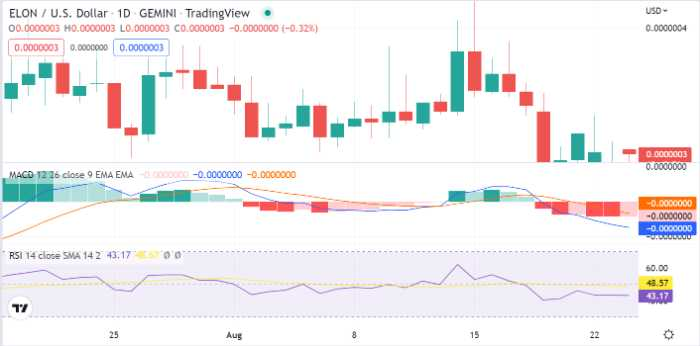 The MACD line is currently on the verge of crossing the red signal line which is a bullish crossover that can take the prices towards $0.0000003167 levels in the near term.
The technical analysis reveals various moving average lines are in order, the 21-day EMA is trading well above the 7-day EMA, which indicates that the market is in an uptrend.
The SMA50 and SMA200 are placed well above the current market price, indicating a strong bullish market trend.
The RSI indicator is currently trading at 49.18, which indicates that the market is neither oversold nor overbought; there is a possibility that the prices might consolidate for some time before taking any clear directional bias.
The Doji candlestick pattern formed on 4th August at the $0.0000003208 level indicates indecision among the market participants and a possible change in trend.
The Stochastic indicator is currently in the oversold region but is showing signs of a bullish crossover which can take the prices higher in the near term.
The ADX indicator is currently at 18.91 which indicates that the market is currently in a range-bound phase with no clear trend.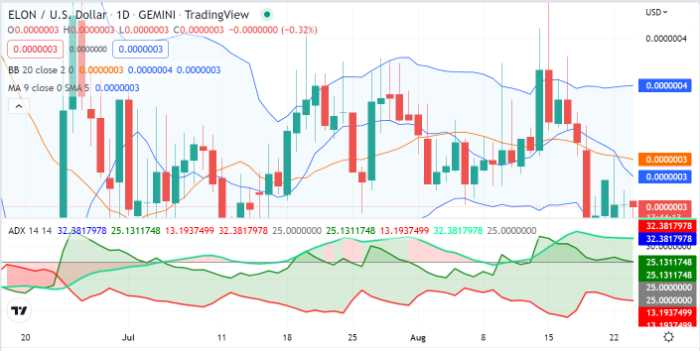 It is always advisable to wait for a candlestick pattern to complete before taking any trade based on it. Based on the current market trend, our predictions are that the prices might retrace towards $0.000000316 levels before resuming their uptrend.
The market volatility is currently high, as indicated by the bulging Bollinger bands due to the massive sell-off that occurred over the last few days.
To conclude, we are bullish on Dogelon Mars in the long-term as prices have bounced off the key $0.0000003045 support level and currently look poised to head back up towards the $0.00000035 level. However, in the short-term, the market is volatile and a breakout in either direction could occur soon. The technical indicators also support our view, and we predict that the prices might retrace towards $0.000000316 before resuming their uptrend.
Dogelon Mars Price Predictions by Authority Sites
DigitalCoinPrice
DigitalCoinPrice is quite conservative in its price predictions for Dogelon Mars and forecasts that the coin will only reach $0.000000439 by the end of 2022. It suggests that ELON might trade at around a maximum price of 0.000000668 in 2025 before moving up to $0.000000884 in 2027 and $0.00000147 in 2030.
Price Prediction net
According to Price Prediction net's ELON price predictions, they expect the coin to rise to $0.00000041 by the end of 2022 which is a more optimistic view when compared to DigitalCoinPrice's predictions. Their long-term price predictions suggest that the coin might reach as high as $0.00000285 by 2027. The token might then end the decade at $0.00000493. The site makes a Dogelon Mars price prediction for 2030 that sees it hit an average of $0.00000675 before it might reach around $0.00000981 in 2031.
Wallet Investor
At Wallet Investor, they term Dogelon Mars as an awesome long-term investment. Their Dogelon price prediction sees the coin trading at around $0.000000547 by the end of 2022. Based on their forecasts, a long-term increase is expected, and the price prognosis for 2027 is $0.00000145, representing an increase of $369.26 percent.
Cryptopolitan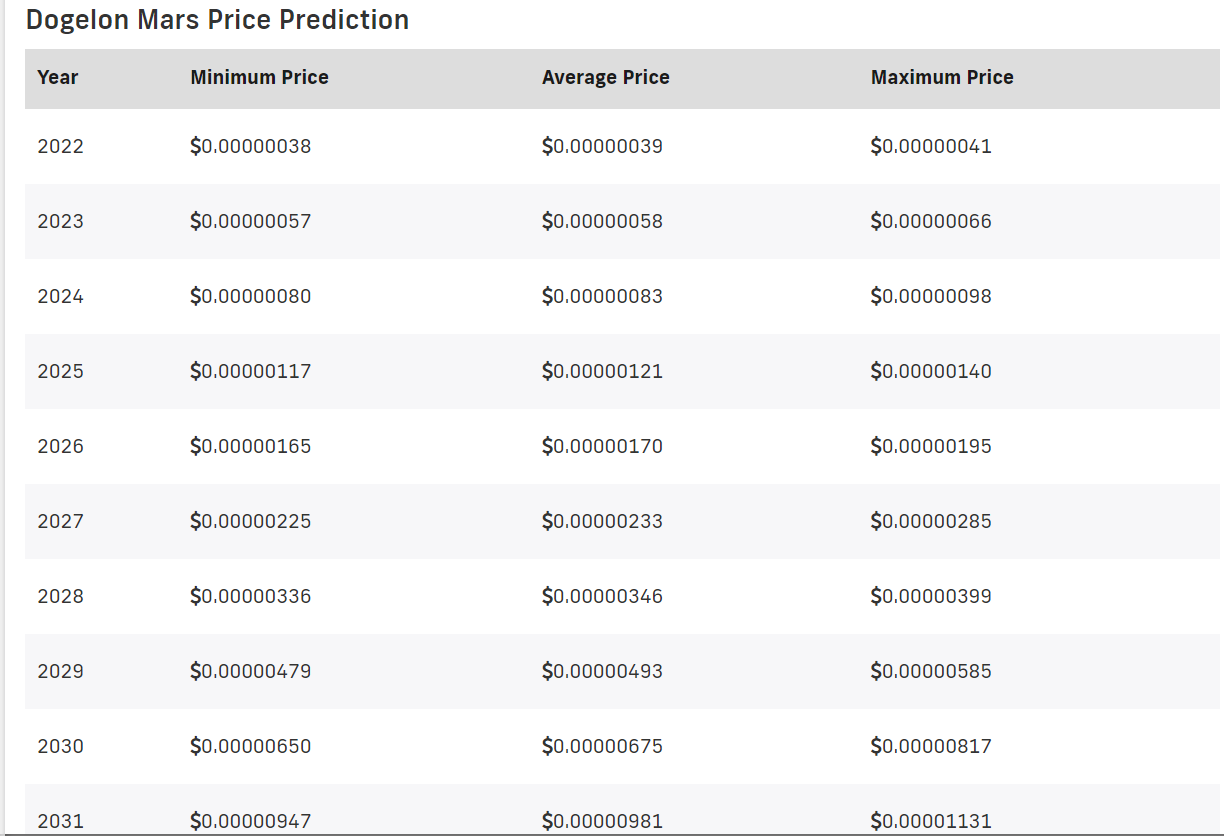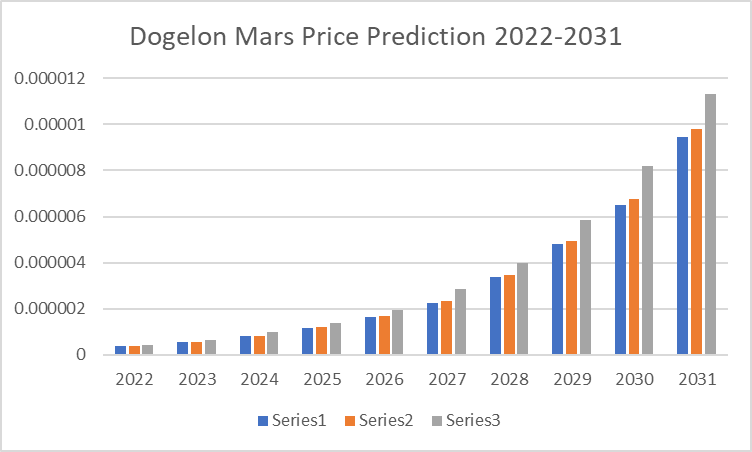 Dogelon Mars Price Prediction 2022
Based on our deep technical analysis, ELON is projected to attain a maximum trading price of
$0.00000041 and an average price of $0.00000039.The least expected price for 2022 is $0.00000038.
Dogelon Mars Price Prediction 2023
As per our Dogelon Mars price forecast, ELON might potentially reach a maximum price of $ 0.00000066.An average price forecast of $0.00000058 is expected with a minimum possible price of $0.00000057
Dogelon Mars Price Prediction 2024
In 2024, Dogelon Mars is expected to trade at around an average of $0.00000083 with a maximum possible price of $0.00000098 and a minimum possible price of $0.00000080
Dogelon Mars Price Prediction 2025
ELON is expected to end 2025 at an average price of $0.00000121.The coin might potentially touch a maximum price value of $0.00000140 and a minimum value of $0.00000117.
Dogelon Mars Price Prediction 2026
Dogelon Mars price forecast for the year 2026 seems bullish as the coin is expected to attain a maximum price value of $ 0.00000195 and an average price of $0.00000170.The minimum possible price for the year is $0.00000165.
Dogelon Mars Price Prediction 2027
According to our ELON coin price prediction, the coin might potentially attain an average forecast price of $0.00000233.A maximum price of $0.00000285 and a minimum value of $0.00000225 is expected for the year 2027
Dogelon Mars Price Prediction 2028
The average price forecast for 2028 is $0.00000346. A maximum possible price of $0.00000399 and a minimum price of $0.00000336 could be achieved in 2028.
Dogelon Mars Price Prediction 2029
Dogelon Mars is expected to continue soaring high in 2029 as well and might potentially reach an average price of $0.00000493. A maximum possible price of $0.00000585 is expected with a minimum value of $0.00000479.
Dogelon Mars Price Prediction 2030
For the year 2030, a bullish Dogelon Mars coin prediction is made as the coin is expected to end the year at an average price of $0.00000675. The maximum possible price that could be attained is $ 0.00000817 and a minimum value of $0.00000650 could be achieved.
Dogelon Mars Price Prediction 2031
Massive crypto adoptions worldwide are the key driver for such a bullish Dogelon Mars price prediction for 2031. The coin is expected to reach an all-time high of $0.00001131 by the end of 2031, with a minimum possible value of $0.00000947.The average trading price for the year 2031 is $0.00000981.
Dogelon Mars Price Prediction by Market Experts
Dogelon Mars is one of the most popular altcoins and has gained much traction in recent months. The altcoin has seen a lot of price volatility but has managed to maintain a steady upward trend. Market experts such as Crypto Prince, who boasts 42.1k youtube subscribers believe that Dogelon Mars could be a good long-term investment.
The crypto analyst has stated that the altcoin could potentially reach $1 by the end of 2025 and the digital asset has shown a lot of promise.
Conclusion
According to various market experts and crypto prediction sites, Dogelon Mars is expected to have a bright future. The coin has proved its potential in the market with massive gains since its launch, and it is expected to continue its bullish trend in the coming years.
Recently, Methuselah Foundation announced that Everest Health, the world's only longevity clinic offering the Methuselah Protocol, is accepting cryptocurrency payments. Starting with ETH and ELON. 
This is a big step for Dogelon Mars as it will help increase the adoption of the coin and also help in its price appreciation. With a strong community backing and some major partnerships in the pipeline, Dogelon Mars is expected to reach new heights in the years to come.
ELON's price is expected to rise progressively in the future. However, many experts feel ELON is a promising cryptocurrency with high returns on investment. It is important to remember that Dogelon Mars has a significant risk owing to its inflationary nature. Remember that you should only invest money you can afford to lose.  Because investing is a game of chance, you can never be guaranteed the rewards.
It's hard to see it being on the verge of bottoming out, as the rising interest rates, high inflation, and slowing economic growth puts pressure on all asset classes, especially speculative ones. To put it simply, the silly season is over. A few spikes from Musk-related news won't make up for continued losses.
The lack of a formal whitepaper and a roadmap outlining what Dogelon Mars genuinely aims to accomplish has previously been brought up. Several dog cryptocurrencies are available, and most have a clear strategy and whitepaper. Not that ELON is a swindle, but it is something to be aware of.
Additionally, there are no recorded founders for the organization. Again, this is not very unusual, but it does imply that a crypto investor looking for transparency and certainty may easily choose to move their money elsewhere. These factors might put off investors; however, it is always advised to do your own research before investing.
Disclaimer. The information provided is not trading advice. Cryptopolitan.com holds no liability for any investments made based on the information provided on this page. We strongly recommend independent research and/or consultation with a qualified professional before making any investment decisions.