Cardano has suffered a great hit and the price analysis of 24-hour reveals a depreciation over nine percent (9.63%). The whole crypto-market is facing bearish trends and therefore, the price of almost every other coin is declining.
The price analysis of Cardano indicates the trading volume of one hundred and thirty-six million dollars ($136m).
Cardano ADA price chart by Trading View
A constant decline in the price has been noted since the past seven days, which is reported to be over eighteen percent (18.79%) and is speculated to decline more.
Although the coin secured the first position on ZBG exchange trading by ADA/USDT with trading volume sixty-seven million dollars ($67).
Huobi Global secured the second position followed by Binance as it indicates the trading volume of sixteen million dollars ($16m) by ADA/BTC pair.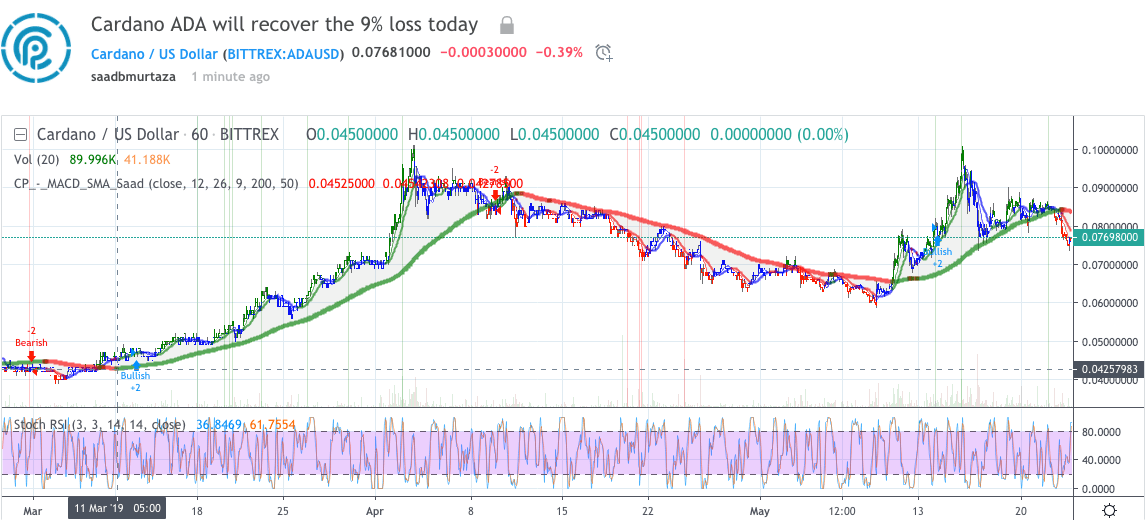 Cardano ADA price chart created with Trading View
Long term data shows that the currency is still way above the three-month low point where on 11th of March 2019, ADA price stood on $0.0425.
The currency went as high up as $0.088 in the next month rising up from $0.0425 in a matter of 30 days before going into a bearish rally on 11th of April 2019.
The bearish rally ended on 11 May 2019, when the ADA price started climbing again and this time it went up as high as $0.086 till 23rd of May.
This is the second dip it has taken and the trend shows it is likely to take another bullish rally in a couple of weeks.