Cardano price showcased extreme lows as it fell over support zones on the 8th of December. These differences were apparent for a prolonged period of time but stabilised slightly as the coin came to its close into the 9th of December. 
Cardano ADA Price Analysis – 8th December (ADA/USD)
Cardano ADA Price Chart by Trading View
As shown by the graph above, the Cardano price majorly traced a bearish price path throughout the course of the day. It welcomed a price surge early as the day initiated, where the coin reached the $0.0391 value. This value remained the highest for the day.
As the price continued to trace its path, it fell over the $0.038 support around 07:00, and for the next hour and five minutes, the currency's price remained stagnant at this position. However, the prolonged period of regression allowed the subsequent regression with the bulls garnering the momentum they needed to enable the price to rise upwards. The coin eventually came to a close at $0.0386. 
Technical Indicators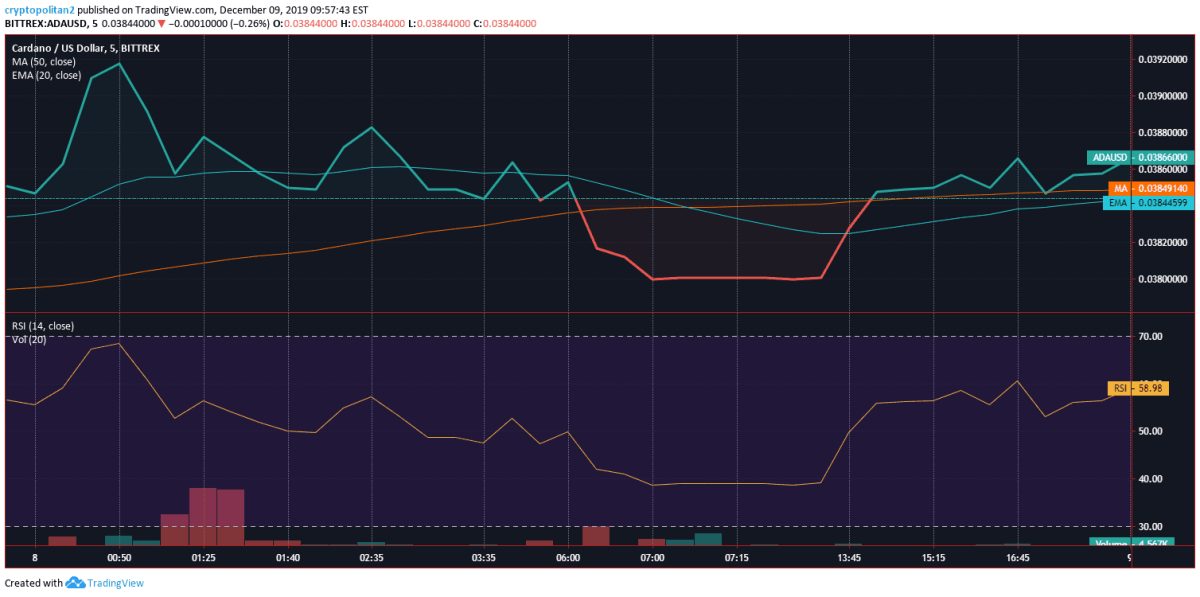 Cardano ADA Price Chart by Trading View
As shown by the full-featured chart above, the Cardano price pathway differed significantly from its moving averages. This shows the coin has not been able to stabilise over the short and medium-terms. This is disadvantageous to the currency itself as it raises volatility in the value of this digital asset. 
The 50-Day Simple Moving Average (SMA) closed at $0.03849, whereas the 20-Day Exponential Moving Average (EMA) closed at $0.03844. Compared to the closing price, these values were 0.44 percent and 0.57 percent lower. 
The Relative Strength Index (RSI) closed at 58.98 with trading volumes closing at $4.567 thousand. 
Featured Image Background by Grégoire Bertaud