BSV is back with a vengeance after its last tweet on December 2021.
What's the BTC versus BSV furor? On the surface, the most prominent difference between BTC (Bitcoin Core) and BSV (Bitcoin Satoshi Vision) is the choice of block size. While BTC insists on small blocks (one megabyte per block), BSV has opted for big blocks, ultimately with unlimited block sizes.
After examining Bitcoin Core and Bitcoin Satoshi Vision compared to the original vision set forth in the whitepaper, forum posts, emails, and other writings by Satoshi, it is our opinion that Bitcoin Satoshi Vision is the implementation that currently best represents what Satoshi originally intended.

MNP Report
Today's Bitcoin SV price today is $51.96 with a 24-hour trading volume of $78,189,08. Bitcoin SV is down 7.49% in the last 24 hours. The current CoinMarketCap ranking is #45, with a live market cap of $992,554,981. It has a circulating supply of 19,102,602 BSV coins and a max. supply of 21,000,000 BSV coins.
Three major implementations — Bitcoin (BTC), Bitcoin Cash (BCH) and Bitcoin Satoshi's Vision (BSV) — have been competing for dominance since 2017. Let's see whether BSV has got what takes to rise up above today's crypto chaos and be worthy of being included in your crypto portfolio.
What is Bitcoin BSV?
BSV is a hard fork of Bitcoin Cash (BCH) that took place on 15 November 2018. The creators have maintained a commitment to the concept contained in Bitcoin Cash (BCH), offering cheap costs per transaction, excellent performance, guaranteed security, and incentives for the investment firms and the miners.
Bitcoin SV is being developed under the leadership of Craig Wright. A hard-hitting Australian scientist and bitcoin evangelist emphasized the problem of scalability and, therefore, increased the block size to 128Mb. Now he is announcing that his cryptocurrency is "the only real Bitcoin" – just the way Satoshi Nakamoto conceived it (hence the name SV, which stands for Satoshi Vision).
The coin's singular objective is to retain practically all initial Bitcoin. When considering what Bitcoin SV entails, it should be noted that it is entirely directed toward the concept stated by Satoshi Nakamoto (SV is short for "Satoshi Vision"), the digital currency's inventor, in The White Paper for Bitcoin.
Bitcoin SV is a standard BCH fork with no new features, destinations, or routes. The primary objective is to sustain the core of Bitcoin while supplying the coin extensively.
Those that created Bitcoin Cash have been steadfast in their approval of the cryptocurrency's concepts. Their objectives include keeping transaction costs low, maintaining an exceptionally high degree of security, providing favorable circumstances for people mining and investing, and growing the business.
CoinGeek Mining experts and nChain developed Bitcoin SV; MIT has now granted the Bitcoin SV code an (OSL) open software license by their hard work (MIT License).
How does Bitcoin SV function?
As is widely known, Bitcoin SV is Bitcoin's fork, which means they share similar operating principles. It comprises a blockchain identical to a register and contains a series of blocks. The blocks are made up of a record that includes required original information about the previous block and the key to the other one. The creation concept the chain operates with is given as follows:
All nodes display the execution of every transaction.
Every node emulates the transactions that have been executed on the block.
Each node seeks solutions to the relevant block's mathematical task.
The block is sent to every node as soon as the correct answer is identified.
If every operation is legitimate and has not been completed, the node allows a block.
The nodes acknowledge and permit the block, and work on generating a new block on the blockchain begins.
The previous block's hash accepted is utilized as the preceding one.
The long-lived hash is taken as valid and thus, expanded. It is feasible that twin nodes simultaneously broadcast different copies of the next block.
The first node that is received gets prioritized. However, the subsequent one is reserved if it is discovered to be longer. In other words, whenever the next PoW solution is found, the connection gets destroyed, and one chain will get longer, while the nodes from the prior chain will be transferred to the used chain.
What is the best way to acquire BSV?
Bitcoin SV is now available on several major exchanges, including OKEx, Bitfinex, and several more diminutive platforms. Binance, on the other hand, does not have it. This company opted to delist BSV since it failed to meet its requirements in 2019.
BSV is now trading at about $99 and is rated 64 out of 100 cryptocurrencies on Coinmarketcap.
BSV is available on various crypto exchanges, but it cannot be purchased using fiat money, unlike the other major cryptocurrencies. However, one may easily buy this money by first purchasing Bitcoin on any fiat-to-crypto exchange, then transferring it to a cryptocurrency exchange. This guide article will go through the steps for purchasing BSV in-depth.
If you want to retain the BSV for a lengthy time, it's good to check into security measures. A hardware wallet is preferable to a cold wallet in this scenario. They are frequently USB-enabled devices that preserve the wallet's important information in a more long-term format. They're built with military-grade security in mind, and their firmware is updated regularly, making them extremely safe. The Ledger Nano S and Ledger Nano X wallets are the most popular options in this category, with prices ranging from $50 to $100 depending on their features. If you're holding your valuables, these wallets are a significant investment, in our opinion.
Bitcoin SV (BSV) versus Bitcoin (BTC)
BSV benefits against BTC
Bitcoin SV beats BTC in terms of transaction costs due to its larger block size, which allows it to charge the lowest fee. This lower fee reduces the number of transactions on the mempool, improving the BSV network's throughput.
For example, the network's scaling platform, the BSV Scaling Test Network, allowed it to exceed 9,000 transactions per second (STN). STN is a project of the Bitcoin Association, a non-profit organization committed to promoting the adoption of BSV. The BSV scaling solution aims to increase BSV adoption and usage inside organizations.
In addition, Bitcoin SV's large block size allowed it to establish a new record by merging 16.4 million transactions into a single block.
Unlike BTC, Bitcoin SV boasts the most widespread adoption use cases, including a local banking app called Gravity and a web platform called Bitcoin SV Academy, fully embodying Nakamoto's vision of a peer-to-peer financial infrastructure.
Bitcoin SV Price History
BSV opened trading for 2021 with a price set at $163.22. It is currently trading at $155.73, a -5 percent decline from the start of the year. Bitcoin SV should sell for $174 by the close of 2021, which works out at a yearly change of +7%. The increase from this day until the year runs out is +12%.
The Bitcoin SV market price is expected to rise to $182 in the first two quarters of 2022; at the start of the second half, the market price will increase by $9 to eventually close the year at $191, a +23 percent bump over the current price.
The current price of Bitcoin SV is about $113.05, while it has depreciated 7.13% in 24 hours at writing. The market cap for BSV is estimated to be $2,145,181,998, which has been reduced due to the recession.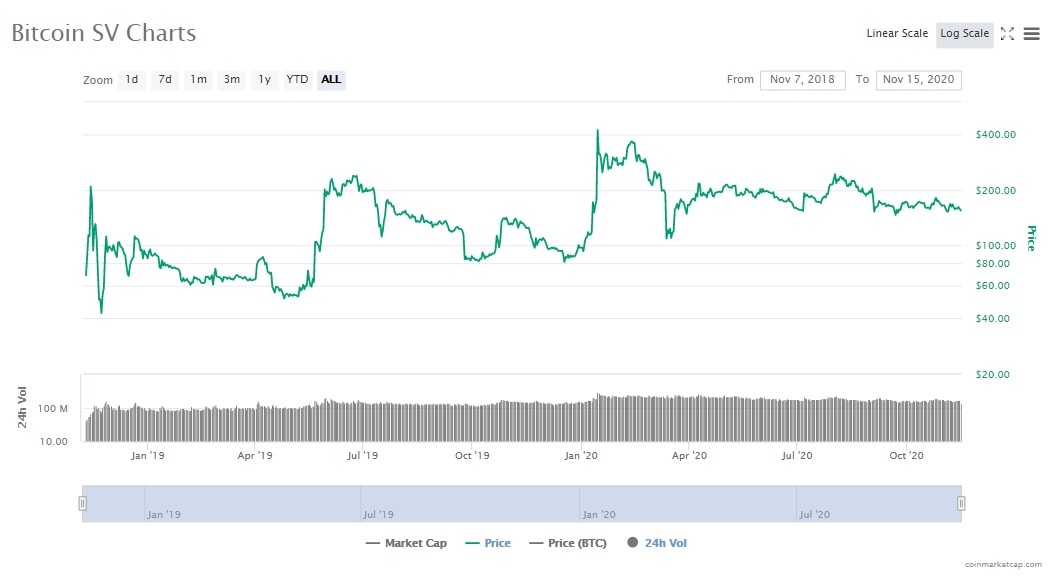 According to the most recent forecast, Bitcoin SV will attain $200 by the middle of 2023 and $250 by the end of 2024. In 2025, Bitcoin SV is projected to hit $300, and in 2030, $1000.
Bitcoin SV Technical Analysis
Bitcoin SV price analysis for July 1, 2022, reveals the market following complete bearish movement, obtaining some positive momentum, signifying a gain of positivity for the BSV market. The price of Bitcoin SV has remained negative over the past few hours. On June 30, 2022, the price crashed and went from $57.7 to $52.0. However, the market started to increase in value soon after and regained most of its value. Moreover, Bitcoin SV has peaked and reached $56.6, just shying away from the $57 mark.
Bitcoin SV price analysis reveals the market's volatility following a dormant movement. This means that the price of Bitcoin SV is becoming resistant to the movement towards either extreme, showing consistent dynamics. The Bollinger's band's upper limit is $68.1, which is the strongest resistance for BSV. Conversely, the lower limit of Bollinger's band is $46.8, which is the most substantial support for BSV.
The BSV/USD price appears to be moving under the price of the Moving Average, signifying a bearish movement. The market's trend seems to be dominated by bears. The BSV/USD price appears to be moving upward, illustrating an increasing market. The market appears to be showing negative potential, and the trend might shift soon in favoring a downward movement.
Bitcoin SV price analysis reveals that the Relative Strength Index (RSI) is 39, showing a stable cryptocurrency stock. This means that the cryptocurrency falls under the lower neutral region. Furthermore, the RSI appears to move downwards, indicating a decreasing market. The dominance of selling activity causes the RSI score to decrease.
Bitcoin SV Price Predictions by Authority Sites
Digital Coin Price
The average Bitcoin SV price forecast for 2022 at Digitalcoin is $109.70, up 30% from the most recent trading price of $84.35. The forecaster's average predicted price for the price of Bitcoin SV in 2030 is $387.56, which would indicate potential profits of 360 percent. Four technical indications recommend a purchase strategy, ten are neutral, and twelve of the forecaster's technical indicators hint to a sell strategy.
Trading Beasts
According to Trading Beasts, Bitcoin SV BSV price, based on how it has historically performed, the BSV/USD pair seems quite bullish because of its dependable consistency. The price of Bitcoin SV should easily fluctuate around $88.096 by the end of December 2022.
Gov Captial
The Bitcoin SV BSV price prediction from Gov Capital is far more positive, with a 12-month price goal of $271.48 and a five-year BSV price forecast of $1,269 on the table. By 2027, BSV may increase 15 times at present rates.
Cryptopolitan
BSV Price Prediction 2022
The price of Bitcoin SV is expected to at least reach $63.08 in 2022. With an average trade price of $65.10, the BSV price has a maximum value of $72.45 that it may achieve.
BSV Price Prediction 2023
In 2023, Bitcoin SV's price is expected to fall to a minimum price of $93.84. In 2023, the average price of Bitcoin SV will be $96.44, with a maximum price of $110.50.
BSV Price Prediction 2024
The price of Bitcoin SV is expected to at least reach $136.26 in 2024. With an average selling price of $140.12, the BSV price may go as high as $167.10.
BSV Price Prediction 2025
In 2025, the price of 1 Bitcoin SV is anticipated to fall to a minimum of $204.00. With an average price of $209.61 in 2025, the BSV price can go as high as $241.20.
Bitcoin SV Price Prediction 2026
In 2026, the Bitcoin SV BSV price is anticipated to go as low as $291.10. According to our research, the BSV price might rise as high as $348.53, with an average anticipated price of $301.58.
Bitcoin SV Price Prediction 2027
The price of Bitcoin SV is anticipated to be at a minimum of $405.36 in 2027. The greatest price for Bitcoin SV is $499.90, with an average trading value of $417.42 USD.
Bitcoin SV Price Prediction 2028
In 2028, the price of Bitcoin SV is expected to drop to a minimum of $595.72. The greatest possible price for Bitcoin SV in 2028 is $699.19, with an average trading price of $612.41.
Bitcoin SV Price Prediction 2029
At a minimum, $831.39 is predicted to be the price of Bitcoin SV in 2029. The BSV price ranges from $855.88 on average to a maximum price value of $1,022.66.
Bitcoin SV Price Prediction 2030
In 2030, it is expected that the cost of Bitcoin SV will be at least $1,237.53. With an average trading price of $1,280.32 over 2030, the Bitcoin SV price may reach a high of $1,443.28.
Bitcoin SV Price Prediction 2031
In 2031, the price of Bitcoin SV is anticipated to go as low as $1,760.56. According to our research, the BSV price might rise as high as $2,169.90, with an average anticipated price of $1,824.58.
Conclusion
Investments in Bitcoin SV (BSV) may prove rewarding. Currently, the price is $51.96, much lower than when last 40 days but investors must first perform their due diligence before reaping the financial benefits of the purchase. The price of Bitcoin SV is expected to hit to be at a minimum of $405.36 in 2027. For the greatest gains, keep an eye on the price projection in the news and the average day-in chart.
BSV can be a good investment in the long term as the price will soar higher in the later years. Investors must do prior due diligence before harvesting the trade's financial rewards. The price prediction for Bitcoin SV is that it would cross $110 next year or an increase of 89% on your investment.
The rise in price will be gradual, breaching $100 in 2023, so if you can keep your capital invested but later years will bring bigger. The main fact about BSV price is patience, as it might take turns due to fluctuations in the market. Also, investors need to be careful and do their own research because indicators keep changing. In 2031, the price of Bitcoin SV is anticipated to go as low as $1,760.56.
According to our research, the BSV price might rise as high as $2,169.90, with an average anticipated price of $1,824.58. This is not investment advice. You should do independent research to determine the price of Bitcoin SV, including reading the white paper, reviewing any public roadmaps, examining user reviews and social media accounts, and seeking outside financial counsel.
Disclaimer. The information provided is not trading advice. Cryptopolitan.com holds no liability for any investments made based on the information provided on this page. We strongly recommend independent research and/or consultation with a qualified professional before making any investment decisions.