At the time of writing Bitcoin price movement seems quite unpredictable amidst the COVID-19 pandemic since the top analysts are revealing mix signals. While the king of cryptocurrency Bitcoin has been enjoying a unique position for the past few weeks.
Bitcoin BTC price took a big dip on the 12th of March but has since recovered to decent levels in the $6000 range. However, the price has failed to get past the $7000 point despite getting real close on several occasions since the 23rd of March, 2020.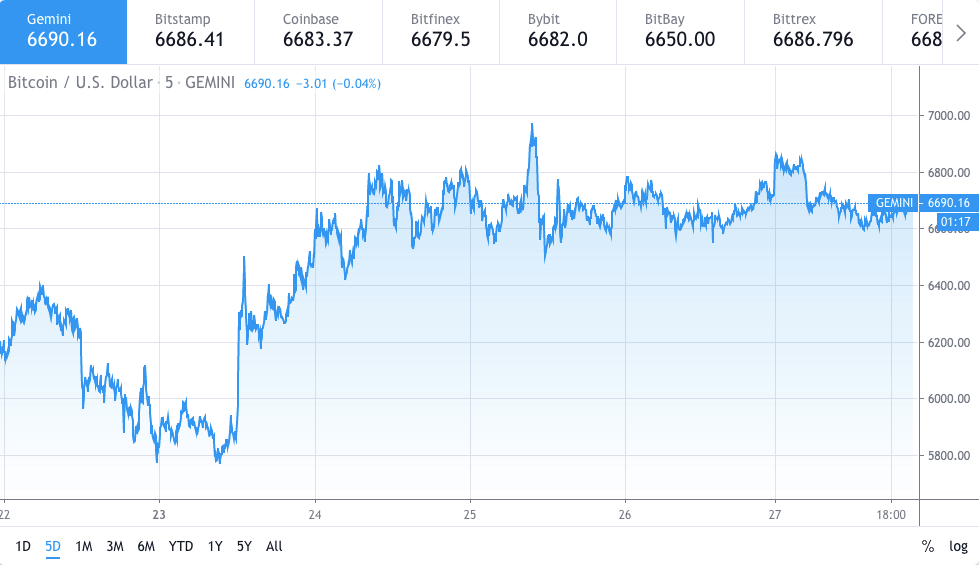 Bitcoin price chart by Trading View
A small head and shoulder formation can be observed on the charts that took shape in the early hours of the 27th of March, 2020. However, at the time of writing, the BTC price seems to be moving out of the movement without any volatile fluctuations.
Bitcoin price movement: What to expect?
Bitcoin price analyst on the Trading View Alan Masters explains that the cryptocurrency can have a break out any moment. Masters is of the view that the Bitcoin price has been consolidating for quite some time. At the same time, prices remained above EMA10, EMA50, and EMA100, signaling a strong upper hand for the bullish momentum.
Bitcoin price chart by Trading View
On the other hand, Trading View analyst DeGram is of the view that the cryptocurrency price is going through a falling channel and, therefore, not primed for any major gains in the recent future. Reading through the chart prediction leaves you only further confused.
Bitcoin price chart by Trading View
However, some clarity comes with the Moiseiev Yurii analysis, which explains that Bitcoin is priming for a unique position, and from there, BTC price can sway in any direction. Yurri explains that the cryptocurrency is moving in two triangles but definitely primed for an upward movement.
Bitcoin price chart by Trading View
Yurii furthers that the cryptocurrency has strong resistance poised at the $6950 mark, and past that point, there are good things coming for the king of cryptocurrency.
However, the market can be very volatile and turn the tables at any given second; therefore, cautious trading is advised.
Disclaimer: The information provided is not trading advice but an informative analysis of the price movement. Cryptopolitan.com holds no liability towards any investments based on the information provided on this page.