The king of cryptocurrency Bitcoin has been very volatile in the last 24-hours. While the Coin Market Cap is recording a 0.14% decline in the Bitcoin price value during the last 24-hours, the king has been thrashing up and down but unable to get past the $9172 mark.
Bitcoin price had hit the $9012 mark at the start of the 6th of March 2020 but soon into a bullish momentum that took the price to the $9172 mark. However, the king of cryptocurrency was unable to sustain that position and fell to $9028 point.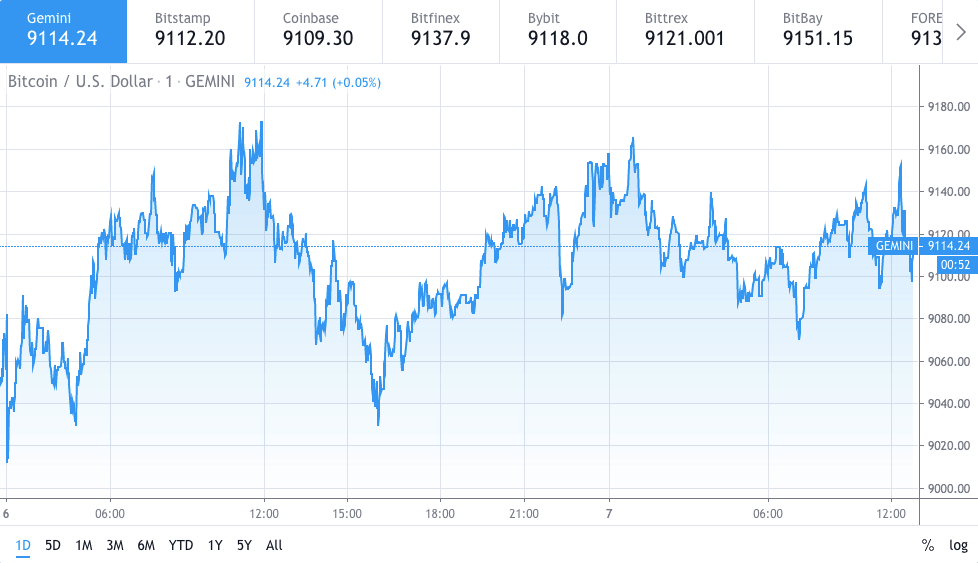 Bitcoin price chart by Trading View
Bitcoin price tried to seize another bullish momentum that commenced around the end of the day on the 6th of March but to no avail. Unable to sustain the new high at $9165.11, the cryptocurrency fell to as low as $9069 at one point. At the time of writing, the BTC price stands at the value of $9114.24.
Bitcoin price movement: What to expect?
Cryptocurrency trader David Smith identified the crucial support levels at the $9050 mark, and as long as the price is above that mark, there is the hope of a breakout.
Bitcoin price chart by Trading View
Smith explains that below the $9050 mark lies the strongest support block of $8920. However, the price action shows that the $9000 mark is acting is the strongest support level for the Bitcoin price movement until the time of writing.
Furthermore, Smith explains that cryptocurrency is likely to sustain a position between $9050 and $9160 mark on the weekend and thus marking the safe play zone for retail traders. On the other hand, the current price movement is also marking the previously reported analyst BTC prediction null and void.
As always, cautious trading is advised to all the cryptocurrency enthusiasts.
Featured Image by PhotoCreo
Disclaimer: The information provided is not trading advice but an informative analysis of the price movement. Cryptopolitan.com holds no liability towards any investments based on the information provided on this page.