The Bitcoin price is heading towards $6,800 levels, while the U.S. stock market is waiting for the relief of $2 trillion from the United States (U.S) government.  The economic condition of the U.S. economy is free-falling; however, efficient measures such as stimulus package and medical care do have the potential to save lives and the country's stock market.
Per the reports, the Dow Index gained 114 points back and headed towards an upward trend, whilst Bitcoin managed to settle itself at $6,700.
While, per various researches, the market displayed its highest daily surge since 1933. The price of the market had already made a leap forward today at $6,832, but then it went back to the range of $6,500-$6,750.
Bitcoin price movement: What to expect?
According to the CT's Horus Hughes Stats and TradingView, at present, the market is receiving the support at $6,500 level. Altcoins seems to be in the hot zone and performing with at least 3 percent profits in Litecoin, Ethereum 3 percent, and Monero with 7.7 percent gains.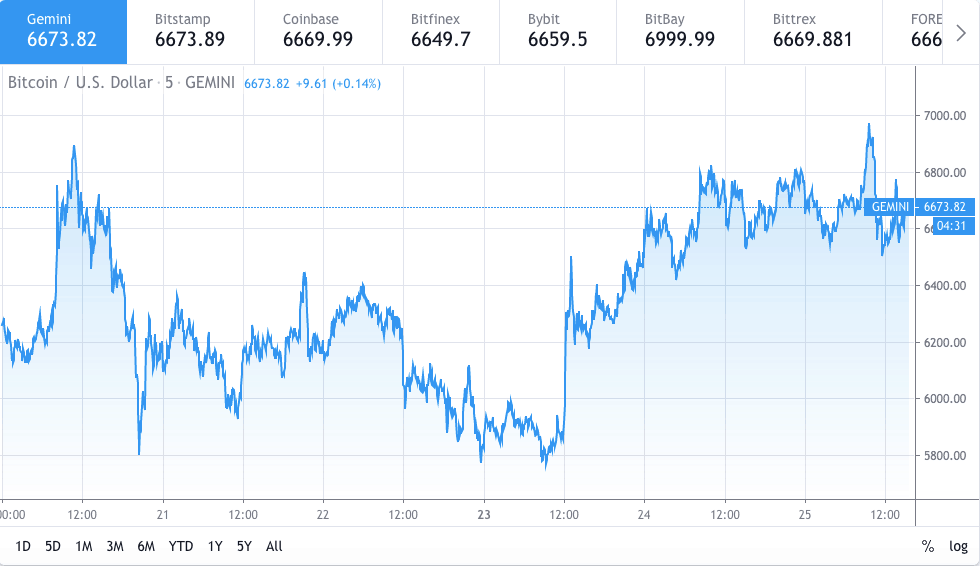 Bitcoin price chart by Trading View
The Bitcoin dominance level is at about 66 percent, while the total market cap equals $185.9 billion. It is worth mentioning that companies like Netflix Inc. (NASDAQ: NFLX) and Tesla Inc. (NASDAQ: TSLA) have been gaining this whole time.
Due to the pandemic, many countries are practicing lockdown, so people are staying at home. In the meanwhile, people use social networking sites such as Facebook Inc. Previously, the stocks of Facebook were so pressed due to the coronavirus, but now during the trades on March 24, the stocks of Facebook gained about 8.7 percent.
It is expected that the Bitcoin price would show steady momentum as the world progresses into another week of the global Coronavirus COVID-19 epidemic.
Disclaimer: The information provided is not trading advice but an informative analysis of the price movement. Cryptopolitan.com holds no liability towards any investments based on the information provided on this page.