The Binance Coin price chart for the 25th of March shows that the cryptocurrency's price line moved across the $12.70 level before it retreated to the $12.30 level. The coin traded within a day's range of $12.0381953 — $12.6568136.
1-Day Binance Coin Price Analysis (25th March)
Binance Coin Price Chart by TradingView
In the price chart from TradingView above, the cryptocurrency's price line is shown to have stepped on the date with a trading value of $12.3524990 US Dollar. The coin saw bulls which allowed the price line to move across the $12.70 at 09:00 GMT and reach a day's high of $12.7735523 US Dollars. The BNBUSD pair returned between the $12.20 and $12.30 trading levels, and it continued trading in the same price range for the rest of the day. At the time of the day's closure, the cryptocurrency was observed trading at a value of $12.4331243 US Dollars.
Binance Coin: technical indicators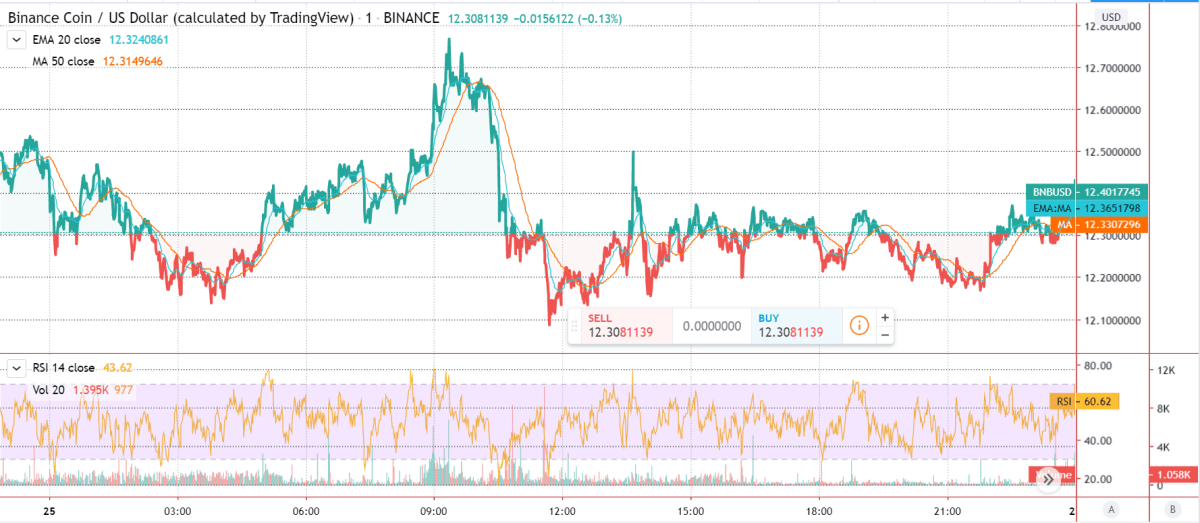 Binance Coin Featured Price Chart by TradingView
The 20-Day Exponential Moving Average (EMA) closed at the $12.3651798 mark on the 25th of March, while the 50-Day Moving Average (MA) concluded the day's trade at the $12.3307296 mark.
The Relative Strength Index (RSI) move below level 30 before midday on the 25th of March, showing a mildly oversold condition for the coin as the RSI had hit a low of 23.68 here. At the time of closure, the RSI lies at 60.62.
Featured Image by Lorenzo Cafaro.
Disclaimer: The information provided is not trading advice but an informative analysis of the price movement. Cryptopolitan holds no liability towards any investments based on the information provided on this page.