TL;DR Breakdown
AUCTION price analysis is bullish for today, rising by 5.69% in the last 24-hours.
AUCTION/USDT pair found resistance at $42.7207, which remains unbroken.
The nearest price support is present at $31.5413 on the daily chart.
The AUCTION price analysis for today is bullish, with a 24-hour high price of $43.09 and a low of $35.47. As presented by the data of CoinMarketCap, the trading volume of the Bounce token in the previous 24-hours surged by 22.59%, standing at $49.6 million.
Furthermore, the AUCTION/USDT pair hit a daily high of $44.1186 as the market cap of the token rose by 7.64%, currently standing at $82 million. While the entire market has been following Bitcoin's bullish movement today, the biggest risers include The Graph (GRT) token and Solana (SOL) token. With plenty of positive motion in the market today, SOL and GRT made their new monthly highs.
On the other hand, the Bounce token has seen a highly volatile price movement in recent days, with prices rising by more than 59% on 21st October. Afterward, the prices fell by 19.15% on the next day, followed by 7.03%. Another 9.98% downfall was experienced on 24th October.
AUCTION price analysis on the daily chart using indicators
The AUCTION price analysis on the daily chart by trading view shows that the movement breached the Bollinger Bands' upper edge and afterward dropped down as a result of 3 consecutive red candles.
With the price action above 50-day and 100-day Moving Average levels, a higher price is possible in the short term. These levels will be forming support zones for future price movement.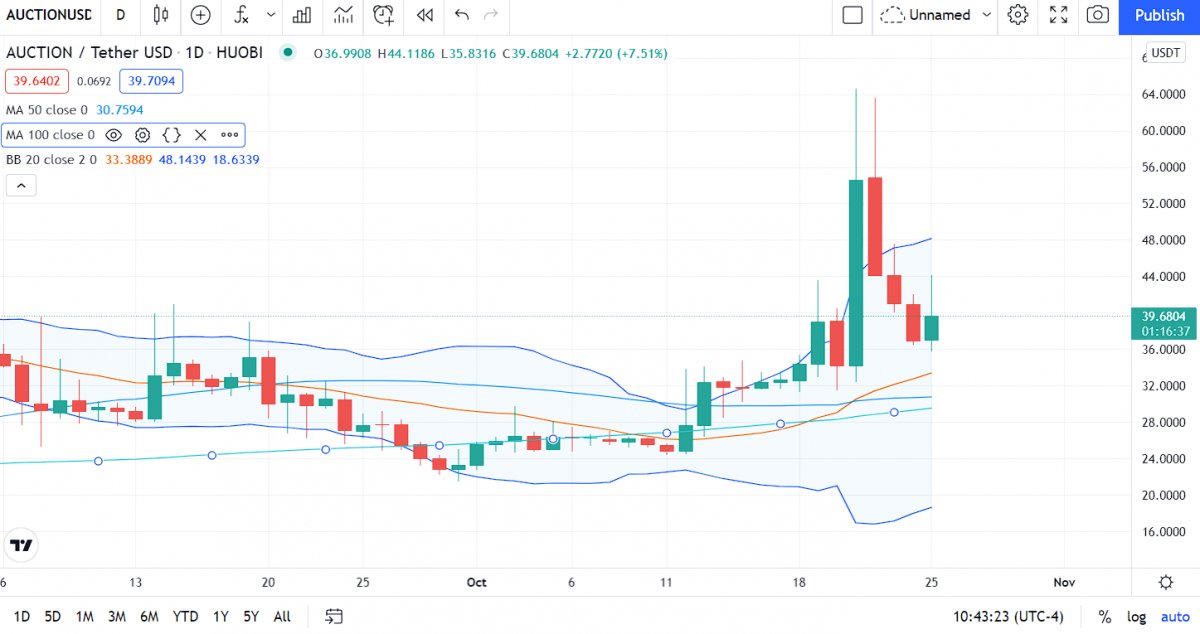 On the other hand, the RSI levels show that the price action dropped down from the overbought region but is still above the 50-level. To summarize, the buying pressure is higher than the selling pressure currently.
The MACD indicator shows that the MACD line (the blue one) is progressing above the signal (orange) line, and this indicates a bullish scenario in the short term. The MACD histogram indicates that the prices have been bullish since the start of October.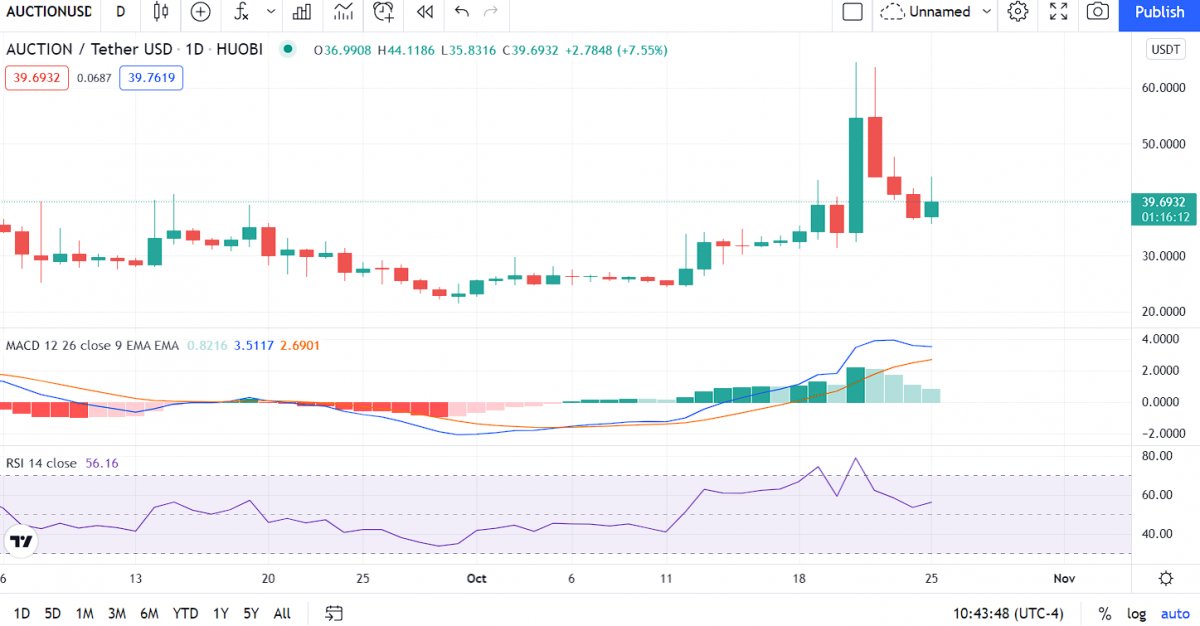 AUCTION price analysis: Conclusion
The AUCTION price analysis for today has been quite bullish as the entire market moves upwards. SOL, GRT, and many altcoins have all formed higher highs, with BTC/USDT currently at $63k.
Bounce token has a solid technology behind it, and the current market trend makes it a good choice to put your money on.
Disclaimer. The information provided is not trading advice. Cryptopolitan.com holds no liability for any investments made based on the information provided on this page. We strongly recommend independent research and/or consultation with a qualified professional before making any investment decisions.