With the growth of the cryptocurrency market, lots of new digital currencies have been appearing. One such example is SafeMoon. SafeMoon's name is associated with "to the moon" in the cryptocurrency communities. While it is unclear who originated the phrase, it has probably raised the support level for the coin. The currency that started as a wink coin is now trading at the $0.00000000421.
Competing and bracing in the challenging markets, SafeMoon is a cryptocurrency that refuses to bow down to central government pressures or be chained in defective and regulatory monetary shackles. SafeMoon has made it possible for everyone to store and transfer value in a currency that is resistant to manipulation. The 'safe 'part of its name is perhaps a slang term in the crypto market that indicates approval rather than a reference to the coin's apparent security.
Today's SafeMoon price today is $4.21e-9 USD with a 24-hour trading volume of $25,313.35. SafeMoon is down 0.94% in the last 24 hours. The current CoinMarketCap ranking is #1159, with a live market cap of $2,369,379. It has a circulating supply of 562,185,828,821,813 SAFEMOON coins and a max. supply of 1,000,000,000,000,000 SAFEMOON coins.
Despite the bear market, here's hoping that the current avid community continues to support this project. Let's see what happens and DYOR before investing.
Also Read:
• SafeMoon Wallet Review
What is SafeMoon?
SafeMoon (SFM) is a token circulating on SafeMoon protocol. It is a DeFi "community-driven" project designed to help democratize yield farming. It was launched in March 2021 and quickly became one of the most exciting meme coins. It runs on the Binance Smart Chain, making it less accessible than other digital assets like bitcoin or Ethereum. SafeMoon plans to develop an NFTexchange, charity projects, and cryptocurrency educational apps.
SafeMoon doesn't have any unique use cases, i.e., it's simply a cryptocurrency, but it does have some exciting features. The token holders pay a fee out of every trade – a 10% commission. Half of this commission is distributed between all the holders, and the other half is partly locked into a smart contract and partially put into a liquidity pool. This token-sharing mechanism aims to prevent the occurrence of significant price dips when large volumes of tokens are sold.
SafeMoon aims to solve the "liquidity problem." Essentially, liquidity providers like Aave and compound bring in millions of dollars a day, with new users coming in all the time to try and farm tokens. SafeMoon discourages these users from doing so, thanks to a transaction tax. The commission works both as a penalty for speculators, rewarding long-term holders, and as a way to ensure liquidity and provide static rewards for those holders. This unusual mechanism raised some concerns about the possibility of SafeMoon being a scam.
Those doubts were fuelled further by the announcement that the team will execute manual burns instead of algorithmically defined ones – many feel this gives the team too much control. On the other hand, the dev team burned their tokens to ensure a fair launch, and overall, they seem accessible and eager to answer any question to alleviate doubts.
With SafeMoon protocol, token holders will earn more SAFEMOON depending on how many coins they have. This can be up to an 80% APY, which is staggering when compared to traditional interest accounts. SafeMoon protocol will gain value over time thanks to its coin-burning strategy, making it a deflationary digital currency.
SafeMoon V2 Migration
On December 13, 2021, SafeMoon announced its migration from Version 1 to Version 2 – a move intended to ease SafeMoon (SFM) transactions and improve the project's features. Also, the V2 upgrade consolidated SafeMoon's token to a 1000:1 ratio, and it moved to a new contract address. This migration reduced the token's circulating supply without tampering with the user's overall balances. The primary variable affected by the SafeMoon V2 upgrade includes the token's value, transaction fees, and earnings.
How to Migrate to SafeMoon V2
Here's how to migrate your SAFEMOON tokens from v1 to the V2 platform:
From SafeMoon Wallet: Consolidation in the wallet requires the most recent software update on your smartphone, so make sure you do that first before proceeding. Clicking on the 'consolidate' tab and following the on-screen directions until 'completed' will bring up the next steps.
Non-SafeMoon Wallet Users: To migrate your v1 tokens, you need to visit swap.safemoon.net and link your wallet. You can connect BSC or Ethereum wallets like MetaMask, TrustWallet, SafeMoon Wallet, MathWallet, WalletConnect, and Binance Chain Wallet.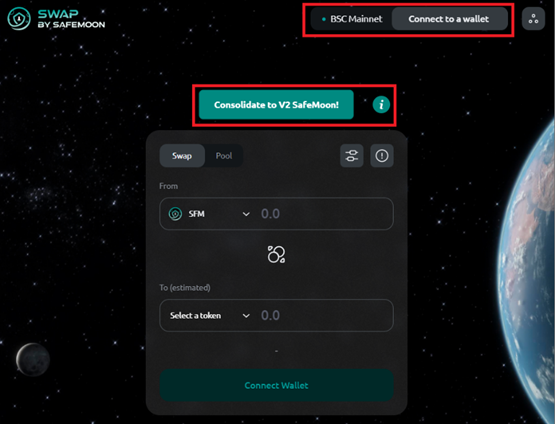 To begin, you must first tap on the button that indicates "Consolidate to V2 SafeMoon!" and follow the prompts provided.
Tokens on Exchanges: For SFM tokens held on exchanges, users do not have to manually initiate the migration from v1 to V2. The respective crypto exchanges can handle the consolidation process themselves, and you will receive email notifications when completed.
Token on Hard Wallet: To consolidate your SFM tokens on cold or hard wallets, you must use your private keys to import the wallet into your SafeMoon Wallet app, then follow the first step above.
What are the impressive features of the SafeMoon Coin ?
Token Consolidation
The SafeMoon V2 upgrade introduced the consolidation of SafeMoon tokens (1000:1). In other words, 10000 SAFEMOON at $1000 on v1 now becomes 10 SFM at $1000 on V2, thereby raising the token's value. The number of tokens owned by a holder changes, but their actual worth remains the same. Simply said, your money does not reduce or increase; only the token you own changes.
Improved Accessibility and Security
Whenever a SafeMoon transaction is initiated, a fee of 10% is charged, of which 5% is distributed among holders in a process known as reflection. The remaining 5% is allocated to liquidity pools that offer SFM on DEXs. Certain exchanges lacked the structure to allow holders to earn a share of the reflection. However, SafeMoon V2 hopes to solve that problem by making it easy for SafeMoon holders to receive their reflection share.
SafeMoon Price History
SafeMoon launched on 8 March 2021 with an initial price of $0.000000001; traders started to get interested, and the price soon reached $0.00000158 on 3 April. By April 20, the value of SAFEMOON had surged to $0.00001399, a 785% increase in value. To put things even more starkly, if you had bought into SafeMoon when it was launched, then you would have seen the value of your investment shoot up by a stratospheric 1,398,900%.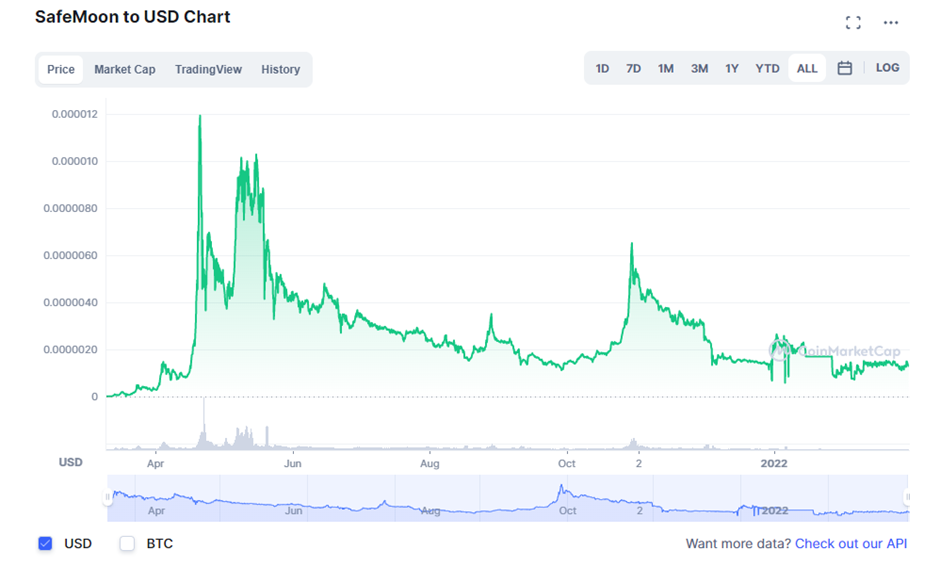 If you had bought a dollar's worth of SafeMoon coins when it launched and sold at its peak on 20 April – just over a month after it became available – you'd have ended up a millionaire, even after your SafeMoon sales tax had been taken.
The mega-boom was short-lived, however. By the end of April 2021, the token had lost 61% of its market value. Since then, the price has gradually declined and closed at $0.00000207 on 23 August, according to CoinMarketCap. Between September and October, SAFEMOON traded between $0.000001075 and $0.00000654, giving room for some gains. SafeMoon opened trading in November at $0.000005272 but soon went bearish and closed out the month at $0.000003079.
December 2021 was a defining month for SafeMoon as the development team launched SafeMoon V2, and the value of the coin was consolidated on a 1000:1 ratio. From the earliest data available, SFM opened trading at $0.001639 on December 16 and ended the month at $0.002558 – a 56% price increase attributable to the positivity surrounding the V2 migration.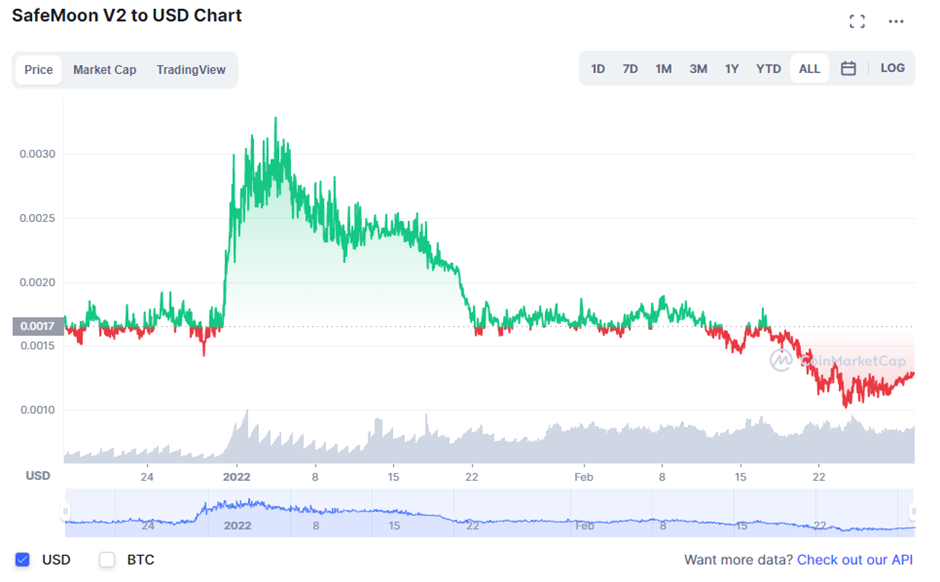 SafeMoon V2 gained some momentum at the start of January 2022 and soared to $0.004798. The SafeMoon token value declined steadily afterward, and by the end of February 2022, it had lost 77.9% of its market value.
Perhaps the most exciting comparison to SafeMoon is Dogecoin, another cryptocurrency whose market rates seem to be influenced by online enthusiasm more than anything else. Dogecoin price stayed at minimal levels before reaching around half a dollar recently. While SafeMoon is nowhere near that level, it is another meme-style coin that could potentially experience a massive upshot.
SafeMoon V2 (SFM) started at $0.001192 on March 1, and currently, its market price is $0.001263. The token's price had gained over 2% in 24 hours, while its 24-hr trading volume had increased by 26%. In addition, the self-reported market capitalization and circulating supply of SFM are $730,286,137 and 575.00B SFM, respectively.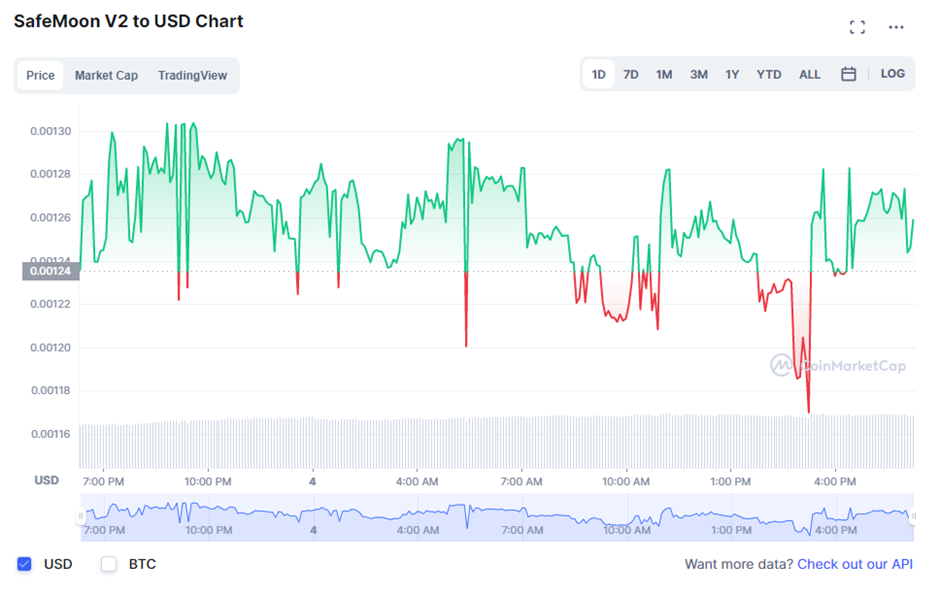 SafeMoon Developments 2022
In February 2022, an emerging utility coin, EverGrow Coin (EGC), announced its partnership with the developers of SafeMoon. The baseline of this partnership is to make EGC swaps available on the native SafeMoon crypto wallet. Consequently, the availability of EGC will make the SafeMoon wallet more useful to speculators and potential investors.
On a much bigger scene, the EGC partnership could be a significant game-changer for SafeMoon, as the former is gaining massive traction in the crypto space. Purchasing EGC via the SafeMoon wallet could potentially spur the market price of SFM to newer heights.
Having detailed SafeMoon's journey, let's get into the price predictions.
Safemoon Technical Analysis
Shielded by a bullish flag, Safemoon At 0.886, the price has already risen. Is there a chance it will go higher or is it simply a faker? The currency must first break out of its bearish trend before a positive SafeMoon price forecast can be realized. SFM has to make a higher high in order to go above the downward trendline on the daily chart. A support zone in the region of $0.0012-$0.0014 may still be necessary.
There is a lot of selling pressure on the entire crypto market. This appears to be one of the hardest-hit sectors since investors regard meme coins as a high-risk investment.
Safemoon Price Prediction by Authority Sites
Wallet Investor
The Wallet Investor Forecast System indicates that purchasing SAFEMOON for the long term (one year) would be a poor investment decision. Predictions on SafeMoon are updated every three minutes with the most recent prices using intelligent technical analysis. It is essential to recognize that the price of SAFEMOON might be easily influenced because of the low total market capitalization.
Using technical analysis, it was possible to make projections about the future prices of a broad variety of digital currencies, such as SafeMoon. If you are interested in virtual currencies that offer a decent return, investing in SAFEMOON for one year may be a poor choice because it involves a high level of risk. Your present investment may be worth less in the long run despite the fact that the price of SafeMoon is now equivalent to 0.000000004 USD as of 2022-06-26.
CoinCodex
The current forecast for the price of SafeMoon on Coincodex is that the value of SafeMoon will increase by 0.00 percent until reaching $ 0.0000000042 on July 1, 2022. This is according to the forecast. The present emotion is characterized as bearish, and the Fear & Greed Index is at 14 points. These findings are based on the company's technical indicators (Extreme Fear).
In the past 30 days, SafeMoon experienced price volatility of 62.98 percent and had 14 out of 30 days, or 47 percent, that were profitable. According to our analysis of the SafeMoon market, now is not a good moment to purchase SafeMoon.
When attempting to forecast the future value of SafeMoon over the course of a longer period of time, one strategy that can be utilized is to evaluate the cryptocurrency in relation to other significant technical advancements and trends. If the growth trajectory of SafeMoon followed the growth trajectory of the internet or huge technology businesses like Google and Facebook in their growth period, the following table illustrates what the price of SafeMoon would be by the end of the years 2023, 2024, and 2025 respectively.
In the most optimistic scenario, the price of SAFEMOON in the year 2025 is predicted to be $ 0.0000000456 if it grows at the same rate as Facebook. In the event that SafeMoon expands at the same rate as the internet, the price forecast for 2025 is $0.000000009 per month.
Digital Coin Price
SafeMoon may break through the $0.00000000679 barrier by the end of 2023 and take the market. In the range of $0.00000000556, SafeMoon's lowest pricing is expected. Although the SafeMoon 2025 Price Prediction is predicted to double in price, it is also conceivable that it will not reach its expected maximum value of $0.000000008.95.
A price of $0.0000000185 for SafeMoon is predicted by 2030 at the very least. SafeMoon's value might rise to $0.0000000202 by 2030, from its current value of $0.0000000193 on average.
Cryptopolitan
Safemoon Price Prediction 2022
According to our in-depth technical analysis of previous SAFEMOON coin price prediction data, the price of SAFEMOON is expected to hit a low of $0.00000011 in 2022. With an average trading price of $0.00000012, the SAFEMOON price may reach a high of $0.00000014.
Safemoon Price Prediction 2023
SafeMoon is expected to achieve a minimum price of $0.00000017 in 2023. Throughout 2023, the SafeMoon price can reach a maximum of $0.00000020, with an average price of $0.00000018.
Safemoon Price Prediction 2024
According to the forecast price and technical analysis, the price of SafeMoon is expected to hit a low of $0.00000026 in 2024. With an average trading price of $0.00000027, the SAFEMOON price may reach a high of $0.00000030.
Safemoon Price Prediction 2025
In 2025, the price of one SafeMoon is predicted to fall to $0.00000037. Throughout 2025, the SAFEMOON price can reach a maximum of $0.00000045 with an average price of $0.00000038.
Safemoon Price Prediction 2026
In 2026, the SafeMoon price is expected to fall as low as $0.00000055. According to our results, the SAFEMOON price might reach a high of $0.00000063, with an average expected price of $0.00000057.
Safemoon Price Prediction 2027
According to our in-depth technical analysis of previous SAFEMOON price data, the price of SAFEMOON is expected to be approximately $0.00000084 in 2027. The SafeMoon price may reach a maximum of $0.00000095 in USD, with an average trading value of $0.00000086.
Safemoon Price Prediction 2028
SafeMoon is expected to achieve a minimum price of $0.00000122 in 2028. Throughout 2028, the SafeMoon price might reach a maximum of $0.00000149, with an average trading price of $0.00000126.
Safemoon Price Prediction 2029
According to the projection and technical analysis, the price of SafeMoon is anticipated to hit a low of $0.00000174 in 2029. The SAFEMOON price may reach a maximum of $0.00000211 and an average of $0.00000181.
Safemoon Price Prediction 2030
SafeMoon is expected to achieve a minimum price of $0.00000250 in 2030. Throughout 2030, the SafeMoon price might reach a maximum of $0.00000307, with an average trading price of $0.00000258.
Safemoon Price Prediction 2031
SafeMoon's price is expected to go as low as $0.00000368 in 2031. According to our research, the SAFEMOON price might reach a high of $0.00000439, with an average projected price of $0.00000378.
Safemoon Price Predictions by Industry Influencers
Crypto markets are turbulent and unpredictable. Using industry experts' opinions can assist comprehend a project's basics and make educated decisions. We presented SafeMoon expert opinions. Twitter's Guru forecasts a new ATH for SAFEMOON in 2022. Investors should take note.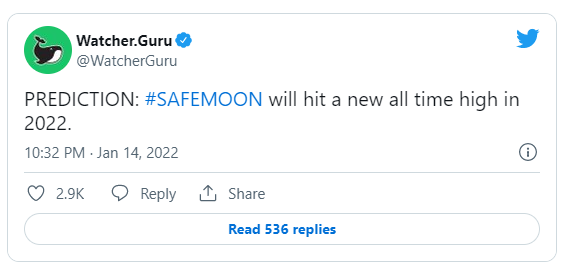 DigitalCoinPrice predicts a minimum SafeMoon V2 (SFM) price of $0.00153 in 2022 and a high of $0.00175. Prices will rise 14.28% by 2023. DigitalCoinPrice predicts the cryptocurrency will reach $0.00664 by 2030.
Experts like SafeMoon V2. It's hard to anticipate cryptocurrency values with accuracy, thus they remain guesses. They're not investment advice.
Conclusion
High-profile celebrity endorsements help Safemoon amass millions of investors and a devoted online community in a relatively short amount of time. In order to compete with the likes of Dogecoin and Shiba Inu, the initiative has teamed up with EverGrow. Further, Safemoon teamed with Simplex to develop a slimline crypto wallet in 2021. Safemoon gives token holders a 5% dividend.
Despite the great aspects of Safemoon, it is vital to note that this cryptocurrency is still in its early stages and is quite dangerous. Not only that, but Safemoon is devoid of any notable utility. The Company's utilization and investor trust have increased as a result of its SafeMoon Swap and Version 2 updates. If the SafeMoon team continues to improve the ecosystem's scalability and security, the price of SafeMoon V2 (SFM) may soar.
However, like with conventional cryptocurrencies, investors cannot expect certain profits. You should perform your own research and contact financial investors before joining the SafeMoon V2 train.
There are a lot of promising crypto projects out there, and SafeMoon is one of them. Due to its SafeMoon Swap and Version 2 update, the company has seen an increase in its use and the trust of investors. The price of SafeMoon V2 (SFM) might skyrocket if the SafeMoon team continues to improve the ecosystem's scalability and security.
However, like with mainstream cryptocurrencies, returns are not assured for investors. Before boarding the SafeMoon V2 train, you should conduct your own investigation and contact financial investors.
Disclaimer. The information provided is not trading advice. Cryptopolitan.com holds no liability for any investments made based on the information provided on this page. We strongly recommend independent research and/or consultation with a qualified professional before making any investment decisions.