Before we get into the question, "can Bitcoin price double?" let's ask Bitcoin (BTC) has been regarded as a force to be reckoned with in the crypto market, and why not should it be?
Although the crypto giant has anchored itself just short of the ten thousand six hundred dollars ($10,600) mark this time. The Iranians, too, are interested in it.
Congressmen, both the Liberals and the Democrats in the United States of America have bee sympathizing with Bitcoin. However, US president Donald Trump has his own views about cryptocurrency being a fraudulent service.
With the Financial Action Task Force (FATF) making laws that the Anti Money Laundering (AML) affiliated services as Binance are abiding by. The digital space has become quite secure for all to surf and make money. Provided, that legal proofs are all verified beforehand i.e for mining and transacting.
Besides, The Digital Ledger technology (DLT) decentralizes the whole data parsing process. The data is present in separate ledgers. Parts of the data being processed from different parts of the land mean that if any case of theft arises, it is likely to be put down because a strand of data from one ledger is of no use to the thief.
Imagine a world where transaction fee is quite low and transactions are made across borders without having to worry or wait. Yes, that is what cryptocurrency provides and that is why a bullish market for it exists today.
The Iranians are trying to build their economy and they are doing I the right way by digging in the virtual ground to mine themselves some Bitcoin. Their gold-based currency is not doing so well.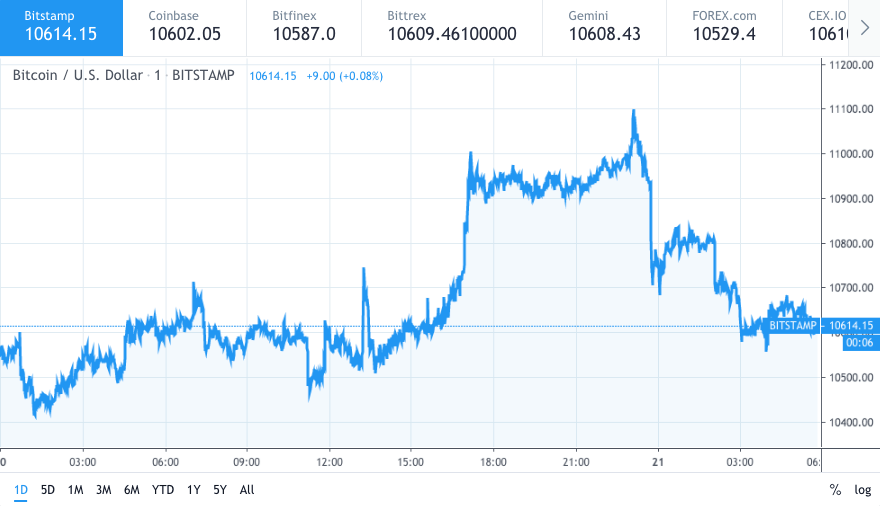 Bitcoin price chart by Trading View
Can Bitcoin price double?
The trading game has shifted gears to favor the buying side after being an ally of the sellers for so long. The sellers have been favored more in the past and the effects of that are seen to this very day.
With BTC consolidating currently at a low point after the high point of eleven thousand two hundred dollars ($11,200) dollars mark. and if the bears don't give up now, the market will go down to nine thousand five hundred dollars ($9,500) mark.
Of course, if the buyers keep buying them we'll get to see Bitcoin rise to an all-time high (ATH) of twenty thousand dollars ($20,000) once it goes past the fourteen thousand dollar mark ($14,000) and the eighteen thousand dollars ($18,000) marks.
It is either the rise for Bitcoin above the eighteen thousand dollars ($18,000) mark or a fall under the seven thousand five hundred dollars ($7,500) mark.