While the king of cryptocurrency Bitcoin (BTC) is in a dip and the Bitcoin price is standing near the eight thousand dollars ($8000) mark the top cryptocurrencies are in sway as well.
Today top twenty currencies reported mixed signals; witnessing modest loss and gains during the past twenty-four hours (24hrs) following the plunge they took on 24th September.
Bitcoin price hits low: What to expect?
The leading cryptocurrency Bitcoin price currently gaining momentum traded sideways by a little over one percent (1.18%) at around seven thousand nine hundred and seventy dollars ($7970) low mark. Bitcoin price is currently trading at eight thousand one hundred and sixty-one dollars ($8161.75) at the time of writing.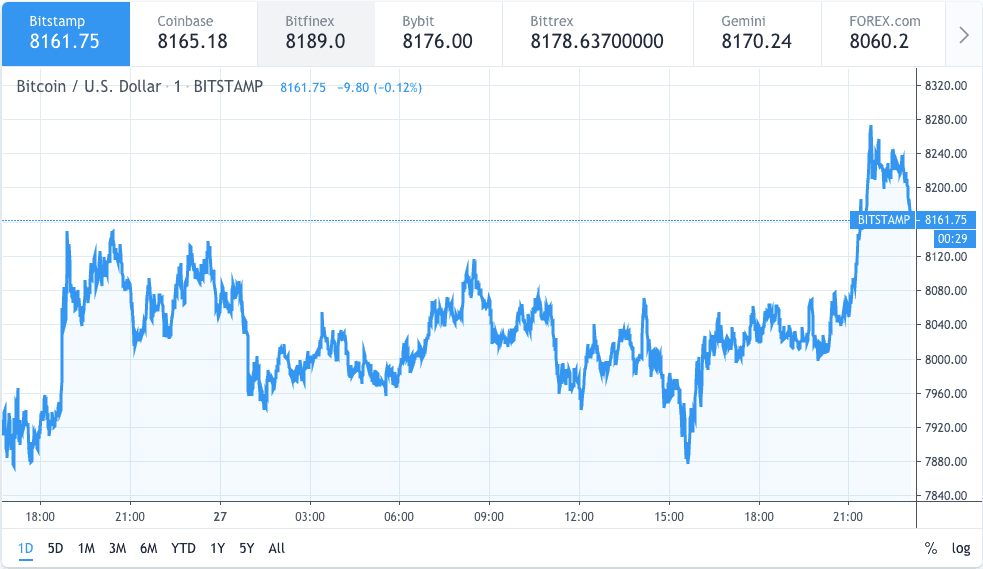 Bitcoin price chart by Trading View
Bitcoin experienced less volatility throughout the days, having being dropped to seven thousand seven hundred and fifty-two dollars ($752). Whilst the intraday high reached up to eight thousand two hundred and seventy-two dollars ($8272) mark in the past twenty-four hours (24hrs).
As the day started, BTC dropped to seven thousand and eight hundred dollars ($7800) after touching its four-month low on 24th, when it dropped fifteen hundred dollars ($1500) in just a twenty-four-hour window. Since then, BTC has been around the price mark of eight thousand dollars ($8000).
While on the other hand, cryptocurrency experts are of the view that the cryptocurrency is just taking correction and this is not a major dip anyone should be worried about. Whereas, another group of analysts believes that if Bitcoin price fails to recover soon, there is a good chance that the currency would hit the predicted lows before the year ends.
Major cryptocurrencies in sway
Ethereum price also has somewhat gained a bit momentum and is up at about seven percent (7%), about one hundred and seventy-three dollars ($173) at the time of writing.
Ethereum price witnessed its weekly high at two hundred and nineteen dollars ($219) on 21st September, and since then it has been gradually going down, reaching as low as one hundred and fifty-five dollars ($155) on 26th September.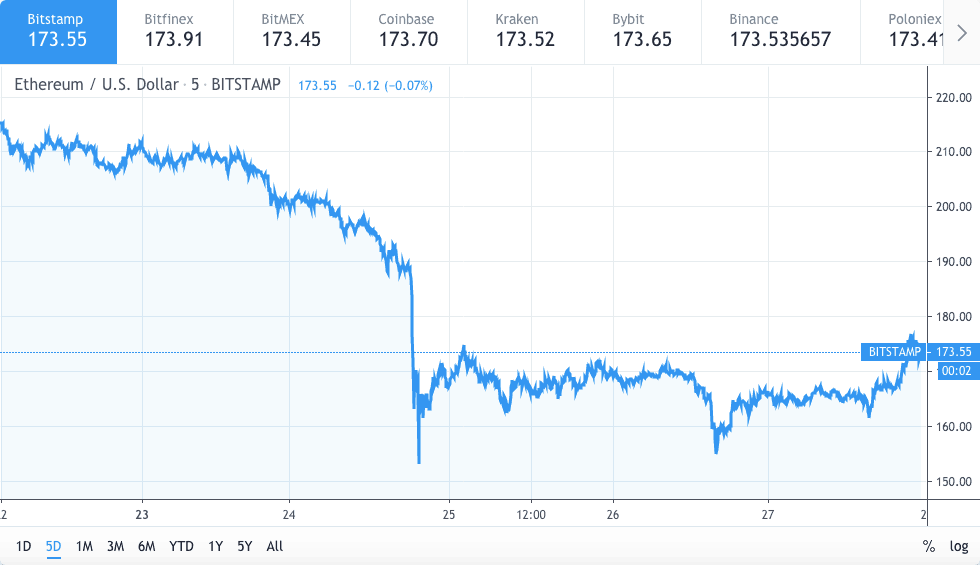 Ethereum price chart by Trading View
The third-largest coin Ripple XRP price also experienced moderate gains of about one percent (1%) today and currently trading at about $0.242. XRP did not register any major fluctuations today; it stayed close to the $0.24 price mark.
Ripple XRP price chart by Trading View
It appears that the flat-lining Bitcoin price movement has now pushed the traders towards Ethereum and Ripple XRP to play and have fun with while the king of cryptocurrency recovers from the current dip.