OMG Price Prediction 2023-2032: Can OMG spike soon?
OMG Price Predictions 2023-2032
Unique crypto projects have been created to solve different real-world problems, and their underlying blockchain technologies show great promise. However, the mass adoption of these projects has been slow due to a combination of technological immaturity and bad press. The OMG network is one project that is striving to change this by providing a decentralized exchange platform that is built on top of the Ethereum blockchain. Let's see how this OMG Price Prediction can add clarity to your investment strategy in this crypto winter.
We still believe, together with Tim Knight, that the crypto price prediction sector is chart-friendly and certainly gives ample warning that coins are bound to fail. Moreover, these bullish set-ups have been, as Fed Chair Jerome Powell pointed out, "transitory." Let's avoid emotional responses but make more intelligent decisions on buying and selling our holdings.
OmiseGo is not just any payment management service; it has made quite a few partners with large companies over the years. One of these large companies is McDonald's in Thailand, for example. On June 6, 2020, OmiseGo rebranded and transitioned to the mainnet. From that moment on, it was called the OMG Network.
Here's food for thought: Unlike fiat money, most cryptocurrencies have a limited supply, capped by mathematical algorithms. This makes it impossible for any political body or government agency to dilute its value through inflation. So, let's dive in and devote some time to OMG price prediction, bearing in mind, that OMG might be a reliable, long-term store of value.
How much is OMG worth?
Today's OMG Network price is $0.4508 with a 24-hour trading volume of $13,720,612. OMG Network is up 1.76% in the last 24 hours. The current CoinMarketCap ranking is #307, with a live market cap of $63,264,349. It has a circulating supply of 140,245,398 OMG coins and a max. supply of 140,245,398 OMG coins.
Also Read:
OMG Coin Price Analysis: OMG Network Faces Crossroads
TL;DR Breakdown
OMG is trading below its 50-day and 100-day Moving Averages
OMG approaching approaching a key support level at $0.428
Ichimoku indicators offer a counter-narrative to the daily chart
OMG price analysis 1-day Chart: OMG Approaches Key Support Level Amid Bearish Signals
As seen on the daily price chart, OMG is currently trading below both its 50-day and 100-day Moving Averages, which is typically considered a bearish sign. As it nears a crucial support level at $0.428, market sentiment appears to be bearish. If it breaks out above the current price level, the token could climb to approximately $0.469. The Relative Strength Index (RSI) for OMG is currently at 39.52, which is generally considered to be in the "bearish" territory.
OMG Network Coin price analysis 4-hour chart: Cautious Optimism as OMG Analysis Points to Mixed Signals
The 4-hour OMG price chart shows key insights via the Ichimoku indicator. OMG is trading above its Conversion Line and Baseline, typically a bullish sign suggesting upward momentum. However, the Lagging Span aligns with the current price of $0.450, offering a neutral stance and calling for caution until a clearer trend emerges. Lastly, Leading Span A is at $0.450 while Leading Span B trails at $0.442. A cloud formed with Span A above Span B is usually bullish, although the closeness of these figures suggests cautious optimism.
Recent News/Opinion on OMG
Binance.US Announces Delisting of OMG Network Token, Triggering Price Drop
On September 12, 2023, Binance.US, the American subsidiary of the global cryptocurrency exchange Binance, officially delisted OMG Network (OMG). The decision was based on a comprehensive review that considered multiple factors, including the token's risk profile, regulatory compliance, and overall market health. Following the announcement, OMG's price experienced a notable downturn.
https://x.com/BinanceUShelp/status/1699468768492040438?s=20
Given Binance.US's standing in the cryptocurrency market, the delisting of OMG Network could lead to diminished trading volumes and liquidity for OMG, limiting its exposure to a large user base. The delisting also raises questions about the token's long-term sustainability and viability, especially considering the factors Binance.US took into account.
While the immediate impact is already evident through the drop in OMG's price, the long-term ramifications could extend to how other exchanges and financial entities perceive the token. If other major platforms follow suit, the result could be a cascading effect that severely impacts the token's market accessibility and, consequently, its price. The question remains, how high can OMG go?
OMG Price Predictions 2023-2032
Price Predictions by Cryptopolitan
| | | | |
| --- | --- | --- | --- |
| Year | Minimum Price ($) | Average Price ($) | Maximum Price ($) |
| 2023 | 0.55 | 0.68 | 0.85 |
| 2024 | 1.16 | 1.45 | 1.74 |
| 2025 | 1.38 | 1.74 | 2.05 |
| 2026 | 1.65 | 2.10 | 2.47 |
| 2027 | 1.97 | 2.46 | 2.95 |
| 2028 | 2.43 | 2.94 | 3.52 |
| 2029 | 2.80 | 3.49 | 4.19 |
| 2030 | 3.33 | 4.17 | 5.00 |
| 2031 | 3.97 | 4.97 | 5.96 |
| 2032 | 4.74 | 5.95 | 7.11 |
OMG Network Price Prediction 2023
For the year 2023, our projections indicate that the OMG token could reach a maximum price of $0.85. We also expect a minimum price of $0.55, with an average trading price around $0.68 for the same timeframe.
OMG Price Prediction 2024
Our forecasts for 2024 suggest that OMG could achieve a high of $1.74. We anticipate an average trading price of $1.45 and a minimum price point of $1.16 for this year.
OMG Price Prediction 2025
For 2025, our projections point towards a maximum price of $2.05. Within this year, we foresee that OMG will oscillate between a low of $1.38 and an average of $1.74.
OMG Price Prediction 2026
In the year 2026, we project that the OMG token will hit a maximum price of $2.47. Concurrently, we expect a minimum price of $1.65 and an average price of $2.10.
OMG Price Prediction 2027
Our forecasts for 2027 predict a minimum price of $1.97, an average price of $2.46, and a maximum price of $2.95.
OMG Price Prediction 2028
In 2028, we anticipate that the OMG token will reach a maximum price of $3.52. Additionally, our forecasts propose a minimum price of $2.43 and an average price of $2.94 for this year.
OMG Price Prediction 2029
For the year 2029, our OMG price prediction envisions a maximum price of $4.19, alongside an average price of $3.49 and a minimum of $2.80.
OMG Price Prediction 2030
Our projections for 2030 suggest a maximum price of $5.00 for the OMG token. In the same year, we expect a minimum price of $3.33 and an average price of $4.17.
OMG Price Prediction 2031
According to our 2031 OMG network price forecast, the token is expected to undergo a bull run, potentially reaching a maximum price of $5.96. We also anticipate a minimum price of $3.97 and an average price of $4.97.
OMG Price Prediction 2032
For the year 2032, we project that the OMG token will attain a maximum price value of $7.11. The predicted minimum and average prices for the same year stand at $4.74 and $5.95, respectively.
OMG Price Prediction by Wallet Investor
Wallet Investor provides a 14-day price forecast for the OMG token, highlighting an expected upside of $0.456 and a downside of $0.400. This near-term projection signals a volatility window of around 12%, serving as a guide for traders considering short-term positions in OMG. In a one-year outlook, Wallet Investor projects a considerable decrease in the OMG token's value to $0.0172. This sharp drop serves as a warning for long-term investors to exercise caution, as the token could face substantial depreciation within this time frame.
For those looking at a longer investment horizon, Wallet Investor forecasts a severe decline for OMG by 2028, predicting a fall of up to 93%. This long-term bearish stance points to elevated risks associated with holding the token for extended periods.
OMG Price Prediction by DigitalCoinPrice
According to Digitalcoiprice, OMG is expected to peak at $1.00, with an average and floor price of $0.98 and $0.41 in 2023. By 2026, their forecast suggests a high of $2.03, and average and minimum prices being $1.95 and $1.74. By 2029, the maximum valuation is anticipated to reach $3.40, with the coin's average and lowest prices estimated at $3.35 and $3.06. Looking even further ahead to 2032, DigitalCoinPrice predicts that OMG could achieve a peak price of $8.84. The forecasted average and floor prices for this year are $8.75 and $8.50.
OMG Price Prediction by Coincodex
Per Coincodex OMG price forecast, the token faces a complex outlook in both the short and long terms. The asset is expected to trade at roughly $0.4874 in the immediate 5-day future, which is slightly above its 1-month projected value of $0.4632. The 3-month and 6-month predictions further indicate a modest decline, with the token's price estimated to drop to $0.4601 and $0.4416, respectively. Notably, Coincodex predicts a one-year uptick in OMG's value, expecting it to rise to $0.5248. However, a shift occurs in the more extended forecasts. According to their data, the price of OMG network token is expected to depreciate to $0.4438 by 2025 and even more significantly to $0.2322 by 2030.
OMG Price Prediction by Industry Experts
Star Trading Friend's strategy underlines the significance of support and resistance levels as invaluable tools for traders. These levels serve as benchmarks that can indicate potential trend reversals or continuations, thus informing entry and exit strategies. In the scenario presented, the entry price of $0.5109 serves as a critical juncture, where traders could capitalize on the asset's momentum in anticipation of a bullish run. On the other end, the target exit price of $2.41 suggests a profitable trade, capturing the essence of a potentially lucrative opportunity presented by the breakout.
OMG Network Overview
OMG Network Price History
OMG Network's token has experienced a volatile journey since its launch in July 2017. Initially priced at $3.2, it rapidly soared to over $11 within two months and reached an all-time high of $23.85 in January 2018. Post-2018, the token faced significant declines, hitting lows of $0.60 in mid-December 2019. However, the crypto bull runs of 2020 and 2021 revitalized OMG, propelling it to $14.86 in May 2021 before it dramatically crashed to $3.79 later that month.
A specific incident affecting its price was the "buy the rumor, sell the truth" phenomenon in November 2021. The coin lost over 25% of its value after a large net inflow of 5.7 million OMG tokens coincided with Boba Network's airdrop event. After peaking in late November 2021, the token's value plummeted, marking a 78.45% decrease by January 2022.
The first half of 2022 showed signs of recovery, with the token rising from $4.38 in March to a high of $6.06. However, a market downturn in May 2022 pushed the coin back to around $1 by December of the same year. The token did experience a brief resurgence in early 2023, reaching above $2, but bearish market forces drove it down to $0.6 by June. As of now, the token is trading below $0.5.
Where to buy OMG network token
OMG tokens are available for purchase on KuCoin, Kraken, BitFinex, Binance and some other crypto exchanges. You can also sell OMG network tokens via the same platforms.
More on OMG Network
The OMG Network is a blockchain-based organization that aims to provide secure financial access to users. Consumers can use the platform's token to make transactions. The OMG Network helps users avoid the fees and delays associated with centralized exchanges.
The OMG Network is still in its early stages, but it has the potential to become a major player in the cryptocurrency space. The project improved scalability and make transactions quicker, using MoreViable Plasma technology (sidechains built on top of smart contracts).
The OMG Network is said to be the quickest way to transfer ERC-20 tokens worldwide, and this cryptocurrency project might have gotten investors' attention. On 4 October 2021, the price of an OMG token surged close to $16–a value not seen since 2018.
What is the OmiseGo Network and its origin?
Over the past 20 years, solving the financial inclusion problem has been a challenge for many organizations. Debit and credit cards have been used to access banking services, but many people do not have access to these services. While this was possible to make these payments using these platforms, It was difficult to transfer money from one platform to another.
OmiseGO ( OMG) was created to solve this financial inclusion problem. It is a decentralized platform that allows users to make fast, secure, and low-cost payments. The OmiseGO Network is designed to be scalable and can handle a large number of transactions.In 2015, Thai payments processor Omise established the Omise Blockchain Lab to see whether blockchain technology might be used to speed up transactions.
OMG Network, also known as OmiseGO, is a public Ethereum-based financial technology for digital wallets and enables real-time, peer-to-peer value exchange and payment services agnostically across jurisdictions and organizational silos, and across both fiat money and decentralized currencies.
OmiseGO is the answer to a fundamental coordination problem among payment processors, gateways, and financial institutions. By enabling decentralized exchange on a public blockchain at high volume and low cost, OmiseGO provides a next-generation value transfer service operating across currencies and asset types.
The company focused on transferring fiat currencies both domestically and internationally prior to 2017. However, in 2017 they decided to create a blockchain-based payment solution specifically designed for use in Southeast Asia. This new solution is intended to be more simple and more secure than their previous methods.
They consulted Vitalik Buterin to assist with the project's development. Buterin, along with another Ethereum developer Joseph Poon, became some of the creators of OmiseGO. They even took part in writing a white paper for the project. On 1 June 2020, OmiseGo was renamed OMG Network. The sale of 65 percent of the OMG coin supply, which produced $25 million financed it.
Most commonly used areas in OMG Network
1. Stablecoins: OMG allows users to convert fiat currencies into digital tokens, which can then be easily converted back into another fiat currency. This conversion doesn't require the participation of financial institutions or any other cryptocurrencies.
2. Gift cards: OmiseGo uses Ethereum, which allows it to utilize smart contracts. This makes it possible to create gift cards that can be bought, sold, and transferred with ease.
3. Money transfers: The OMG platform can speed up and reduce the cost of money transfers, especially when currency conversion is needed. Furthermore, anyone can connect to the platform.
4. Loyalty programs: The site allows customers to tokenize loyalty points from a variety of referrals and save them in one wallet. They may then be spent like any other currency.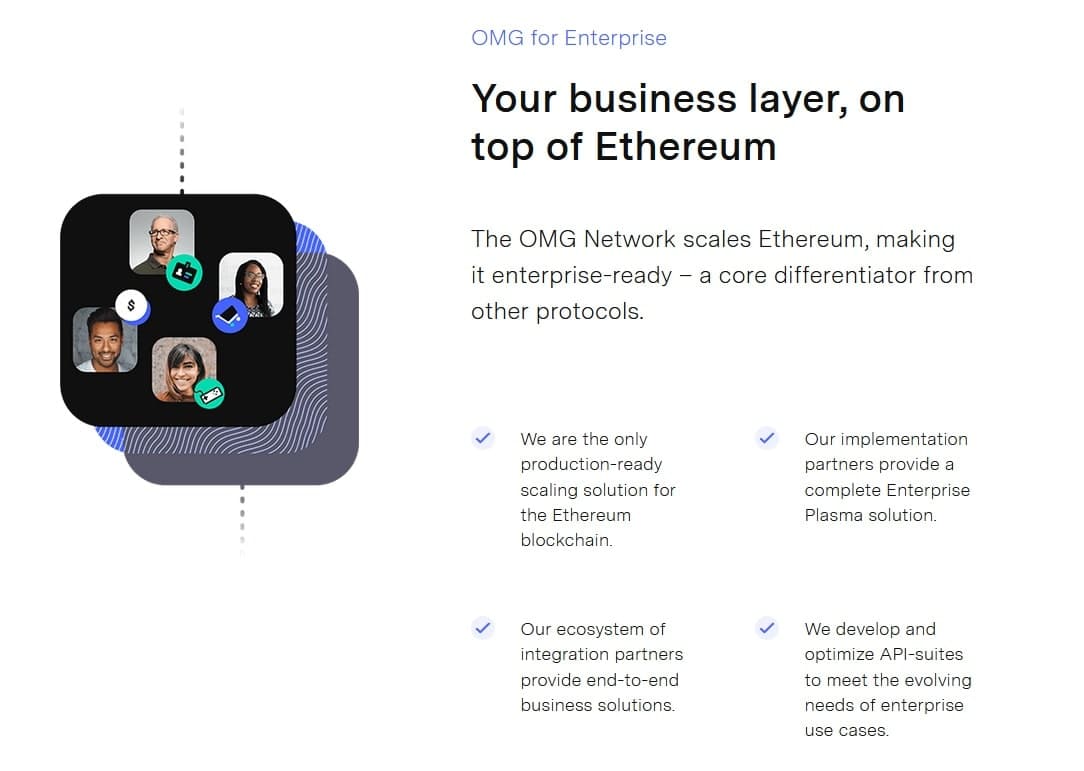 Key Aspects of OMG Network
Speed: ETH and ERC20 tokens can be quickly transferred- at a rate of thousands per second.
Environmental friendliness: In comparison to Ethereum, the electricity usage per transaction is reduced by 99%.
Low cost: It's three times cheaper to move assets through the OMG Network than it is using the Ethereum network.
Openness: Any person with coding knowledge can develop apps and software by utilizing the open-source code of the internet.
Security: The OMG Network is a decentralized network that uses the Plasma protocol to provide security and scalability.
OMG Coin and how it works
The OMG coin is the native cryptocurrency of the OmiseGO network and it is used to perform transactions on the network. It's built on the Ethereum network. Users must pay with OMG coins if they want to do anything on the network.
The OMG Network is a decentralized network that allows for the verification of documents and messages to authenticate their authors. It also provides scalability to the Ethereum network, allowing for faster transactions. So while users rely on the Ethereum network for security, the OMG Network enhances the overall capabilities of the network.
Not only does OMG Network solve the scaling problem of Ethereum, but it also balances centralization and decentralization by bringing the efficiency of conventional payment platforms (PayPal, Visa, and so on) onto the blockchain. This way, users get the best of both worlds: security from Ethereum with high transaction speed for a smooth user experience.
OMG Network has found interesting ways to incorporate these features into the blockchain network. Let's take a look.
Key aspects of OMG Network
Plasma protocol
This is an Ethereum off-chain scaling solution. It's built on a child chain that matches a set of transactions before sending them to the root chain. The child chain, however, is reliant on the root chain as the ultimate trust and primary layer.
Child chain
This covers everything that happens throughout the transaction process. It accepts and confirms the user's request, then breaks it down into blocks and sends them to the root chain (Ethereum).
Watchers
The OMG Network operates on a Proof-of-Stake consensus mechanism. It relies on decentralized watchers to keep an eye on the system and ensure that network transaction are correctly validated. These watchers monitor the operation status of the network validators and make sure that child chains operate in read-only mode, as opposed to interfering with transaction data.
Validators
These are responsible for validating the user's transaction and blocks before sending it to the Ethereum mainnet. For their services, they get block rewards and transaction fees. There are two types of validators in OMG Network: light clients and full nodes.
Mission and Vision
From OMG Network's whitepaper, The initial whitepaper summed up OmiseGO, now the OMG Network, as a "decentralized exchange, liquidity provider mechanism, clearinghouse messaging network, and asset-backed blockchain gateway" that is not owned by any single party. Instead, it is an open distributed network of validators that enforce the behavior of all participants.
The document states: "We are building a blockchain which hooks into other blockchains to allow for trading across token/asset classes, largely backed by ether. From the perspective of any individual chain, we are building a scalable blockchain whose contract state is bonded by the activities of the OMG chain itself."
Conclusion
The OMG Network is an attractive investment opportunity with long-term growth potential. Predictions for the token's future value are optimistic and suggest now is an excellent time to buy the token. Nevertheless, as with any financial venture, it is essential to conduct thorough research before committing funds.
Is OMG a good investment?
Just like any other asset, investing in OMG comes with a risk and can give no guarantee of financial success. The cryptocurrency's performance is inherently volatile and depends on a plethora of factors that are beyond an investor's control.
How to buy OMG coin?
If you are interested in buying OMG, it is available to trade on many exchanges. Just remember to do your research into the latest news and developments, and never invest more than you can afford to lose.
How to sell OMG?
If you already own OMG Network and hold it on a Kriptomat exchange wallet, you can easily sell OMG coins by navigating the interface and choosing your desired payment option
Is OMG Network a competitor of the Ethereum Network?
No, OMG Network is a layer 2 protocol. It helps facilitate transactions on the Ethereum Network.
Disclaimer. The information provided is not trading advice. Cryptopolitan.com holds no liability for any investments made based on the information provided on this page. We strongly recommend independent research and/or consultation with a qualified professional before making any investment decisions.