EOS meets the market's bears as of November 6; the EOS price line has declined down to its current value of 3.481 US dollars.
EOS Price: 24-Hour Chart
After its high of $3.62, the cryptocurrency's price came threshing downwards to over the $3.400 price line. EOS marked its lowest of the 1-Day price analysis on November 7, at $3.42.
The chart above shows a ruffled continuation of the price line after it reaches between the $3.45 and $3.5 price lines. The price is expected to sketch over the interval for the near feature.
EOS Price: Where does this lead?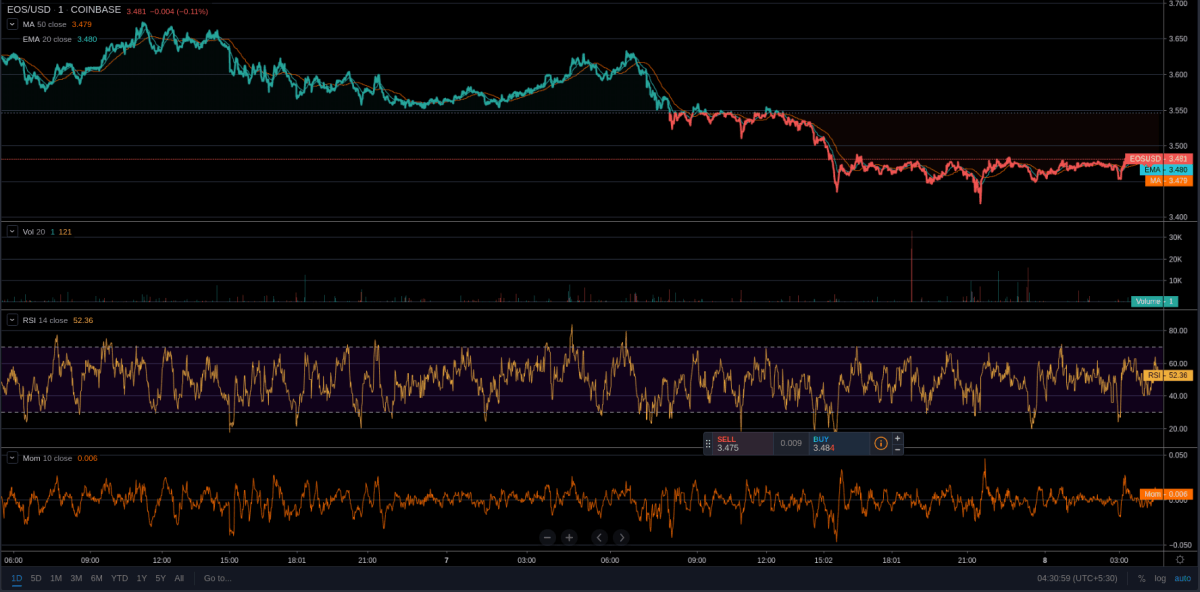 EOS Price Chart by Trading View
Looking at the price chart, it can be observed that both of the moving averages have traced a similar path over the past 24 hours while concluding the chart at points closer to either of the two standards. The Moving Average (MA) for 50 days is found at $3.479, and the Exponential Moving Average (EMA) ends just above the MA, at $3.480.
At the time of writing, the Relative Strength Index (RSI) lies above level fifty, at 52.36, and continues to vary.
According to coinmarketcap.com, EOS has a circulating supply of 939,231,080 EOS, and a total market cap of $3,271,454,759 as these lines are being written.
Featured Image by Flickr.