EOS Price depicted negligible variations in the price line's movements for the majority of this 24-hour price analysis, after which the cryptocurrency saw a bearish decline.
The trading pairing started the day at 3.3768 US dollars, after which it sketched between the $3.3500 to $3.400 price levels for the majority of the cryptocurrency's time. The trading pair's daily-high is marked at 3.4290 US dollars.
Further down the line, the price line came crashing down to 3.0416 US dollars, which also marked the major bearish fall on the day. The trading pair managed to move back to being just under the 3.2000 US dollar price mark, at $3.1820.
EOS Price: What to expect?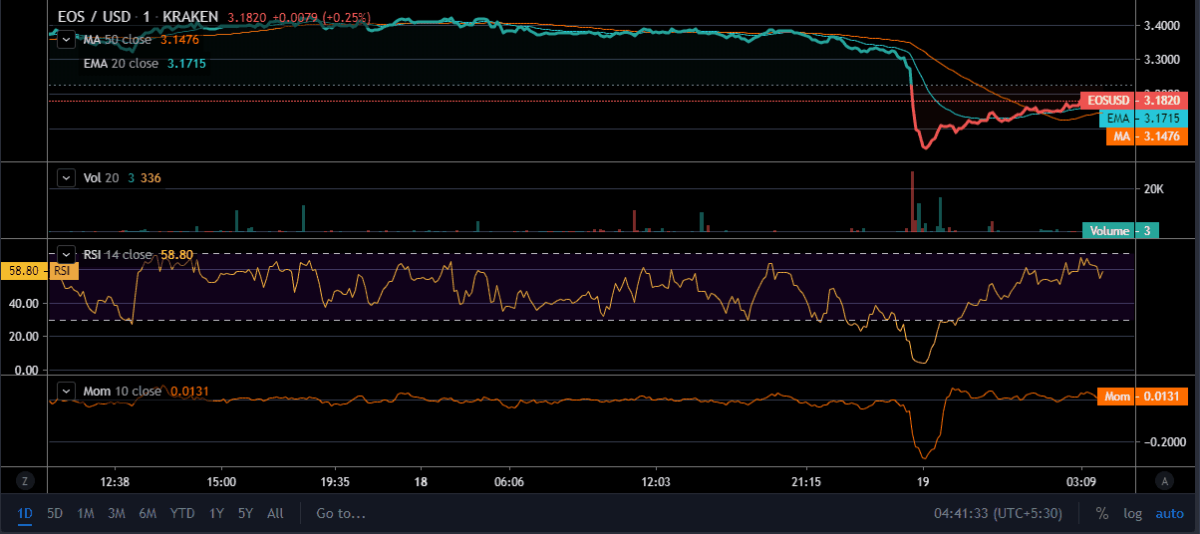 EOS Price Chart by TradingView
The moving averages of the trading pair for this 1-day analysis have traced similar to the trading pair's price. The price line lost support at the bearish drop. The 20-day Exponential Moving Average (EMA) is at 3.1715 US dollars. While the Moving Average (MA) is at 3.1476 US dollars.
The Relative Strength Index (RSI) lies above level 50, at 58.80. According to coinmarketcap.com, the cryptocurrency has a current market capitalization of $3,034,101,108 US dollars.
The price-line is expected to retrace to its previous standing in the crypto market.
Featured Image by Pixabay.