In an era where the world is compressed into a computer screen, crypto possibilities are endless but along with benefits are risks. The demand for a trusted digital currency exchange platform is imperative considering digital asset's frauds and lack of security when making deposits. However, every platform has its pros and cons.
For one, CoinJar is essentially a Bitcoin exchange and wallet provider fulfilling requirements for a "next-gen personal finance account". CoinJar has an EFTPOS card (CoinJar Swipe) which allows users to automatically convert their Bitcoins to Australian dollars when using the card for payment or withdrawing cash. This card costs $29 to order. It also charges an ATM Fee ($2 at rediATMs), so CoinJar recommends EFTPOS withdrawal to avoid this fee.
What is CoinJar?
British Pound and Aussie Dollars are the fiat currencies supported by the CoinJar exchange. It deals with the buy and sell of 24 cryptocurrencies and suggests a variety of payment methods for user's suitability.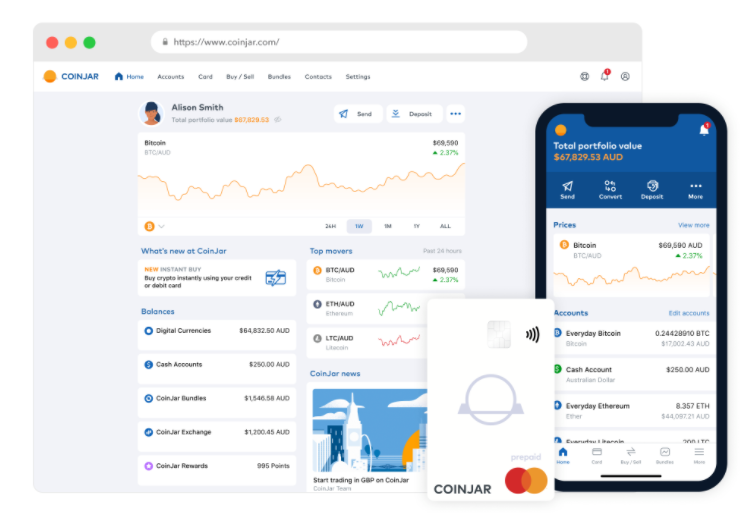 Unlike most crypto exchanges, CoinJar has a user-friendly interface created according to the handiness of its users.
The sole focus of CoinJar is to bring convenience into the digital wallets of Australians. However, they are working on expanding their platform all across the globe as well. The security features offered by CoinJar adds to the factors that make it reliable all over Australia and UK.
How does CoinJar work?
Providing the familiarity of real-world banking and the advanced tech of digital currencies, CoinJar lets Australians deposit funds through their personal bank accounts whereas, foreigners are supposed to supply their bank account through cryptocurrencies. It stores each of the cryptocurrencies in its specific Coinjar wallets.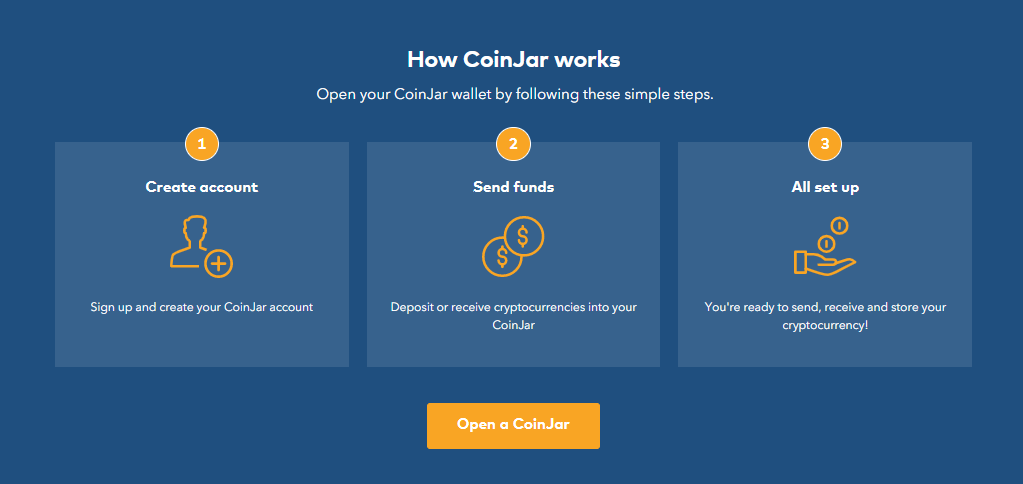 It allows the trading of fiat currencies and provides a security and strict system similar to that of a bank. CoinJar accounts are open to transfer funds among different account types. It is an automated process. During every transaction, CoinJar charges a low fee. This fee is its source of income.

CoinJar supports EFTPOS to withdraw cash with a CoinJar swipe. Swipe lets the users convert the digital currency into fiat money.
The platform is trusted and supported by some transcendent investors, who have made a mark on Coinjar, and are relying on the platform with huge amounts to this date.
What are some CoinJar features?
CoinJar is designed in a way that it becomes sufficient for both beginners and experienced traders. The platform tends to provide smooth conversion from fiat currency to crypto and vice versa.
Over the years, its features have acted as an investor magnet, due to which people have relied on the platform without a slight hesitation.
The exchange platform uses potential protection methods such as two-factor authentication, and its team of experts is always prepared to offer great customer service 24/hours a day.
Let's talk about some of the merits and demerits of Coinjar
CoinJar is working on upgrades and reducing any bits of difficulties in the platform.
Merits:
– Convenient to Australian and UK occupants who prefer multiple payment methods;
– A 3 in one platform. (Permits storing assets, buy and sell them)
– Low trading fees;
– Focuses on the security levels enough to be the most trusted;
– Welcomes beginners as well, i.e., that exchange platform is profoundly user-friendly;
– The platform is soon launching a Coinjar MasterCard for easy crypto trading;
– Exists as a mobile app (CoinJar Touch App), works similarly for mobile banking apps;
– 24/7 available customer support.
Demerits:
– The high-level features are merely accessible for the UK and Australian exchanges;
– Sign up deals are not available;
– The cold storage is about 90% which is considered a lot low;
– The 1% trading fee is considered to be expensive;
– CoinJar is not regulated.
What services does Coinjar offer?
Coinjar has offered versatile services that are based on the ease of their users.
Let's take a look at a few of them.
1. Smartphone availability
The availability of the CoinJar app has brought immense convenience to users. They can glance at their balance any minute, and trading takes place within a few clicks. The CoinJar swipe card is offered free to the users who order it directly from the mobile app.
2. Master and Visa card deposit support/ Instantly buy cryptocurrency with AUD
The exchange brings an option of "instant buy" (currently accessible to Australian and UK residents only). This option allows them to buy a digital currency using their Master or Visa card without funding their cash account on the platform. It cuts a fee of 2% every time.
3. User-friendly interface
CoinJar has introduced a simple user interface for the ease of their traders. However, the dashboard is found to be a little confusing for beginners. That is when their great customer support service plays its role!
CoinJar has specifically been founded to introduce ease in the Australian digital currency market. Its features and options have been a huge help to the users. This exchange is considered to be the best and most trusted for Australian residents.
4. Excellent security features
CoinJar has claimed to take the enhancement of security measures on the platform as their topmost priority. Well, they didn't lie to us!
CoinJar has strong password protection and two-factor authentication, which is indisputable to hackers and eliminates even a slight possibility for suspicious third-party websites risks.
Huge investors have trusted the platforms with their millions, and it has always proved itself.
5. Rewards
CoinJar Reward is a program for its authentic users. It provides its customers' points, which further assist in covering the costs of their transactions, purchases made at the reward store, and Coinjar swipe card to order.
These points are granted over accomplishing some conditions such as:
– Introduce and refer traders to Coinjar;
– Make purchases or exchanging currency that requires money;
– Place orders through Coinjar swipe card;
– Transfer money to BPAY Biller from your Coinjar account.
CoinJar wallet fees
Before hopping on the journey of investing in Coinjar exchange and trading crypto to win digital assets, check out the fees Coinjar charges on trading, deposit, and withdrawal.
1. Trading fees
When it's about the trading fee, Coinjar exchange has kept the system pretty straightforward. Summing up in line, either you trade digital currencies worth $200 or $2000, you have to pay a 1% trading fee.
For instance, on $4000, you will charge a total of $40. No doubt, the fee is pretty high than other trading platforms.
2. Deposit fees
Although Coinjar charges 1% trading fees over the selling and purchasing you make on the Coinjar platform. But amazingly, there is no transaction fee. BPAY, NPP, deposit fiat currency is free of charge.

Low fees Coinjar exchange users pay applies on Blueshyft cash deposit only. Isn't it amazing to deposit as much as you want in the wallet without paying a single penny as deposit fees?
3. CoinJar withdrawal fees
Trading and deposit fees are clear, but what about the withdrawal fees? Aren't you going to withdraw the amount you make over the digital assets? Similar to the trading fees system, the withdrawal fees system is also transparent.
Either you withdraw through your credit card or debit card, you pay 0% transaction fees. On direct withdrawal to Australian banks or other Australian exchanges, a 1% fee applies.
4. CoinJar swipe card
This feature aid CoinJar exchange out-ranks other cryptocurrency exchange platforms. Instead of linking your bank account, deposit the fund direct to your CoinJar wallet with the CoinJar Mastercard. The Coinjar swipe card is only available for Australians with zero withdrawal fees.
How to sign up on the CoinJar exchange?
Does registering your account on the CoinJar exchange sound puzzling to you? Let us make this process effortless for you.
If you are Australia-based, then CoinJar account creation is hustle-free for you. However, if you are outside of Australia, then consider other platforms.
Create CoinJar account
Open the CoinJar cryptocurrency exchange website or the Coinjar mobile app and direct to the open a CoinJar today option. Here, enter your name, email address, and click on sign up.
Although you previously have gone into your name and email for verification, still, you need to enter the data on the next page pop on the screen. Create a strong password consisting of symbols, numbers, and alphabets.
Email confirmation
After entering your information, wait for only a few minutes, and you will receive the verification email. Click on the link, and Coinjar will direct you to the next page. Before is to do the process on the Coinjar mobile trading app.
Verify your details
Once your account is verified, choose a username and select your country to secure locations. The photo uploading option is optional. After that, enter your phone number as some features require number verification.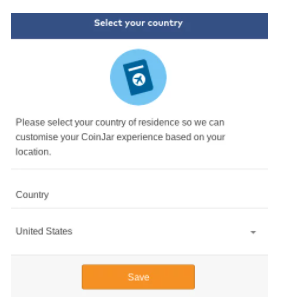 Deposit funds
Complete your CoinJar account creation by depositing funds. If you are Australia-based, then on a deposit fund, you won't be charged. However, if you are outside of Australia, you need to add funds via crypto debit card or other with low trading fees.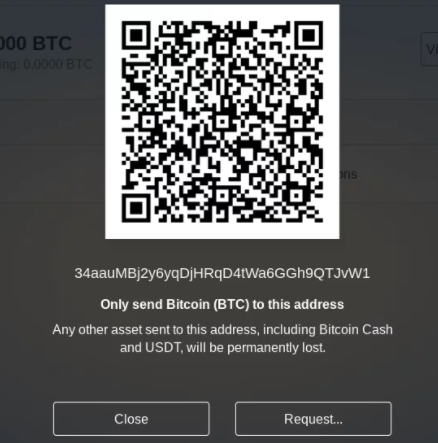 If you are depositing through the mobile app in your CoinJar wallet, a QR code will pop on the screen for your specific crypto exchange. While depositing crypto, make sure you are using the Coinjar unique wallet address. Otherwise, you will lose your funds.
Two factor authentication
To protect your CoinJar account from hackers and third parties, it is the highest account verification stage. CoinJar offers two verification options; one for the CoinJar platform and another for mobile devices; android and IOS devices.
Enter your mobile number for encryption transport layer security periodic. Open the SMS and click on the link for periodic security audits.
Final Verdict
In this competing time, Coinjar is surely giving its best to cement its place in the marketplace. All supported features are pretty decent. For Australian traders, the Coinjar wallet is the way best match.
Nevertheless, for an outsider, some features are still missing.
The cherry on the top feature is the CoinJar rewards section. Increase your CoinJar rewards points every time you trade and win digital assets.
Frequently Asked Questions
We are not wrapping up yet! Here are some frequently asked questions regarding the Coinjar exchange review, customer support, and service and policy agreement.
Is CoinJar a safe wallet?
You are not the only person concerning is Coinjar safe or a scam. Coinjar appears as one of the safest cryptocurrency exchanges. The exchange services it offers are also pretty decent.
Is CoinJar Australian?
Coinjar is an independent financial advice exchange platform based in Australia. However, Coinjar users outside of Australia can also use the platform to buy and sell digital currencies and fiat currencies.
Is CoinJar a hot wallet?
With multi SIG technology, no monthly fees, great customer support, and security features, CoinJar is surely a hot and safe wallet. Unlike other crypto exchanges, Coinjar doesn't charge extra charges on the digital currency stored offline.
Which countries support CoinJar?
At the time of writing this guide, Coinjar doesn't restrict any nation from using the platform. However, there is one condition. For users outside of Australia, they have to spend digital currency with the latest market prices.
Which cryptocurrencies support CoinJar?
Coinjar supports the following digital currency group with data encryption;
ZCash (ZEC)
Bitcoin (BTC)
Ripple (XRP)
Litecoin (LTC)
Ethereum (ETH)
How efficient is CoinJar customer support?
Concluding in one line, the Coinjar support system is simply astounding. Support is available 24/7 to solve your queries. Besides that, they also give investment advice on buy and sell crypto.
Is CoinJar regulated in the UK?
Although there is no valid financial authorization that runs Coinjar, still, Coinjar secures data with a data encryption transport layer.
How does CoinJar stores customers digital currencies?
Whenever users buy crypto on Coinjar, it saves them in the cold storage solution with best-practice organisation security.
Is CoinJar reliable?
With constitute investment advice and zero transaction fee, Coinjar is a reliable crypto exchange. You can buy crypto as much you want with no restrictions. Besides that, the Coinjar rewards store is something that deserves extra appreciation.
What's the difference between CoinJar and CoinJar Exchange?
Anyone with a CoinJar account can apply for a CoinJar Exchange account for free. If you're after a more advanced trading experience, CoinJar Exchange provides the ability to trade directly with other CoinJar members using active buy and sell orders.