Interest in cryptocurrency soars amid the COVID-19 pandemic. Being forced to stay at home, more and more people turn to cryptocurrency trading and they often find themselves lost in a myriad of derivatives, among which the most popular ones are futures trading and options trading. When a beginner enters the crypto world, one usually will be introduced to futures trading, and lose his/her shirts. 
Although many people argue that in futures trading, one only needs to speculate on the price movements of crypto, it is actually more than that: you have to analyze the market, monitor your positions and decide when to quit no matter whether you are making money or losing it. So if you are interested in crypto trading, you might want to look at more options, and specifically, options trading. 
What is options trading?
In options trading, you need to speculate on whether bitcoin's price will go up or down at a certain time, and that will only come with two payoff options: a fixed amount or nothing at all. It offers a guaranteed sum of pay-off and you could know how much you will gain/lose before entering into the trade. Take the famous IE Option as an example, its profitability is as high as 91%, which means that if you take a position with 1 BTC and win, you will gain 1.91 BTC; if you lose, your loss will be 1 BTC. 
Trade options if you are a beginner
Like traders in any market, you will need to do your homework if you want to succeed in options trading. But options trading is less complicated and stressful than futures trading. What you need to do is analyze the trend, set the expiry time, open an option, and wait. You don't need to worry about getting your funds wiped out with one forced liquidation, or if you have closed the position at the right time. When dealing with such a highly volatile asset as bitcoin, forced liquidation is a common incident, and usually traders lose more to forced liquidation than they do to a losing position. 
Trade options if you want to start from a small investment
One reason why options trading is popular among beginners is that they can enjoy the fun of trading with a very small investment. You can start from as little as $10 and up your bet as you earn more crypto. 
Options trading makes managing our portfolios easier. When dealing with futures trading or spot trading, people tend to make impulsive decisions to add to a losing position. But options trading is like a simple version of roulette: you place your bet and wait for the ball to land. You can't change the option or close it before expiry. 
In spot trading and futures trading, we know how much we lose only when we close the position. We could lose our initial investment and more. But in options trading, even if you make the wrong bet, you only lose your trade amount. Since we already know what we are risking before trading, we can divide our funds according to our risk tolerance. With the profitability of up to 91%, you can multiply your bitcoin within a short time. 
Trade options for excitement and ease of mind 
What comes to your mind when you think of stock traders or futures traders? That they need to stay in front of the computers all day long and stare at the market? Spot trading and futures could be very tiring and time-consuming. Sometimes one needs to wait hours or days for the market to reach the strike prices. On top of that, they need to stay alert in case the market fluctuates too violently and they fail to react timely. 
In options trading, you can earn profit in as fast as one minute. Even when you are taking the subway, you can open an option with your smartphone. If you are free, you can spend hours on one trade; if you are busy and want to try out your luck real quick, just set a shorter time frame. As long as the market price is higher/lower than your prediction upon expiry, you take the profit. 
Where can we trade BTC options?
The first step to earning profit is choosing your options broker. The most famous ones are IQ Option, Bakkt, and IE Option. Each has its pros and cons, geographic restrictions, and target groups. For a beginner, I would recommend IE Option. for it offers a 100% deposit bonus of up to 10BTC to users. Furthermore, you can earn a 10% extra bonus by sharing the promotion to your social network. Besides, the demo account feature of IE Option allows traders to get used to trading and improve their skills.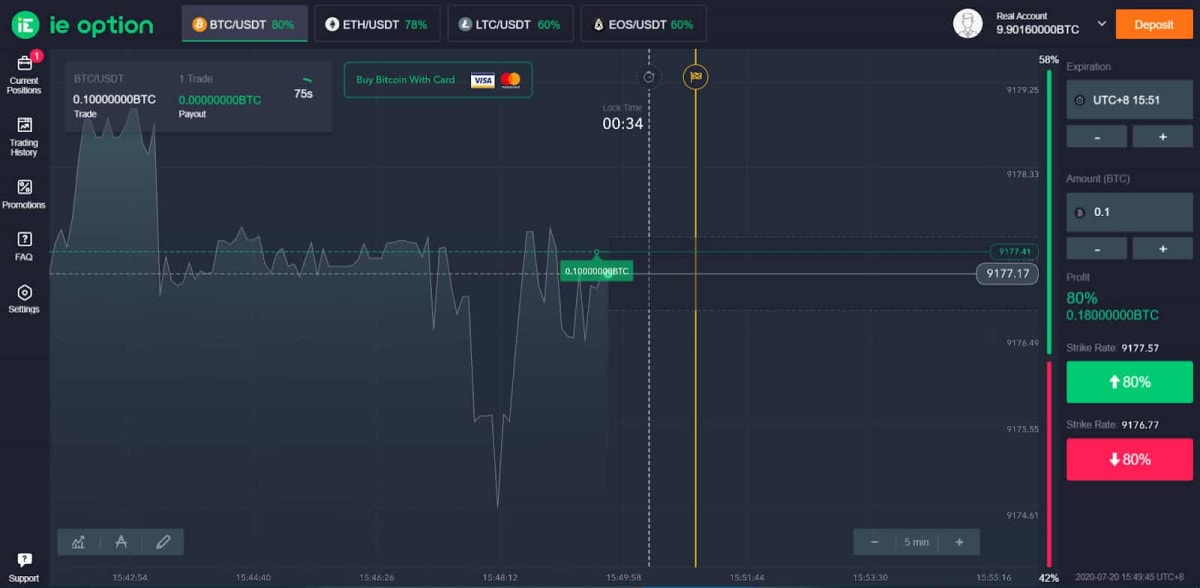 Registered in London, United Kingdom, IE Option offers options trading on  BTC, LTC, ETH, and EOS. Its neat interface, powerful apps, and 24/7 customer support make it an ideal choice for traders.  
Begin your adventure with IE Option
Create your account within 30s.

No KYC and no fee required. Just sign up with your email and you will get your real account and demo account. 
Make a deposit.

The minimum deposit amount is 0.001 BTC. Each user is provided with a unique bitcoin wallet address so your fund is in safe hands. 
Practice and improve your trading skills.

Master your skills with the demo account and you can always refer to the guidance provided at the Help Center for help. When you feel confident enough, switch to the real account and start to trade.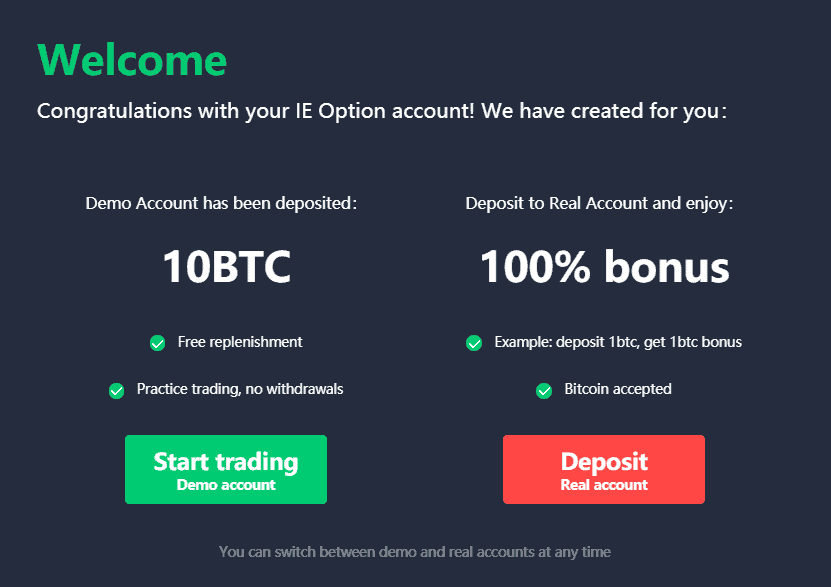 Gather your profit and withdraw.

You can submit your request at any time of the day and it will be manually reviewed. The quick liquidation process allows a fast and safe withdrawal. You can receive your deposits in as fast as 30 minutes during work hours. 
The profitability of BTC options for general customers is 80%, but now you can become a VIP and gain up to 91% profitability by meeting the deposit requirements. 
Follow IE Option on:
Website: https://www.ieoption.com/
Android Phone: https://play.google.com/store/apps/details?id=com.ie.option
iPhone: https://apps.apple.com/tt/app/ie-option/id1492021667