Bitcoin Cash (BCH) is one of the oldest and most well-known digital currencies that trade every crypto exchange. Bitcoin cash began its journey when it was forked from Bitcoin in 2017. You can easily buy Bitcoin Cash. But are you ready for this? It's time Bitcoin Cash steals the show from Bitcoin like in 2017. Look at this prolonged cup and handle formation, which targets $10-20k per BCH.
Today's Bitcoin Cash price today is $112.78 USD with a 24-hour trading volume of $370,620,547 USD. We update our BCH to USD price in real-time. Bitcoin Cash has been up 3.19% in the last 24 hours. The current CoinMarketCap ranking is #30, with a live market cap of $2,156,393,390 USD. It has a circulating supply of 19,120,113 BCH coins and a maximum supply of 21,000,000 BCH coins.
Let's look at Bitcoin Cash fundamentals to know more about BCH and determine whether to include the coin in your crypto portfolio.
Also Read:
• Best Bitcoin Wallets
• Bitcoin Price Prediction
• Bitcoin Gold Price Prediction
• Bitcoin Futures: All You Need To Known
Bitcoin Cash is one of the most popular Bitcoin blockchain forks wherein the transaction cost is low. Since then, Bitcoin Cash's value has reached an all-time high of $4,000 during the 2017 bull run.
Observers noted that Bitcoin Cash also does not have a clearly-defined governance protocol. While other cryptocurrencies, such as Dash and VeChain, have innovated and outlined detailed governance protocols that assign voting rights, the development and design of Bitcoin Cash seem to be centralized with its development teams. Let's know more about the Bitcoin Cash price prediction, history, & future of Bitcoin cash.
In this Bitcoin cash (BCH) price forecast article, we will try to look at the future price of BCH using popular forecasts and solutions and if it is a profitable investment for you.
What is Bitcoin Cash?
Bitcoin Cash cryptocurrency was created due to a hard fork from the Bitcoin network in 2017. Due to a rise in popularity of Bitcoin among investors, its network got congested, sparking debates on how to solve this issue.
The idea of increasing block size limits was proposed. However, this caused a divide in the developer and miner community, which resulted in a new blockchain being split from the existing Bitcoin blockchain.
Therefore, the Bitcoin Cash blockchain was created and distributed to every BTC holder for free.
Later, in 2018 Bitcoin Cash had another fork, resulting in the creation of Bitcoin Cash and Bitcoin SV. Additionally, in 2020 a second major hard fork created Bitcoin Cash ABC.
Bitcoin ABC and Bitcoin SV did not manage to gain much popularity. However, these coins are still available on practically every major cryptocurrency exchange.
Since its creation in 2017, Bitcoin Cash has seen a market cap of over $60 billion during the 2017 bull run. Right now, it trades just below the $10 billion caps after finding minimum value support at $200 last year.
After that, it regained some bullish momentum and returned above $1,000 in May. Bitcoin Cash price is equal to $577.
Like Bitcoin mining, the Bitcoin Cash network uses something called ASIC miners to validate network transactions in mining, with various Bitcoin miner pools distributed across the world.
Due to increased block size, BCH is harder to mine since it requires more energy per block.
Additionally, BCH was the first of all cryptocurrencies to introduce and effectively test the Segregated Witness (SegWit) upgrade, which separates the transaction data to allow more transactions to be sent at once.
Another advantage that BCH has over Bitcoin is developing smart contracts by using CashScrypt.
Bitcoin Cash Price History
Bitcoin Cash currency traders have seen massive volatility over the past weeks. However, first, let's look at the BCH value over the past years.
As we can see on the long-term chart, the coin price increased to $4,000 during the bullish trend in 2017.
Over the first weeks of 2018, the BCH price moved significantly lower with the Bitcoin price until support was found at the $600 mark.
BCH regained some of the retracement and reached a local several-day price high of $1,800.
Over the second half of 2018, the Bitcoin Cash forecast price became even more bearish as analysts predicted a complete crash. At the end of 2018, the lowest point was finally reached at $62.
A brief push higher followed, with a further consolidation range established between the $200 support and $450 resistance, where the coin spent the second half of 2019 and 2020.
On the technical chart for BCH over the past year, we saw that the price action had turned bullish after breaking through resistance around $36 at the end of 2020.
The price of the cryptocurrency asset saw increased demand, leading to a test of the $600 mark. BCH/USD retraced and retested the $360 previous resistance as support.
After some consolidation, the crypto market reversed and started moving higher in February.
After several weeks of bullish momentum, a new high of around $750 was reached, meaning a clear medium-term higher high was made.
In May, the entire cryptocurrency market was at its peak, and BCH crossed $1,000. Cryptocurrencies like bitcoin cash, bitcoin, and litecoin boosted in early October when US Bank, the country's fifth-largest retail bank, first offered a cryptocurrency custody service with assistance from sub-custodian NYDIG for fund managers to store their private keys.
Later in October, a leading ETF provider launched the first Bitcoin-linked service in the US. Pro Shares Bitcoin Strategy ETF (BITO) gives investors the chance to take their bitcoin returns through a brokerage account.
The volatility of coin pricing was demonstrated in November 2021 when a fraudulent press release stating that supermarket major Kroger would accept the coin during the holiday season caused a price spike of 4% in 15 minutes.
Is this recent dip an opportunity to buy into the cryptocurrency before it resumes its upward trend, or is there potential for the price to fall further?
Nevertheless, depending on how the cryptocurrency market responds to various forces, BCH could prove to be a profitable asset or not in the future. Individuals considering this coin an investment option should do their due diligence before engaging the market.
Bitcoin Cash Technical Analysis
The 4-hour price chart shows a downward trend for Bitcoin Cash – this is also seen with the RSI indicator currently below 30, indicating an undervalued or oversold condition. The Supertrend indicator also confirms a sell signal. In the meantime, short traders can take advantage of the bearish signal, as BCH could breakout below its support level at $93.57. If the bulls return for BCH around the support level, a short-term trend reversal could be imminent.
Bitcoin Cash Price Predictions 2022-2031
Wallet Investor
The Bitcoin Cash prediction from Wallet Investor presents the coin as an unfavorable asset for long-term investment. They expect the token to lose 93.948% of its value in twelve months, falling to a market price of $6.057. The team projects a decrease in price to $86.998 in the coming days, offering a profit window for investors looking to trade the asset shortly.
TradingBeasts
According to TradingBeasts, Bitcoin Cash is projected to finish the year with a trading range of $93.475 to $137.463, with an average price of $109.971. A downward trend is expected for most of 2023, with the coin dropping to as low as $62.085 in August. However, a price reversal is expected in October, resulting in a maximum price of $121.182 by December.
By July 2024, they predict an average value of $128.194 for Bitcoin Cash. According to their forecasts, Bitcoin Cash may remain in a bull market until December 2025, trading at an average price of $172.149 and a maximum price of $215.187.
Longforecast
Longforecast predicts a BCH downtrend in the remaining half of 2022, with a price range of $54 to $65 by December. They expect BCH to decline further in 2023, trading only as high as $57, with a minimum market price of $47. Their Bitcoin Cash price forecast anticipates a significant increase in the asset's value in 2024, so traders can be hopeful. The Bitcoin hard-fork is projected to close the 2024 trading cycle at $79, with minimum and maximum values set at $73 and $94, respectively.
According to the Bitcoin Cash price predictions for 2025, Bitcoin Cash will have a series of gains and losses during the year, eventually settling in the $67-$81 region by December 2025. However, their forecasts show BCH to be a poor investment in 2026. They expect the coin's value to plummet dramatically, with a market closing price of $31 predicted by July 2026.
Cryptopolitan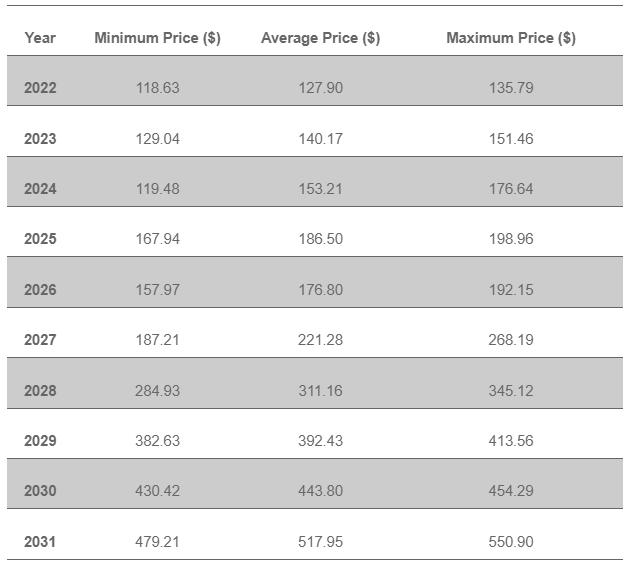 Bitcoin Cash Price Prediction 2022
BCH is currently on a downward trend, losing 34.03% of its value over the last month. Nevertheless, because it is a well-established cryptocurrency with a thriving community, we predict the token could make a recovery towards the end of this year. Bitcoin Cash is projected to close the year at an average price of $127.90, a minimum of $118.63, and a maximum of $135.79.
Bitcoin Cash Price Prediction 2023
Following the launch of SmartBCH in 2021, developers have embraced the technology, with multiple decentralized exchanges and NFT projects running on the BCH sidechain. In the future, more dApps will operate on this sidechain, which could lead to positive price movements for Bitcoin Cash. If this happens, we anticipate a peak price of $151.46 in 2023. Our predictions for 2023 also show a minimum and average BCH value of $129.04 and $140.17, respectively.
Bitcoin Cash Price Prediction 2024
In 2024, if the BCH market moves in a bullish direction, our Bitcoin Cash price prediction projects a maximum trading value of $176.64, with a mean market value of $153.21. In addition, traders could expect a slightly lower minimum price of $119.48.
Bitcoin Cash Price Prediction 2025
Due to cryptocurrencies' widespread popularity in recent years, several tokens, especially BCH, have been integrated into payment systems for goods and services. If this trend continues in 2025, BCH could achieve new feats in terms of adoption. In that case, we forecast a maximum trading value of $198.96 and an average price of $186.50.
Bitcoin Cash Price Prediction 2026
Our price projections for 2026 indicate Bitcoin Cash could experience small losses leading to a mean market price of $176.80 – a 5.2% fall from the previous year. In addition, we anticipate a minimum and maximum pricing of $157.97 and $192.15, respectively. Although this is a slightly bearish market year, it could be a potential entry point for investors looking to acquire BCH at a lower market price.
Bitcoin Cash Price Prediction 2027
According to our 2027 price forecasts, the bulls will reclaim control of the BCH market, resulting in a rise in market prices. Bitcoin Cash is expected to trade at an average price of $221.28, with a maximum price of $268.19. The minimum market value could climb to $187.21 as well.
Bitcoin Cash Price Prediction 2028
The Bitcoin Cash network is well-known for providing token protocols for several blockchain projects, thus enabling developers the ability to create a token ecosystem. These ecosystems boost BCH's adoption and could contribute to the coin attaining a market price range of $284.93 to $345.12 by 2028. The expected mean price is $311.16.
Bitcoin Cash Price Prediction 2029
By 2029, Bitcoin Cash is expected to have an average price of $392.43, which is 4x the current market price. Our team also predicts a maximum valuation of $413.56, with the least possible price being $382.63.
Bitcoin Cash Price Prediction 2030
Per our 2030 BCH price predictions, the Bitcoin hard-fork is expected to maintain its steady growth, rising to a minimum price of $430.42 and an average value of $443.80. Our Bitcoin Cash price prediction for 2030 anticipates a peak value of $454.29.
Bitcoin Cash Price Prediction 2031
Because Bitcoin accounts for 60% of the whole crypto market; its price fluctuation considerably impacts the growth of other digital currencies. If the Premier cryptocurrency shows a positive price pattern in the forthcoming years, it could contribute to BCH reaching a peak price of $550.90 by 2031.
Bitcoin Cash Price Prediction by Industry Experts
According to Kim Dotcom, "The global markets will crash very hard. Banks invested the majority of customer deposits (your money) in stock markets. Soon you'll not be able to withdraw your funds. Banks & ATMs will have daily withdrawal limits like in 2008.
This is when crypto UTILIZATION takes off.
The current crypto crash is like the Dotcom bubble. Most crypto projects will disappear. A few will survive. Those that become the most utilized for payments will strive.
I believe #BitcoinCash is one of them. My favorite for utilization."
The future price of Bitcoin Cash is difficult to predict, as different analysts hold different points of view. Some experts think it has excellent growth potential in a world where digital payment methods and cryptocurrencies are gaining popularity.
According to an analysis by "The Wolf of Trading," a further downside of about 50% is expected for Bitcoin over the coming months, which will consequently pull down the price of Bitcoin Cash to about 40–50$.
Emergency analysis #Bitcoin #Cash #BCH URGENT!!!! Analysis& Price Prediction- BCH HOLDERS MUST WATCH
Conclusion
As a cryptocurrency with great fundamentals that has also proven its resilience in the past, Bitcoin Cash potentially could someday go to the moon again. But that will depend on the crypto market's behavior in the coming months. If the crypto market continues to follow its trajectory from 2017-2021, then BCH will have growth potential and be a good investment.
When considering investing in Bitcoin Cash, it's important to stay abreast of developments in the market and not just depend on Bitcoin Cash price predictions. Monitor the trading price, support, and resistance levels to make an informed decision.
Despite the overall positive outlook of our Bitcoin Cash prediction, there are still several issues investors should consider. Regulation is a significant factor most experts agree will affect cryptocurrency prices soon.
Since its inception, the adoption of Bitcoin Cash has increased steadily. In June 2022, BCH received a significant boost as a renowned crypto exchange, Bitcoin of America, made the token accessible on its crypto ATMs across the U.S. Such developments reflect an unwavering interest in the Bitcoin hard-fork. In the coming years, BCH network developers will roll out new features that we believe could further fuel interest in Bitcoin Cash, thus positively impacting its value.
Nevertheless, depending on how the cryptocurrency market responds to various forces, BCH could prove to be a profitable asset or not in the future. Individuals considering this coin an investment option should do their due diligence before engaging the market.
If you want to buy BCH, it's worth checking out some of its top cryptocurrency platforms. Some of these include Binance, Coinbase, Huobi Global, and eToro. We strongly advise you to conduct your research and analysis before investing in cryptos. It's important to understand that the crypto market is a high-risk zone, and crypto traders are susceptible to losing money rapidly. Never invest more than you can afford to lose.
Disclaimer. The information provided is not trading advice. Cryptopolitan.com holds no liability for any investments made based on the information provided on this page. We strongly recommend independent research and/or consultation with a qualified professional before making any investment decisions.