Do you know hackers may steal your cryptocurrency assets if you don't store your assets in a top-notch crypto wallet? Using hardware crypto wallets is one of the most reliable ways to keep your coins safe. Due to the built-in capabilities of hardware wallets, which enable the storage of significant quantities of crypto assets, DeFi, and NFTs, many investors and crypto holders now use them.
But how about the distinction and selection of the best crypto hardware wallets? Let's know how this list was built and why there's a need to be definite about one's choice when it comes to cryptocurrencies.
Crypto hardware wallets, however, offer more than just asset storage and security. Connecting your hardware to a software wallet may also purchase, swap, and stake your coins.
This article examines the top hardware wallets for storing cryptocurrencies. This article will explain how this list was created and why it is important to exercise caution when selecting the best cryptocurrency wallet.
Also Read:
What is a Crypto Wallet?
Unlike a regular wallet that keeps fiat currencies, a crypto wallet only keeps your private keys. Your digital assets, anyways, lives in the blockchain. Additionally, crypto wallets allow you to transact in cryptocurrencies. In addition, you can also use DeFi (Decentralized Finance) and Decentralized Applications (dApps) with them.
A hardware wallet is a physical device that stores your private keys. It's like a USB stick but can also be used as an offline computer hard drive. The most important thing about hardware wallets is that they don't require personal information from you and have no KYC bureaucracy (know your customer) to access your bitcoins or cryptocurrencies. You won't need to provide a government-issued ID, bank account information, or anything else at all. There are no requirements for users; even if you're not physically present in the same room as your device, you'll still be able to use it securely with just an internet connection.
Types of Crypto Wallets
Source: Appinventiv
There are two types of crypto wallets: hardware (cold) and software (hot). Software wallets are hot wallets since your private and public keys are in the hands of exchanges. Hardware wallets operate differently from software wallets in this regard. However, hardware wallets use a secure chip built into the hardware to store your private and public keys, which distinguishes them from digital wallets.
Cryptocurrency exchanges wallets
The majority of cryptocurrency exchanges are delighted to store your crypto assets for you. Your funds are normally kept in a cold storage wallet by cryptocurrency exchanges. While this is practical for little sums of money and people who haven't yet found a new wallet, it requires giving up control of your assets to a centralized organization which might be harmful. The best strategy is to transfer the crypto assets as soon as possible from the exchange into either your hot or cold wallet.
Custodial wallets
Some institutions with outrageously enormous holdings want to hire someone else to handle the worry of protecting their riches so they may avoid it. Custodial wallets are managed and heavily insured by a reputable third party. Institutions will feel secure knowing that they are covered in the event of a failure, and top-tier security professionals will benefit financially.
Here's a warning:
The private key is not under your control if you store your cryptocurrency in an exchange wallet. You might never be able to get your cryptos back if the exchange loses them or crashes. Numerous unhappy users have experienced this on numerous occasions. Manage your own private key with a personal crypto wallet to gain control over your money. One of the most trustworthy methods for keeping your cash safe is to use cryptocurrency hardware wallets. Many investors and crypto holders now use hardware wallets because of their built-in features, which allow for the storing of substantial amounts of crypto assets, DeFi, and NFTs.
Features of the Best Crypto Hardware Wallets
There are several hardware wallets available, so picking the best one can be challenging. The security of the wallet is the first thing you should take into account while selecting the best cryptocurrency wallet for you. The best hardware wallets all have excellent security, so you probably need to consider other factors while choosing one. When choosing a storage solution, another important consideration is how you want to use the wallet. A hardware wallet is perhaps the best option if you intend to acquire and hold your investment for a long time.
Limiting the amount of money that can be accessed through less secure platforms, such as exchanges, while keeping the majority of your money in a more safe wallet offline, is a good risk management strategy. If you want to reduce your risk, you can even decide to place your assets in multiple wallets because hackers favor concentrated sites of attack. As a precautionary measure, some investors even distributed their cold storage private key information to several trusted friends and family members.
Before deciding which wallet is best for you, there are a few factors to take into account. We'll go through each of these in a broad spectrum before evaluating each wallet.
1. Security
Two-factor authentication: Two-factor authentication, often known as 2FA, is an additional method of identity verification while accessing your cryptocurrency wallet. The second level of authentication, which is typically a code sent to your phone and required to be entered in a sign-in field before access to the wallet is granted, would still be required to be passed even if someone already knew your password or was able to crack it using one of a number of methods. Although 2FA is not always impenetrable to hackers, it at least significantly increases their difficulty. Not all 2FA techniques are made equal. For instance, completely local (2FA techniques that are not connected to the internet) methods like Google Authenticator are not quite as safe as 2FA over SMS, a popular type of text message.
Support for multiple signatures: A crypto wallet may occasionally be owned by numerous people, such as business partners. You can configure the security of the wallet to demand the use of numerous keys before access is given if it supports multiple signatures (sometimes referred to as multi-sig wallets). This stops any one person from using the money without authorization or from moving it to another wallet. By dividing up the keys required to access the wallet, multi-sig wallets can be used to further secure your personal wallet.
2. Wallet Utility
As an Exchange
Many cryptocurrency users have utilized Coinbase or other exchanges as a crypto wallet in addition to an exchange. Since it offers a variety of tokens, and permits payments, purchases, sales, and even trading through its Coinbase Pro platform, Coinbase is frequently used by users. Additionally, Coinbase adds an extra layer of security by keeping the majority of its users' assets in cold storage. Although very practical, this is not advised for huge amounts of money.
Mobile wallets
Although practical, mobile crypto wallets present a special set of possible security risks. First, phones frequently get lost or damaged. A broken or lost phone might potentially render your wallet forever unusable if the wallet key is exclusively kept on the phone. However, a lot of mobile wallets, including Coinbase and Argent, provide options to recover your wallet in the event of an accident. Despite this, you should always ensure that your wallet can be recovered in the event of a catastrophe.
In the event that your wallet is lost, stolen, or damaged, seed phrases can help you recover your cryptocurrency. It's crucial to keep your seed word safe, and if you're feeling extra cautious, you might keep it in many places. Your brain and a few pieces of paper that are sealed away and kept in safe places are the finest places to keep your seed phrase. In general, it's a good idea to store a backup copy with someone you can trust, such as your parents or a trusted friend, in case of a fire or other natural disaster.
As a DeFi wallet
A number of cryptocurrency wallets, including Coinbase Wallet, now permit you to trade digital currency right from your wallet. Thanks to the extensive network of decentralized finance applications that enables users to exchange digital assets in a decentralized manner, this may be done without the requirement of an intermediary. You should opt for a wallet with integrated DeFi features if you want to utilize a cryptocurrency wallet but still want to trade your money.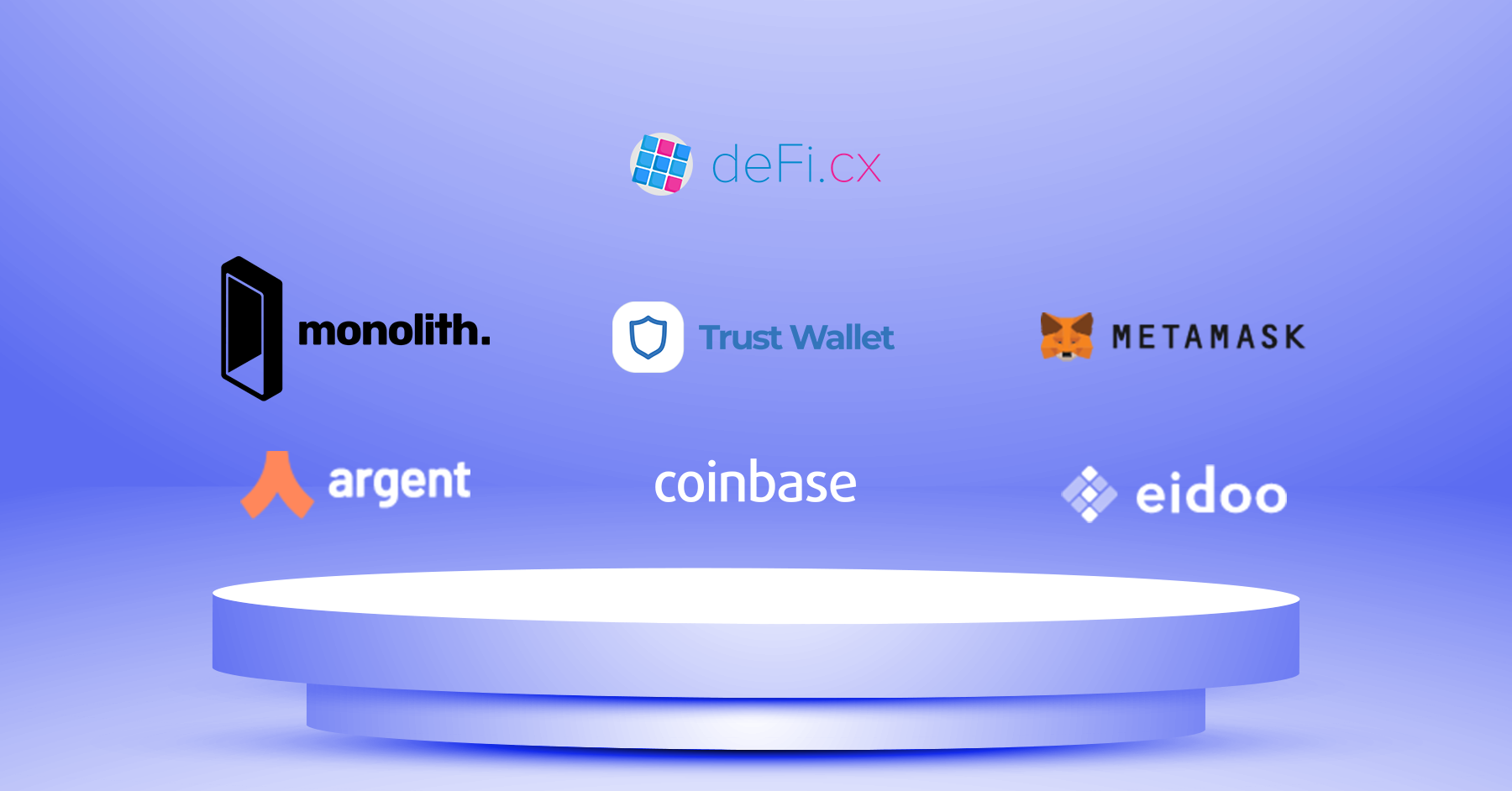 3. Supported cryptocurrencies
Many cryptocurrency hodlers need a wallet for each cryptocurrency they own, which are based on many blockchains. It might seem confusing to keep a separate wallet for each type of money. The majority of cryptocurrency wallets today support a wide range of currencies and tokens, but the Ledger Nano continues to lead the pack with support for over 1,800 tokens on numerous blockchains.
4. Price
If your portfolio isn't very large, you probably won't want to spend a lot of money on a device to store it on. The cost of hardware wallets varies, just like with any other good.
10 Best Crypto Hardware Wallets and Features
1. Ledger Nano X
Prices start at $166 (Official Website)
The Ledger Nano X is a Bitcoin, Ethereum, and altcoin hardware wallet. Again, this crypto wallet has an OLED display and supports ETH, ERC20 tokens, ERC223 tokens, Bitcoin, Litecoin, and more. You must install an app on your smartphone or computer to use it. The Ledger Nano X is compatible with Android 4.3+, iOS 9+, and Ubuntu 16.1+. The hardware cryptocurrency wallet from Ledger, the Ledger Nano X, allows crypto investors and coin holders to purchase, store, and manage different kinds of cryptocurrencies. '
Also, Ledger Nano X users can buy, trade, stake, swap, and manage non-fungible tokens (NFTs) with their hardware wallet. The ability of the device to manage 1800 different crypto assets at once is astonishing. The fact that this hardware wallet is generally accessible worldwide is a plus. It has a battery capacity that lasts about 7 hours and is reliable and straightforward.
With the built-in Bluetooth feature of the Ledger Nano X, the hardware wallet is compatible with devices running Windows, Linux, Mac, Android, and iOS. Additionally, a regular USB cable can connect them to a computer. It costs about $149
Pros
Bluetooth connectivity's convenience
Stores between three and twenty separate apps
Secures, stores and manages over 5500+ crypto assets, including NFTs
Supports coin staking, which enables you to receive rewards based on the balance in your wallet
Provides safe storage at a reasonable cost
Includes 3 blank seed recovery sheets
Cons
2. Trezor Model T – Most feature-packed including a touchscreen
Prices start at $219 (Official outlets)
The Trezor Model T is the flagship product of the Trezor team. However, Trezor Model T has an LCD panel that displays the hardware functions and easy access to external exchanges such as CoinSwitch. Furthermore, the hardware does not have a Bluetooth function, which the Ledger Nano X possesses.
Although the Trezor Model T hardware lacks Bluetooth connectivity, it includes a USB-A and USB-C connector. You can connect a desktop computer or smartphone to this cryptocurrency wallet using USB ports. Unlike the Ledger Nano X, Trezor models do not use a battery; USB cables power them.
The built-in storage of the Trezor Model T can hold 1800+ coins, including bitcoin, Ethereum, and similar coins. Its robust stainless steel is used in its construction, which provides strong resistance to harmful elements like fire, corrosion, electric shock, and accidents. This hardware wallet is available globally.
One of the significant benefits of the Trezor Model T is that you can easily convert cryptocurrencies to fiat currency. Another great benefit of this hardware wallet over the first Trezor Model T is the user-friendly color touch screen. This device is compatible with operating systems such as Windows, Mac, Linux, and Android devices. However, Apple's IOS and Windows mobile operating systems and the Chrome OS are not yet supported. But a drawback of this asset is the small touchscreen that makes typing difficult. The price of a Trezor Model T is $219.
Pros
Charge a standard, high, economy, low, or a custom amount.
Offers segregated network authentication.
EAL5+ protects it from penetration attempts.
Cons
It can be difficult to type on the screen since it allows conversion to fiat money.
Trezor Suite app can't secure NFTs, so you need to manage them by connecting your wallet to a third-party app, such as Metamask.
3. Ledger Nano S
(Please note that the production of this model has been discontinued and a newer model is currently being produced, Ledger Nano S plus, which is more powerful and compatible with advanced Web3 applications. However, Ledger Nano S is still being supported.).
Prices start at $79 in retail outlets like Amazon
Ledger began the production of hardware wallets in 2016 with the release of the Ledger Nano S. The Ledger Nano S, a lower version of the Ledger Nano X, has an in-built storage capacity that supports more than 1800 cryptocurrencies. This hardware wallet lacks a Bluetooth connection but works with one USB cable.
Windows, Mac, iOS, and Linux are all supported by this hardware. This hardware is available globally at an affordable price of $59.
One unique benefit of this model is that it offers inexpensive, secure storage with a USB-style hardware drive that is simple to use.
The Ledger Nano S exceeds industry standards for security, including tamper-resistant Common Criteria (CC), EAL5+ certified Secure Element (SE) chips on Nano devices, and your private keys staying on the secure chip.
The Ledger Nano S is simple to use and set up. However, users must download Ledger Live to their computer or mobile device and choose the option to set up a new device. The application walks users through the process, including a guided security checklist. This wallet is beginner friendly. Even though this digital wallet supports many cryptocurrencies, many assets require users to download a third-party app, and the wallet has limited app storage.
Pros
Ledger Live app is available for the highest level of security and control.
Simple to use Hardware Drive in the USB format
This wallet is straightforward and strong.
Cheap storage with security
Cons
For novice users, its operation can be difficult and complex.
4. Ledger Nano S Plus – Most useful for Web3 applications
Prices start at $88 (Official website).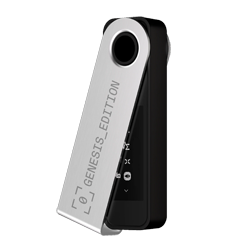 The improved Ledger Nano S Plus hardware wallet replaces the Ledger Nano S. It features 1.28 MB of memory storage for the programs (wallets), compared to the Nano S's 128 KB. Additionally, it has a larger display, increasing the visibility of activities and transactions. Ledger Nano X still has more memory storage than it does. The display of the Ledger Nano X is more attractive and features a design with rounded edges and a matte finish. The Ledger Nano S Plus lacks a battery. To use it, a device must be connected to it. Additionally, it lacks Bluetooth. Like the Ledger Nano X, you can use all of Ledger Live's capabilities and link it to most third-party wallets for various blockchains. The Ledger Nano S Plus is reasonably priced and remains a great choice for new users or as a backup wallet.
As of the end of June, Ledger ceased production of Ledger Nano S and replace it with Ledger Nano S Plus, which is more powerful and compatible with advanced Web3 applications.
The final (and special) edition is called Ledger Nano S Final Edition and comes with a POAP card that allows you to claim an exclusive NFT created by the artist "what is real?". You may inquire for further details here.
Pros
It has a Larger Memory.
It is cost-effective.
The display is larger than Ledger Nano S.
Cons
It does not have Bluetooth connectivity.
It does not have a battery. It has to be connected to a power source.
Choose the Ledger Model which works best for you:
5. Ellipal Titan – Most secure as leader of air-gapped cold wallet
On Sale at $139 when bought at the official site
Ellipal Titan is a fully metal-sealed hardware wallet that provides maximum security against efforts to compromise the system by hackers. In addition, this crypto hardware wallet is an air-gapped cold storage wallet that performs complete network isolation for true offline cold storage. The hardware wallet uses QR codes to transfer data; it doesn't need to be connected to any network. They are cut off from any network connections that could allow hackers to monitor your assets.
In addition to 10,000+ coins, the Ellipal Titan hardware wallet supports over 40 blockchains.
They deliver an excellent user experience. A large color touch screen with a mobile-oriented design for a seamless user experience. The user interface in dark mode has been newly redesigned for an elegant appearance and practical use. Additionally, it is furnished with a security adapter for offline firmware updates and charging, further ensuring the security of your money and tokens.
Another deal-breaker for Ellipal Titan users is that the wallet doesn't give users access to their own Xpub keys, which leaves this wallet not operable with many apps and does not give users the option to import "view only" wallets.
Furthermore, security-minded users may not be pleased by the wallet's ability only to generate a 12-word seed phrase instead of a more secure 24- word phrase. In addition, Ellipal Titan has no support for test net coins for any blockchain network
Ellipal Titan is widely available for just $169. However, it has 1GB of RAM and a durable battery that can last for hours.
Pros
One of the greatest hardware wallets available, it offers total defense against internet and remote attacks.
Keep any cryptocurrency completely offline and safe from online threats.
It aids in the elimination of data upon breach detection.
supports more than 10,000 tokens
Cons
It lacks proactive customer service.
6. SecuX v20 – World's first NFT hardware wallet offering multiple security
Prices range from $139 + tax at official outlets.
SecuX v20 is a safe and secure hardware wallet that combines security and convenience. Again, the company behind it claims it is the world's first NFT hardware wallet. With the latest technology in hardware wallets, you can securely store and manage your digital assets. Various security services, such as PIN code protection, fingerprint identification, random number generator protection, and online virus protection, protect your account automatically when you are online or offline.
With its military-grade Infineon chip CC EAL 5+, SecuX v20 offers superior security. The keypad in the wallet is suitable, which makes typing easier. If the incorrect PIN is entered five times in a row, the device resets itself.
The hardware works with a 2.8-inch color touchscreen through which all transactions can be verified. It is compatible with Bluetooth devices (Windows, Mac, and Linux) and has a spot for USB ports. This crypto wallet supports more than a thousand coins and tokens and can manage up to 500 accounts.
The SecuX allows cross-platform operation. Its web and mobile apps help manage, send, and receive digital assets – anytime, anywhere. You can get this hardware wallet anywhere for just $147 in retail outlets.
Pros
It has fingerprints, random number generator protection, and online virus protection
Designed with military-grade Infineon chip CC EAL 5+, SecuX v20 offers superior security
It has an inbuilt touchscreen and is compatible with Windows, Mac, and Linux
Supports more than a thousand coins and tokens and can manage up to 500 accounts.
Cons
It's kind of more expensive than other hardware wallets.
7. BitBox02 – Most flexible as a Swiss army knife of hardware wallets
Priced at $117 at official outlets.
The BitBox02 is a 2-in-1 hardware wallet containing your access and private keys, preventing unauthorized use of your coins. Crafted from aircraft-grade steel and backed by our lifetime warranty, BitBox02 is a top-of-the-line security device.
In comparative terms, the BitBox02 is a hybrid hardware wallet that:
Follows the open-source ethos of Trezor;
Takes user interface simplicity cues from Ledger;
Offers physical security like the Coldcard.
BitBox02 is a Swiss product that provides users with superior security for their crypto assets. The wallet supports many tokens, including Litecoin, Ethereum, Bitcoin, and ERC20 tokens.
This hardware wallet connects to a USB port, making it compatible with Windows, Mac, Android, and Linux.
This wallet has a microSD card for instant backup and recovery, but it lacks a convenient touch screen for a great user experience. Its design is relatively simple, consisting of a smart rectangular main unit with a built-in MicroUSB slot and USB-C connector. The hardware is easy to use. The five touch sensors built into the device's frame detect sliding, tapping, and pinching motions, which can navigate menus and show more information. The BitBox02 hardware wallet is available for $137.00 worldwide.
Pros
The security features are top-notch.
It's very durable, it has aircraft-grade steel, and is backed by our lifetime warranty.
It has a USB port compatible with Windows, Mac, Android, and Linux.
Cons
No Bluetooth Connectivity.
8. Trezor Model One – Most portable with its sleek design
Priced at $69 in official outlets
The Trezor Model T is the flagship product of the Trezor team and one of the Trezor wallets in the market today. TREZOR Model One is a secure crypto wallet that stores multiple cryptocurrencies. With its sleek design, this wallet can be carried around on your keychain or used at home or in the office. It encrypts all of your private keys on its device, so there is no need to worry about losing them.
The TREZOR Model One comes with a handy USB cable that can plug directly into any USB port and one backup card with 10 randomly generated recovery seeds, also called mnemonic phrases, which allow you to recover your wallet if it's ever lost or stolen. Each backup card has been designed and printed by hand to improve security and make finding a working card easy for you.
The Trezor Model One is a security device with a simple and intuitive interface that allows you to store, generate, and transfer cryptocurrencies. It is easy to use and is available globally for just $73.00 at most retail outlets.
Pros
Quick and easy setup
Over a thousand different digital currencies are accepted.
The app that goes with it that's both tidy and easy to use
Allows for the upload of custom wallpapers for the home screen
A Perfect Reputation Regarding Safety
Cons
Not usable on Apple or Google devices.
Offers mobile support only for Android devices.
9. KeepKey – Most easy to view with its big screen
Priced at $49 lowest price
With its bank-grade security, KeepKey makes best-practice cryptocurrency security simple. It supports major cryptocurrencies like Bitcoin, Bitcoin Cash, Ethereum, Litecoin, Dogecoin, and others, such as ERC20 tokens.
KeepKey is a USB device that stores and secures your cryptocurrencies. When you entrust KeepKey with your money, each bitcoin transaction must be reviewed and approved via its OLED display and confirmation screen, making it impossible for virtual attackers like malware or viruses to steal your valuable bitcoins.
The device is highly secure, with 2-factor authentication and AES hardware encryption. Unlike other hardware, KeepKey does not have to download firmware updates through the internet, allowing for a complete zero compromise in security. It works with Windows, Mac, Linux, and Android. It is available in all locations at the price of $49. The main drawback of this hardware wallet is the small number of coins it supports compared to other coins on this list. The Keepkey wallet also lacks integration with many web3 wallets such as Metamask, leaving users unable to interact with many DeFi apps.
KeepKey supports Bitcoin, Ethereum, Bitcoin Gold, Bitcoin Cash, Dogecoin, Kyber Network, Litcoin, Dash, Digibyte, and Litecoin. This is a limited list of cryptocurrencies if we are to compare it with other hardware wallets. The wallet may be unsuitable for any who holds a diverse portfolio.
The KeepKey wallet weighs 54g due to its big screen and bigger overall size, so you should decide for yourself whether or not that's a problem.
Pros
Facilitates easy use
Competitively Priced
All tasks require a linked device.
Display of a QR Code Allows for Password Entry
Open-Source
Cons
In spite of its limited app storage, the device does not time out automatically.
The lack of support for multiple signatures
There is no in-device verification of address changes.
Lack of Exporting Purchase History Implicitly Promotes Address Sharing
10. Safepal S1 – Best buy with 30,000 cryptocurrencies supported at lowest price
Priced at $40
SafePal S1 supports 34 blockchains, including NFTs, and more than 30,000 crypto tokens. One of the top crypto hardware wallets offers crypto users a straightforward, secure, and user-friendly crypto management solution.
In order to aid confirm transactions offline, it provides a control button and a display screen. As a result, it is a more secure solution than the majority of cold wallets on the market. These features include recovery seed, two-factor authentication (2FA), and a pin code.
It supports various cryptocurrencies, including BTC, ETH, XRP, LTC, DOGE, DOT, and ADA. Defi, Dapp, and NFT may all be integrated with this cold wallet. For iOS and Android mobile devices, it provides a mobile app. Its dimensions are 8.6 x 5.4 x 0.6, and its body is composed of metal. It has a 400mAh battery size. It is easy to use and is available globally for just $49.99 in retail outlets.
Pros
You can store a variety of cryptocurrencies with the aid of this hardware crypto wallet.
Provides many security sensor levels.
Provides portfolio management via the SafePal apps for iOS and Android.
24/7 community assistance
Cons
The operation of Bluetooth is not seamless.
Limited Number of Coins Supported.
How do Hardware Wallets Benefit Users?
There are so many ways in which storing your cryptocurrency in hardware wallets will benefit you. Some include:
Safe private key vaults are the most protective place to keep your private keys.
Transaction verification: You can physically verify all transactions on hardware wallets to protect you from scammers and hackers.
No waiting time to receive bitcoin or cryptocurrency—you can use them in minutes: You don't have to wait for your bitcoin/cryptocurrencies to be confirmed; you can use them immediately in your hardware wallet. You can also send them to other people and use them as payment for things.
Conclusion
Crypto wallets are tools that allow you to store, send, and receive crypto wallets. If you are a crypto investor with many crypto assets, you must keep your cryptocurrency safe and sound with a secure wallet. Using one of the top crypto hardware wallets discussed in this article will help protect your investments from malware.
Hardware wallets are a no-brainer for serious crypto investors. Even though quite expensive, they are just necessary one-time investments if you're planning to invest in cryptocurrencies.
Again, it is essential to check about the supported coins before you buy a crypto hardware wallet because you won't be able to use your coins if it doesn't support the coin of your choice. This post has clarified the critical distinctions between hardware and software wallets and some of their top advantages. This information will allow you to select the best crypto wallet for your digital assets.
Disclaimer. The information provided is not trading advice. Cryptopolitan.com holds no liability for any investments made based on the information provided on this page. We strongly recommend independent research and/or consultation with a qualified professional before making any investment decision.
FAQs
Are hardware crypto wallets worth the expense?
Hardware wallets are worth it in terms of both cost and security benefits. Just keep in mind that hardware wallets and software wallets each have their place in the crypto space. It is not a case of "one or the other." It is both.
Do hardware wallets actually store cryptocurrencies?
Cryptocurrencies are never stored within the hardware wallet itself, they always live on the blockchain. The hardware wallet merely stores your private key. That private key opens the lock to your address on the blockchain where your assets actually live.
What if I lose my hardware crypto wallet?
If your hardware wallet is lost or damaged, as long as your recovery seed is intact, it is all good. You will just need a new hardware wallet or a compatible software wallet/app to access your coins.